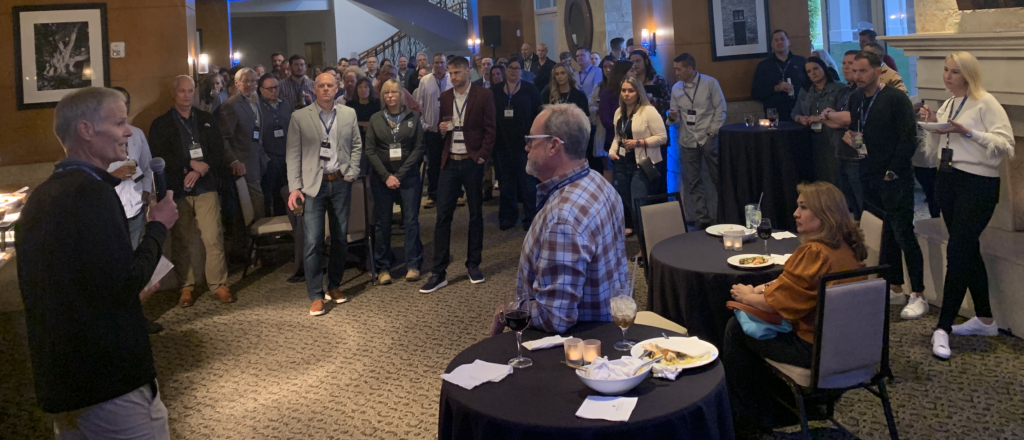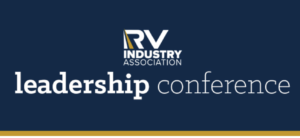 PHOENIX, Ariz. – With about 180 people in attendance, the RV Industry Association Leadership Conference got underway Wednesday and runs through Friday (March 18) at the JW Marriott Phoenix Desert Ridge Resort & Spa.
Hosted by the Emerging Leaders Coalition, a group of "next generation industry leaders" formed by the RVIA a couple of years ago, the conference features several leadership-focused seminars as well as networking, recreational and philanthropic activities.
RVIA President Craig Kirby welcomed attendees at a Wednesday night reception – moved inside due to rainy weather in the Phoenix area – and noted that there were many unfamiliar faces in the crowd. This, he pointed out, was a good thing as more people are needed to become involved in advancing the industry.
"Now that I have the attention of so many I don't know, I want to get you involved in the RV industry and within RVIA. We have lots of coalitions and committees and I encourage all of you to please get involved," he said.
"I want everybody to please have a great time while you're here," he continued. "I promise you, with the speakers and the agenda we have in place, everybody's going to leave here better for it. And I think you're going to develop a lot of friends and relationships along the way, too."
Following Kirby, RVIA Chairman Kevin McArt addressed the audience, likening the conference to "Top Gun."
"I mean, you got the best of the best here, networking, collaborating and learning to be the next leaders or the next generation of leaders," said McArt, a general manager at Forest River Inc. "What I know about this industry is it's a community. Where else do you get OEMs, suppliers, dealers and others to work together for the betterment of the industry? This is amazing."
The conference continues today with a leadership panel featuring Debbie Brunoforte of Little Dealer, Little Prices, a Campers Inn company, as well as Mike Happe of Winnebago Industries Inc. and Bob Martin of THOR Industries Inc., Moderated by Kirby, this session will seek leadership advice from the trio as they dive into the behaviors, practices, and actions that have determined how they lead and interact with their teammates and followers.
Following that are several presentations including: "No Matter What Personal Growth Mindset" by Sterling Hawkins; "The Path to Purchase Journey" with RVIA VP of Membership and Research Bill Baker and Steve Schmith, Acxiom Automotive director of industry strategy; and an "Emerging Leaders Panel" featuring: Samantha Rocci, RVIA senior manager of government affairs; Michilah Grimes, Lippert director of corporate and community impact; Matt Veurink, Veurinks' RV Center sales manager; Anthony Wollschlager, Airxcel group president; and Ashley Bontrager, Ember Recreational Vehicles president and CEO.
Source: https://rvbusiness.com/rvia-leadership-conference-gets-underway-in-phoenix/