RVDA Chairman Touts Dealer Participation with RVTI

EDITOR'S NOTE: The following column, written by RV Dealers Association (RVDA) Chairman Nathan Hart of Walnut Ridge Family RV Sales in New Castle, Ind., and Primeaux RV Superstores in Lafayette and Alexandria, La., is from the April 2023 issue of RV Executive Today, a publication of the RVDA. It is reprinted here with permission.
For the past several years, one hot topic for our industry has been the need for qualified technicians. This demand will not be satisfied anytime soon, but the RV Technical Institute (RVTI) is achieving results for our industry. I recently attended the RVTI Board meeting with RVDA President Phil Ingrassia and Ryan Horsey in Elkhart at the RVTI headquarters. RVDA holds two seats on the Board of Directors, one for Phil and the other for the Chairman of the Board.
The concept and purpose of RVTI are working, and the program's participation has grown dramatically over the past few years. There are 11,000 technicians engaged with RVTI, and the program is attracting new labor sources in new segments. RVTI has recruited non-RV industry students and finished 2022 with 1,248 non-industry students trained. Level 1 and Level 2 are both working well and should be considered successful. Level 3 is being refined with a targeted launch for later this year. The industry is committing additional resources for customer support to assist with testing, certification, and general inquiries.
RV dealers nationwide are participating in the program, with 786 dealers with at least one technician in training. The number beat the goal for 2022, but I was left wondering why the number was not higher. Why are dealers not participating in a program that offers a key curriculum while our industry is subsidizing the cost? The facts are that when employees are trained within their first 90 days, their retention is higher. Training our employees rather than consistently recruiting new ones makes more sense. I understand we will always be recruiting, but what if our retention was higher and our employee satisfaction improved because each dealer had a training plan for new and existing employees?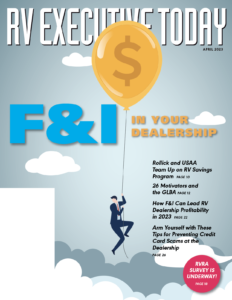 As an association, we need to work to double the number of dealers participating in the RVTI training. With increased dealer participation in RVTI, the number of certified technicians could skyrocket over the next few years. Many components contribute to reducing the Repair Event Cycle Times (RECT). One of the most important is having trained and qualified technicians. As dealers and an association, we must recruit non-participating dealers and employees into RVTI. Yes, it will take commitment and time for your dealership to create a training program for your technicians, but the benefit will be realized quickly. After launching our training program, our technicians asked for more training after completing Level 1 training. I was blown away by their excitement and commitment to continuing education. The benefits are higher collectible efficiencies, a sense of accomplishment, improved morale, and improved RECT results.
It has been impressive to witness our unified industry's creation and successful launch of RVTI. RVTI's staff, led by Curt Hemmeler, are dedicated to the primary purpose: To improve the customer's experience. Our industry is fortunate to have RVTI and its dedicated staff…let's show them our appreciation by increasing dealer participation in the program.
Source: https://rvbusiness.com/rvda-chairman-touts-dealer-participation-with-rvti/