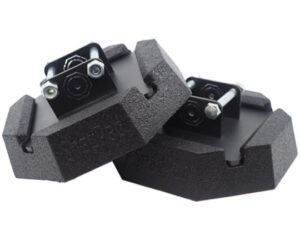 With the launch of SnapJack, a new proprietary product designed for travel trailer scissor jacks, Origen RV Accessories LTD, the manufacturer of RV SnapPad continues the pace of remarkable growth it has been on since its founding in 2015.
Back then, company founder Gordon Wilson saw a void in the marketplace and filled it with RV SnapPad®, a line of permanently attached landing jack pads made from recycled tires. Initially sold via Shopify, the company racked up over $100,000 in sales that first year. A family company with sales in the millions, in addition to Gordon, the company includes his wife Barbara, sons Kent, Devon, and Barrett, along with a dozen full and part-time employees.
"Ironically, my dad is not an RVer," explained RV SnapPad Chief Marketing Officer Barrett Wilson. "He got together with his business partner at the time and, after a year of design, developed a jack pad made of recycled rubber tires that, once installed, remain permanently attached to the jack foot, eliminating the need to crawl under the RV to place or retrieve pads when you are setting up or tearing down."
SnapPad currently offers a wide variety of different sizes and shapes of pads, all designed to fit on the various landing feet of motorhomes, 5th Wheels, and now with the addition of SnapJack, Travel Trailers. In yearly customer surveys, RVers have indicated there are several reasons why they buy SnapPad®: they are permanently attached, eliminating the need to set them down or pick them up; they create a more significant footprint offering increased stability, and since they stay attached, the pads do not need to be stored freeing up scarce storage space.
"Our customers are what drives the company," Barrett noted. "We initially started with just one product, then created more as customers told us what they needed. Our vision, our goal is to become a one-stop shop for everything jack pad and leveler related. We've gotten tons of feedback, a never-ending loop of people telling us what they want. Right now, we are partnering with Camco on some new products, which is very exciting. To sum it up, we've got great customers, and we see the path forward."
The newest offering is SnapJack, a scissor jack conversion kit for travel trailers and other towables. The company says it is the industry's first scissor jack permanent jack pad modification. It allows for the replacement of a typical OEM bowtie foot with a custom metal jack, the necessary hardware, and a pre-equipped, permanently installed SnapPad®. It increases the surface area, grip, and stability of all compatible scissor jacks.
When asked about the launch of this unique new product line, Rob Crist, CSO at RV SnapPad®, said, "It's finally here, the highly anticipated scissor jack conversion kit. I believe this will change the landscape for travel trailer owners. It has been years in the making, but we are thrilled with the development of this highly requested aftermarket accessory. Now, owners of travel trailers, fifth wheels, pop-up campers, and other trailers that feature a scissor jack leveling system can enjoy the benefits of permanent jack pads."
SnapPad products are made in the United States and retailed through more than 1000 RV dealerships. Distributors offering the line include NTP-Stag, Keller Marine, Northern Wholesale, Land 'N Sea, Arrow Distributing, AIM, and E-trailer.
Source: https://rvbusiness.com/rv-snappad-continues-rapid-growth-with-snapjack-launch/