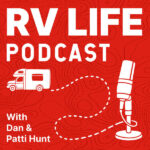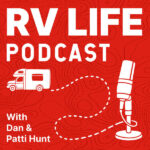 EDITOR's NOTE: The RV LIFE Podcast, created by the RV LIFE Network, is for the RV community with a mission to educate, entertain and explore the RV lifestyle. The podcast explores all things RV Life: living, working, exploring, learning. With hosts Dan and Patti Hunt, full- time RVers, content creators, educators and explorers. Below each podcast player is the episode description from RV LIFE. Click here to visit the RV LIFE podcast home page.
Newmar's Casey Tubman
Live from the Florida RV Super Show on the RV LIFE Podcast we spoke with Newmar Corp. President Casey Tubman about the RV industry, and what the future holds including my (Patti) request for having the kitchen on the drivers side.
Casey spent 25 years in a variety of leadership executive roles at Whirlpool Corp. and was appointed President of Newmar Corp.
Casey shared the importance of relationships with dealers, quality from the factory on all brands, and what people want. He also shared his thoughts on California laws and if he feels they are unreasonable.
Freightliner Custom Chassis Corp.'s Jeff Sather
Jeff Sather's story is the American dream, he worked himself up the ladder, starting by working for father and has spent 30 years in the Truck/RV industry, now the President and CEO of Freightliner Custom Chassis Corp.
If you live the RV LIFE part time, full time, sometime, listen as Jeff answers questions such as; What to do if your RV gets stuck in the mud? It happened to Dan and I (Patti).
Check out what we did wrong.
Jeff said, call Freightliner customer service first.
Jayco's Ken Walters
The RV LIFE Podcast is live from the Florida Super Show in Tampa, today's guest President & CEO of Jayco, Inc., Ken Walters, answers questions about the RV industry and the new Pre Delivery Inspections (PDI).
Ken Walters, President and CEO of Jayco was the Vice President of sales and product development for Jayco and has over 15 years of experience in the RV industry. Speaking to him today was very informative for those living the RV LIFE.
We appreciate Ken taking time out from the Florida RV Super Show to talk to us Live on the RV LIFE Podcast.
RV LIFE's Andy Robinowitz
Our guest is live with us at the Florida SuperShow. He started in an office and knew that lifestyle just wasn't for him so he started to travel extensively through six continents. He literally stumbled across his first acquisition in the web space, since then he has purchased over 100 websites. He built RV LIFE to be one of the most respected companies in the RV industry.
We are speaking to Andy Robinowitz Founder CEO and Owner of RV LIFE. Today we are talking to Andy live about what attracted him to the RV industry. He started in the industry over 20 years ago and we talk about how the industry has changed and where he sees the industry going.
Source: https://rvbusiness.com/rv-life-podcast-features-execs-at-jayco-newmar-fccc/