[embedded content]
Trailer manufacturer, MDC Campers and Caravans is an Australia-based, off-road adventure trailer manufacturer that entered the U.S. market in 2020 with the MDC USA brand and is now looking for dealers in the USA and Canada.
It's products include popups, travel trailers and hybrids for rugged terrain with a high level-four wheeling durability. The company was founded 15-years ago in Australia and according to its website now has dealers in Arizona, California, Utah, Colorado, and Pennsylvania handling demand nationwide. It is offering exclusive territories to dealers with a 200 miles radius.
The MDC USA trailers are backed with a lifetime warranty on the chassis and structure.
RVBusiness spoke to Daryn Hooper, national market manager for MDC USA, who said 2022 was a solid breakout year for the company in the U.S. and is looking forward to further expansion of dealerships to the eastern U.S. and throughout Canada.
"2022 was a year of growth for us here in the U.S.," said Hooper. "It's just a matter of getting our brand out there and letting dealers and consumers know who we are. We're looking for dealers missing a product filling the action adventure market niche. These trailers are not going to be for every family out there, but we think there's a good market of extreme outdoor enthusiast MDC USA will appeal to."
According to the company website, these trailers are built for the rigors of off-roading with hot-dipped galvanized steel frames, 16 by 7.5 inch alloy wheels with 265/75R16 M/T tires (two spares standard) and independent suspension with trailing arm with dual shock absorbers and coil springs on one of its top models, the Explore XT17HRT. The company is so confident that MDC USA backs its product with one of the best warranties in the business.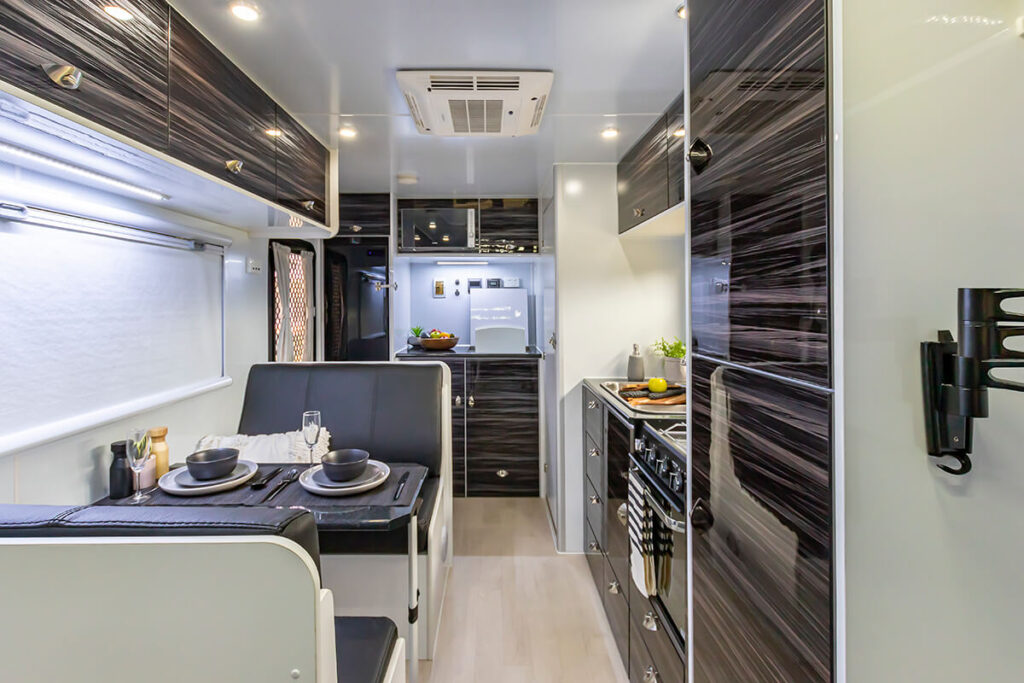 "No one is going to touch our lifetime warranty," he said. "The quality control that is coming out of here, matched with the customer service and great support, you're just not going to find with another company. Our quality is all the difference."
"With all the variety of models we offer from out tent campers all the way up to the hard side caravans, we have a large spread of product that we can offer to consumers that may now have a big SUV or truck to haul it off-road," he added. "The XT17 is our newest biggest model and that comes in at 7,700 pounds loaded with a dry weight of 6,446 pounds. So you don't need a one-ton to pull these like many of our heavier competitors."
One of the construction features that make the MDC USA product lighter is the vacuum laminated aluminum tube sidewall, roof and floor construction that is also resistant to the trail vibration and structural integrity. The company chose the route including more standard features like high-end appliances and slide out kitchens, rather than optioning add-ons.
The aforementioned top-of-the line XT17 is fully equipped with some pretty high-end appliances including a Dometic High Efficiency Penguin II Air Conditioner, Truma Aquago Comfort Plus Hot Water System and Dometic DFSD 12111 furnace. Also standard are two 150W solar panels on the roof with two 100ah Lithium Batteries with the BMPRO Battery Management system and the Aims Power 1500 watt Pure Sine Wave Inverter.
The fully equipped, top-end, dual axle, XT17 is advertised on the company website from $74,990. The company makes popups ranging from $22,990 to $34,990 and trsavel trailers ranging from $49,990 to $77,990.
"Our hottest selling unit right now is the XT16 Family or the East West," added Hooper. "We get a lot of hard core outdoors guys and hunters so I think when we start to open more dealers in Canada that will be a big boom for us up there."
(833) 632-8721
https://www.youtube.com/@mdcusa1851
Source: https://rvbusiness.com/rv-builder-mdc-usa-seeks-dealers-for-its-adventure-rvs/