Review: ENGLAON 24in Smart TV

Out with the old and in with the new X70 Series ENGLAON 24in HD LED Android11 Smart 12V/240V TV with built-in Chromecast and Bluetooth 5.0!
This sleek, modern TV not only looks great but has all the bells and whistles. With quick delivery and simple packaging, we were ready to set up our new TV. When setting up this new TV, we reused the swivel bracket that came with our original TV from the caravan manufacturer, but you can buy a suitable swivel bracket from ENGLAON as an added extra via its website.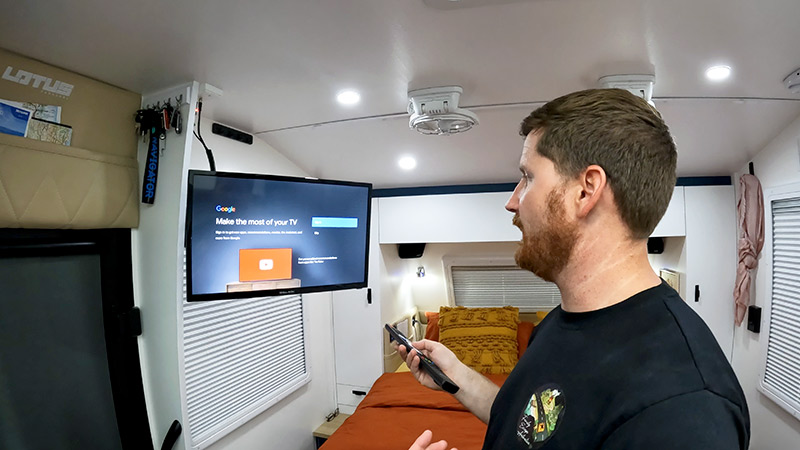 One of the key components of this TV, which we noticed straight away, is how light it felt compared to our previous TV. ENGLAON has also made this TV with offroad caravanning in mind, with its vibration-resistant casing and metal mounting plate – I'm sure we will test the durability of this TV in due course as we hit the Gibb River Road later in the year.
INSTALLING ENGLAON
The ENGLAON X70 Series Smart TV included the TV console and lightweight stand, a voice-activated remote control, remote battery, 240V AC/DC power adaptor, 12V car lead and user manual. The installation process was quick and simple. We lined up our bracket with the new TV and secured the bolts in the bracket points, and placed the TV back onto the wall mounting bracket.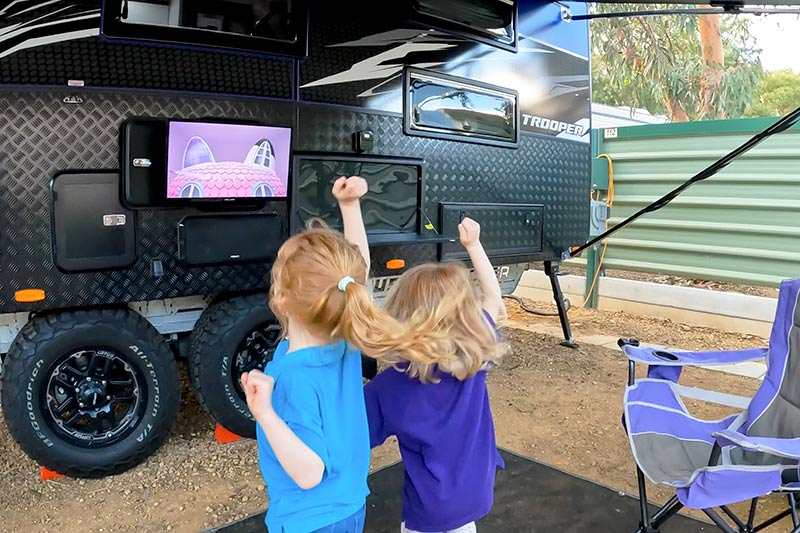 We noted that the 12V power connector was a snug fit, with a bright red light and a subtle blue light at the bottom corner of the TV. When turning the TV on for the first time, it went through a simple start-up process. We did find that our Google account did not initially connect; we felt this step should be after connecting to the wi-fi, which can be done by skipping the initial Google set-up.
Our caravan's radio Bluetooth connected to the TV without issues, and we also connected our phone to the TV, which allowed our accounts and passwords to connect without having to manually do this, such as our Netflix and YouTube accounts. Anyone who has multiple accounts and passwords would appreciate how streamlined and simple this process is – it really did save time and the need to remember which password belonged where.
VOICE ACTIVATION
Once we paired the remote control to the TV, we were able to use the voice activation feature. Unlike our Google Home, this Google Assistant listened to our instruction and, before we knew it, Netflix was up and running with the latest episode of a TV series we were currently watching. We have a lot of Google products around the caravan and, when we lived in a house, we really enjoyed the convenience this product brings to everyday living.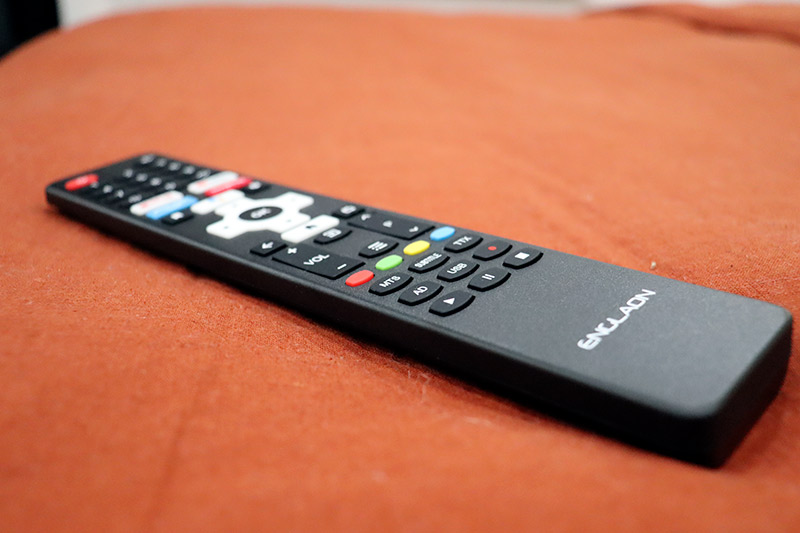 The X70 Series is the first caravan TV of its kind to be Google-certified and that is certainly a key feature for our family. Picture quality was excellent, with bright colours, a sharp contrast and HD resolution of 1366×768 pixels. The speakers provided good quality sound and no feedback. 
The 24in smart TV has two 5W built-in speakers with Dolby audio. When connected to our caravan speakers via Bluetooth, there was no delay, a feature we also really liked as our previous TV had such a bad delay when connected to our van's speakers via Bluetooth that it was unwatchable.
With the built-in Chromecast, we were also able to screen-share videos and photos from our phone to the TV. Pre-loaded apps included Prime, YouTube, Netflix and the Google Play Store; however, the following apps are also available to download: Stan, Kayo Sports, Disney +, Apple TV, Foxtel, SBS On Demand, 7 +, 9 Now, Ten Play, Binge and many more!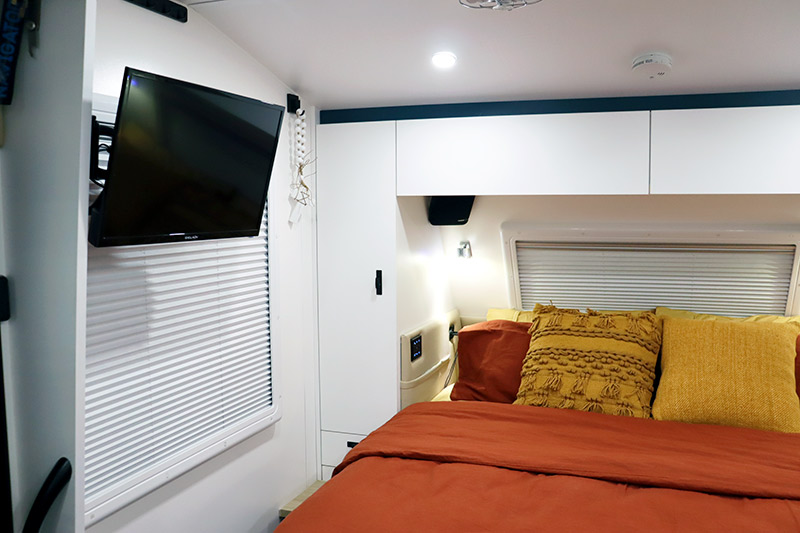 Those rainy or sick days stuck in a caravan will no longer be a day of boredom with the features and entertainment that this TV provides our family. It is not only light, with a net weight of 2.2kg and a gross weight of 3kg, it has low power consumption of 38W and an energy rating of 4.5 stars. It seems that ENGLAON has considered all factors when it comes to choosing a TV for a caravan – it's especially good for caravanners who have strict weight limits and small power setups when travelling off-grid. 
SUMMING UP
Overall, we have really enjoyed the great picture quality and the option to now have surround sound in our caravan. We are thoroughly impressed with the quality of the casing and remote without compromising the light weight of the ENGLAON 24in Smart TV.
Of course, as a young family, our favourite feature would also include the Google Assistant – great for sorting out the kids while my hands are full cooking dinner. There are plenty more features that this TV offers – be sure to visit the ENGLAON website for more information and additional specs.
More info: https://englaon.com.au/
– Krystal and Myles Fenoglio, Family Escape Australia
The post Review: ENGLAON 24in Smart TV appeared first on GoRV.
Source: https://www.gorv.com.au/review-englaon-24in-smart-tv/