Pork Barbecue baked potato

(Makes 4 servings)
Ingredients
4 baking potatoes
1.5 lbs (680 g) boneless pork loin roast
1.5 cups (375 ml) regular bbq sauce
2 tsp (10 ml) hot sauce
1/4 cup (60 ml) Worcestershire sauce
1/4 cup (60 ml) soy sauce
1/4 cup (60 ml) butter or margarine
1/2 cup (125 ml) sour cream
2 cups (500 ml) fi nely shredded cheddar cheese
4 green onions, chopped
Directions
Wash the potatoes and prick them with a fork.

Rub a piece of paper towel dipped in canola oil over the barbecue grate. Preheat the grill on high for 10 minutes. Sear the pork loin for 2 minutes on both sides with the lid closed.

Turn the heat down to medium-low and place the potatoes on the grate beside the pork loin.

Turn the roast and potatoes every 10 to 15 minutes throughout the cooking time. Cook for approximately 40 minutes, with the lid down, or until the internal temperature of the meat is 160° F to 170° F (70° C to 75° C) on an instant-read thermometer and the potatoes are cooked through.

Combine the barbecue sauce, hot sauce,

Worcestershire sauce, and soy sauce in a saucepan and set aside.

Cut the meat into bite size pieces and add to the barbecue sauce mixture. Stir over medium heat for about 2 minutes until the sauce is hot and bubbling.

Cut open each baked potato. Place butter, sour cream and grated cheese inside each potato.

Spoon the hot barbecued pork mixture over top.

Sprinkle with chopped green onions.
---
Put Passion into the
Art of Barbecue
Barbecue is serious business in North Alabama. Big Bob Gibson Bar-B-Que, in Decatur, AL. won the Memphis in May Grand Champion title for numerous years, competing against more than 250 teams in this world championship barbecue cooking contest. Almost an entire page of the restaurant's menu is dedicated to their list of awards for lip-smacking sauces and down-home cooking. As we stepped through the door of their establishment, a smoky, semi-sweet aroma wafted from their old-style brick-lined barbecue pit set up in the back corner of the kitchen.
" Everything does barbeque basically the same. the unique flavour depends upon the love you put into it," Jim Kelley, co-owner of LawLer's Barbecue recently won the Best Sauce in the North Alabama contest and was runner-up in the Best Barbecue category. LawLer's combines old time family barbecue flavours with the fast service. Slow-cooked hand-pulled meats are served up from shiny stainless steel counters and equipment. A take-out window allows people on the run to enjoy the same smack-down delicious food as people who sit down inside.
Bottles of award-winning white and red sauces are on the tables for customers to squeeze over their choice of smoked turkey, pork, or chicken at both restaurants.
Stuffed baked potatoes are popular items at Big Bob Gibson's and LawLer's. The flavours in our recipe reflect our love of Southern barbecue. Cooked beef, turkey, or chicken can be substituted for the pork.
---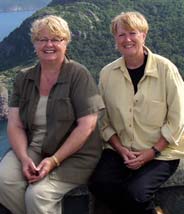 Follow The Cooking Ladies on Facebook, Twitter, Instagram and Pinterest. Links are on their website: www.thecookingladies.com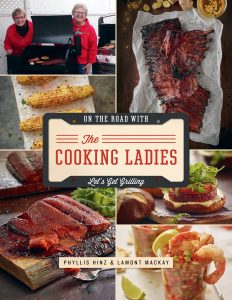 Phyllis Hinz & Lamont Mackay are authors of On The Road With The Cooking Ladies, Let's Get Grilling https://amzn.to/2OSGLbZ and a new series of guidebooks Stratford For All Seasons https://amzn.to/38w4bvu
Source: https://www.rvlifemag.com/pork-barbecue-baked-potato/?utm_source=rss&utm_medium=rss&utm_campaign=pork-barbecue-baked-potato