'Outside Van' Enters RV Arena with 2 Financeable Options

[embedded content]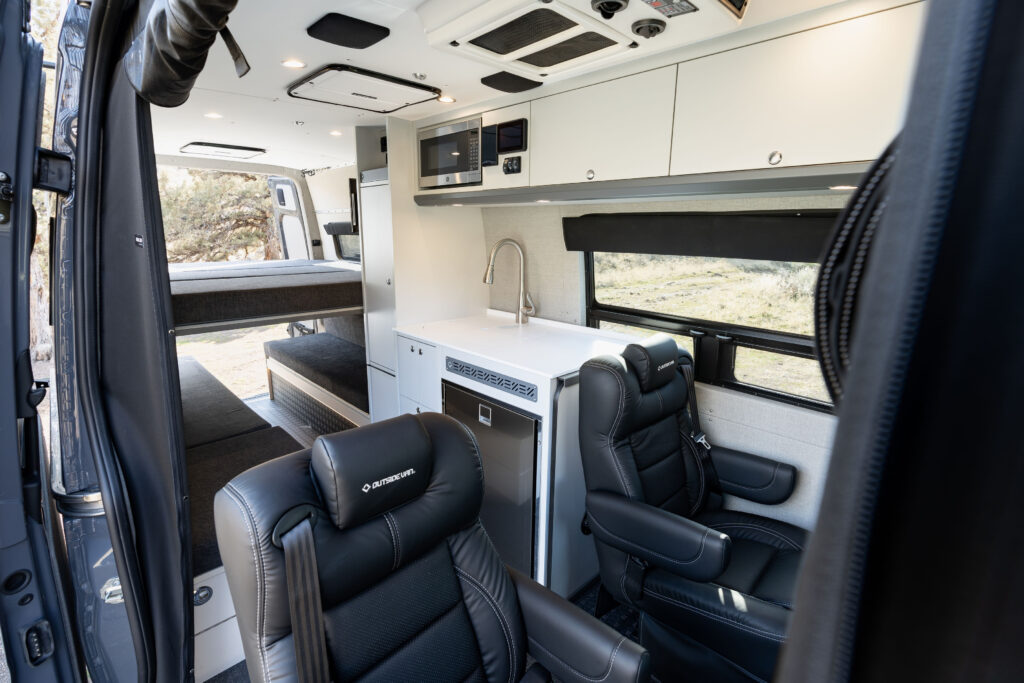 PORTLAND, Ore. – An undertaking years in the making is finally complete for Outside Van, according to a release. Widely known in the adventure van space with over 20 years of custom build experience, mass-producing two financeable models opens their doors to larger audiences through dealership expansion.
Referred to as "Outside Van South" due to its close but southern proximity to Outside Van's current manufacturing facility, this massive 130,000-square-foot building will exclusively produce Outside Van's newest offerings. The first model, Approach, takes shape on a 2023 Mercedes-Benz Sprinter 170 AWD chassis, offering to seat and sleep up to four. The upcoming Syncline rests on a 2023 Mercedes-Benz Sprinter 144 AWD chassis while providing seating and sleeping for two. Both builds encapsulate everything an individual or family would need to get rolling without skimping on necessities or superfluous bits of flair.
The models were designed from practical experience, built by leading craftspeople, and utilize industry-leading components, the release continued.
Deciding to produce two adventure van models plus continue their foundation of bold, custom van conversions was an obvious next step for the two-decade industry veteran.
"We've never been a company to stay the same, to do only what we're comfortable with," stated Susan Clemo, Outside Van's chief executive officer. "Our beginnings were in tackling each custom build with its unique quirks and one-of-a-kind features."
True to the company's style, Outside Van did things differently by releasing models after producing hundreds of custom builds. "Our experience in the deep end of adventure van conversions has prepared us for the more traditional route of model production while maintaining our commitment to high-end quality," Clemo added.
More details about their flagship models were shared by Tim Wimmer, engineering director, who discussed which chassis size to build first.
"We knew we were giving ourselves a challenge when deciding to create two distinct models, each on a different chassis size. We could recycle design elements between our 144 and 170, but that wouldn't be us. Each model, Approach and Syncline, have unique features and are built with different customers in mind," Wimmer said.
With plenty of space for four adults, Approach will be an excellent choice for families and those with lots of gear to haul.
"The most common chassis size we build on is a Mercedes-Benz Sprinter 170. We wanted to get the most approachable van out to our community first," Wimmer added. "As production of our first 144, Syncline ramps up; we've already learned a lot which will make for smoother sailing with this build."
The Syncline is hinted at a fourth quarter 2023 release.
Source: https://rvbusiness.com/outside-van-enters-rv-arena-with-2-financeable-options/