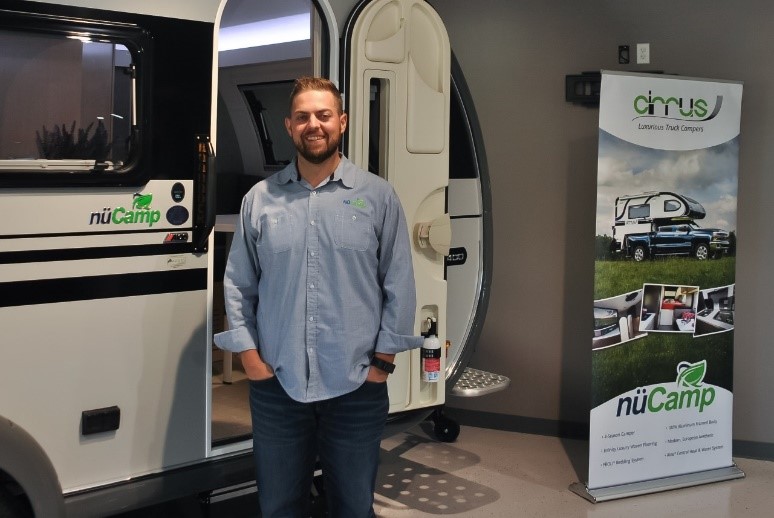 Nathan Wagler has always held interests in the skilled trades and finding ways to help others succeed. Now, in his current role as the Chief Operating Officer of nuCamp, the world's largest teardrop camper manufacturer, he has found a way to bring these two fascinations together, according to a News & Insights report by the RV Industry Association (RVIA).
Growing up in a small Ontario town, Wagler was quickly exposed to both RVs and the wider skilled trades.
"I've always been around the trades—my dad worked in construction and interior flooring," he explained. "I've always known about the RV industry as well. I knew people in my mother's hometown who worked in RV factories or offices." Nathan's mother began her career in bookkeeping at Jayco, another RV manufacturer.
After graduating from Rosedale Bible College in 2008 and spending time in the ministry, Wagler later worked in the skilled trades managing construction. Around the same time, beginning in 2010, nuCamp entered a period of exponential growth as they rolled out new products, including the TAB 400, their largest teardrop trailer, and a line of truck campers. Amid such incredible growth, the company began looking to grow their leadership team — which included Nathan, who joined the nuCamp team in 2018 as Chief Operating Officer.
"This is a people-focused industry," he explained. "nuCamp has a whole network of vendors and campers. It's a community-based company because you all work in close proximity. Personally, I tend to gravitate towards where people are, and I'm happy to be part of a company where everyone encourages each other to be better, both as part of our company culture and as a way to do more for the consumer."
As Chief Operating Officer, Wagler describes his responsibilities as "a little bit of everything," including vendor relations, human resources, team goals, and balancing production and office environments. He also works with nuCamp's customer experience team, which focuses on solving problems for the end user and improving the product. "I take the whole company into consideration," he says. "A large part of my role is bringing everyone together as a team."
Along with a team-focused attitude, nuCamp continually places the consumer experience at the heart of everything the company does. "We aim to make only the highest quality RVs and provide unparalleled experience for consumers," Wagler elaborated. "Our team wants to deliver European design with Amish craftmanship. We're about building the exceptional."
"nuCamp cares genuinely, emphasizes service over self, and works hard — and we extend these things out beyond just our internal team," he continued. "That's how we connect with customers and serve dealers. Our team values opportunities to grow, make each other better, and, ultimately, improve the customer experience and our community."
And nuCamp isn't resting on its laurels — the company is always looking for ways to be better. This includes making in-house improvements, such as increasing operations and vertical integration. In addition, nuCamp plans to maximize its existing teardrop floor plans. "We want to see what we can do with aesthetic enhancements and how to make improvements for our customers," said Wagler. "We're aiming to put a modern spin on something retro."
Wagler added that, although nuCamp is known for its teardrop campers, it's also planning to expand its travel trailer and truck camper lines. "We're pushing for more innovation and even better quality. We don't just want to manufacture teardrops. We'd like to move into adjacent spaces of competition as well."
Along with his responsibilities as nuCamp's Chief Operating Officer, Wagler is also a part of the RVIA's Emerging Leaders Coalition. "Being a part of the Coalition and the Association helps me make connections throughout the industry and know who is out there," he explained, adding that nuCamp's status as an Association member and his involvement in the Coalition has given him insight into all of the resources that the Association has to offer the industry.
"By being a member, nuCamp is able to meet RV Industry Association staff and learn who we can reach out to. The Association's RVs Move America Week, new Leadership Conference, and all of its advocacy efforts bring together so many different entities across the industry. We have the opportunity to meet additional manufacturers and vendor partners, and we can learn from each other to make a better market for the customer."
Source: https://rvbusiness.com/nucamps-nathan-wagler-this-is-a-people-focused-industry/