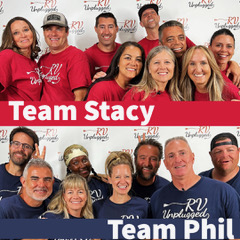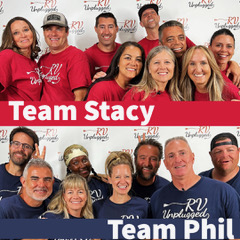 ATHENS, Texas – Fans of the National RV Training Academy's (NRVTA) new live-action competition, "RV Unplugged," can now purchase tickets for the RV Unplugged rally scheduled for May 4 to 7 in Athens.
This unique boondocking rally will include seminars presented by the NRVTA staff as well as contestants. The event also features live music, activities and food. Participants can show their spirit for Team Red or Team Blue, which are captained by Stacy and Phil Farley, from Today is Someday (formerly You, Me & The RV).
Tickets for the rally went on sale Saturday at the Florida RV SuperShow at the Tampa Fairgrounds where approximately 300 people participated in a special RV Unplugged meetup to mingle with NRVTA staff and contestants.
Fans are invited to cheer on their favorite cast members in person at the rally and see who takes home the $10,000 cash prize during the live airing of RV Unplugged's Season One finale.

Tickets start at $500 and include three nights of camping, two meals per person, an RV Unplugged t-shirt for each registrant to join Team Red or Team Blue, and access to all seminars and activities. The rally will take place on the set where episodes were recorded.
Contestants will join rally participants to watch the finale on a large outdoor projection screen. Participants will also have an opportunity to win prizes awarded that night. At the broadcast's conclusion, Tony Flammia, NRVTA's director of sales and marketing, will present an oversized $10,000 check to the newly-crowed RV Unplugged champions.
Only 150 RV sites are available and Flammia expects the event to sell out quickly.
RV Unplugged is a new competition reality series produced by NRVTA. It combines off-grid camping with extreme challenges and strategic game play. Each challenge contestants face features a unique twist, and combines a variety of RV-specific tasks, activities and experiences someone could enjoy when traveling around North America, he explained.
"With coveted rewards, consequences and eliminations on the line, emotions will be at an all-time high," said Flammia. "The RV Unplugged cast and NRVTA staff had a great time filming all nine episodes. We are excited for people to watch as contestants compete in the challenges when weekly episodes are released on YouTube beginning March 1."
Season One contestants include:
Mike and Susan Scarpignato, from RV Blogger
Charity and Ben DeVries, with Grateful Glamper
Howard and Katelyn Newstate, founders of Newstate Nomads
Aaron and Chris Willers, with Irene Iron Travels
Tanya and Dave Villa, from Let's Turn It Up World
Chris & Katrina Bellofatto, with Our Everyday Getaway
Ryan Miller, co-founder of Millers In Motion
Chris & Martha Peters, also known as Venturesome Couple
For more information about the RV Unplugged rally and to purchase tickets, visit www.rvunpluggedrally.com. For information about the Season One cast, visit www.rvunpluggedtv.com/rv-unplugged-cast. For information about the RV Unplugged show, visit www.rvunpluggedtv.com.
For more information about NRVTA and its programs to help people become professionally-certified RV inspectors or technicians, visit www.nrvta.com. To speak with an admissions advisor, call 903-386-0444 or email [email protected]
Source: https://rvbusiness.com/nrvta-rv-unplugged-rally-tickets-sold-at-tampa-meetup/