EDITOR'S NOTE: This an edited version of a much longer article by the Minneapolis/St. Paul Business Journal. To read the full article, click here.
ST. PAUL, Minn. – Winnebago Industries Inc. was just a single-brand motorhome company with only 3% share of the recreational-vehicle market seven years ago, according to a report by Caitlin Anderson in the Minneapolis/St. Paul Business Journal.
That changed when Michael Happe became its CEO.
Happe transformed the well-known RV name into a leading manufacturer in the outdoor-recreation industry, expanding the company's portfolio beyond motorhomes further into the towables market and, for the first time, into boating.
Equipped with a vision for leadership he gained from his two-decade career at The Toro Co., Happe has revamped Winnebago's business prowess, with the company's sales growing from $1 billion in fiscal 2016 to $5 billion in 2022. Its market share for RVs reached more than 12% in 2022, the company says.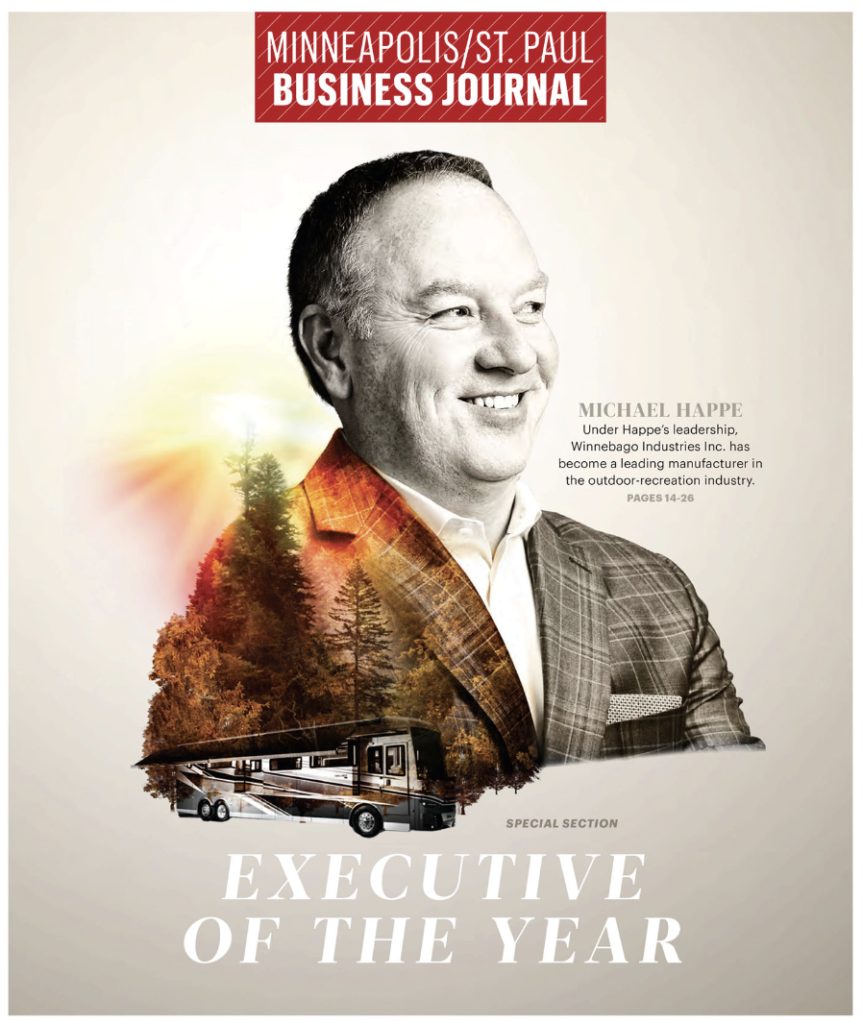 But such financial growth metrics aren't all that has defined Happe's management.
In his time as president and CEO, Happe moved the company's headquarters to Eden Prairie from its historic roots in Forest City, Iowa; oversaw new corporate responsibility measures; and supported innovation, most recently through the company's new electric RV — all of which are intended to position Winnebago (NYSE: WGO) into the future.
His tenure "has been a whirlwind of change in the right direction," Happe told the Business Journal. "… It's a 64-year-old organization, but in many ways, it feels like a 7-year-old startup."
For his transformative leadership at the helm of an iconic American name, the Minneapolis/St. Paul Business Journal names Michael Happe its 2023 Executive of the Year.
Since Happe took over leadership at Winnebago, in January 2016, the company has completed a series of high-profile acquisitions, expanding further into the towables market and for the first time in boating.
During the financial crisis of 2008 and 2009, Winnebago endured a "near-death" experience with revenue falling 85% from its peak, Happe said. Though the company recovered, the board still felt that Winnebago had not reached its full potential, prompting it to consider an outside CEO with connections in a metro area to gain access to a larger talent pool, he said.
When hired, Happe was tasked with three priorities: Re-establish leadership in the motorized RV space, strengthen the company's presence in the towables RV market and diversify Winnebago's portfolio to develop a stronger competitive and financial position – and, essentially, avoid that near-death experience again, Happe said.
Later that year, Winnebago acquired Grand Design, a towable RV maker, for $500 million. "It was a bold, almost existential move, to put a stake in the ground and say Winnebago Industries is ready to play again," Happe said.
That acquisition was "just an absolute home run on every front," Winnebago Board Chair David Miles said.
To read the full article, click here.
Source: https://rvbusiness.com/minn-business-journal-names-mike-happe-exec-of-the-year/