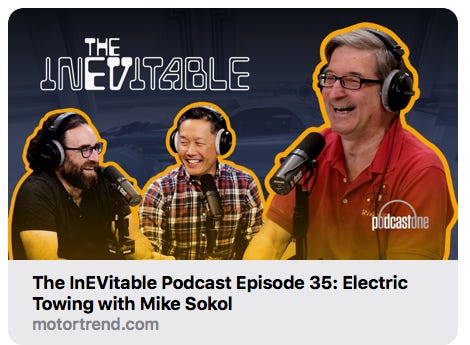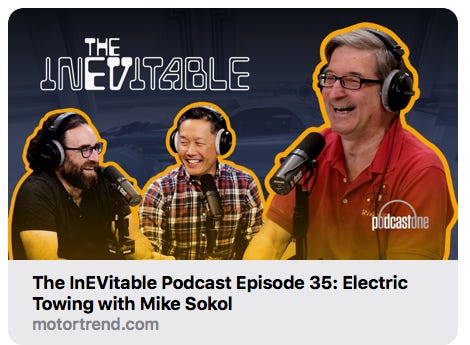 Technology writer, videographer and seminar instructor Mike Sokol has 50+ years experience in all aspects of electricity, alternative energy and electrical safety.
He has been publishing articles for RV owners since 2010, and musicians since 1985 and was invited to be a guest on the MotorTrend InEVitable video podcast in Los Angeles two weeks ago.
The potcast discusses the reasons why EV trucks like the F-150 Lightning lost range when towing a trailer at highway speed and how the RV industry is answering back with prototype trailers that have their own batteries and motor/generators in the wheels.
"This is getting interesting," Sokol states. "Plus these prototype electric-RV Trailers can be driven around the parking lot under their own power at very slow speeds, allowing you to park them in smaller spaces. And they will reduce the range loss that all EV trucks experience when towing. So what do I think about this technology? When might it be available? And what about the possibility of fast-charging EV trucks and these trailers on the road or slow-charging them at your own house? Watch or listen to my 80 minute interview with Jonny Leiberman and Ed Loh from the InEVitable Podcast on MotorTrend. Link to it by clicking
HERE
."
Source: https://rvbusiness.com/mike-sokol-takes-part-in-motortrend-podcast-on-ev-towing/