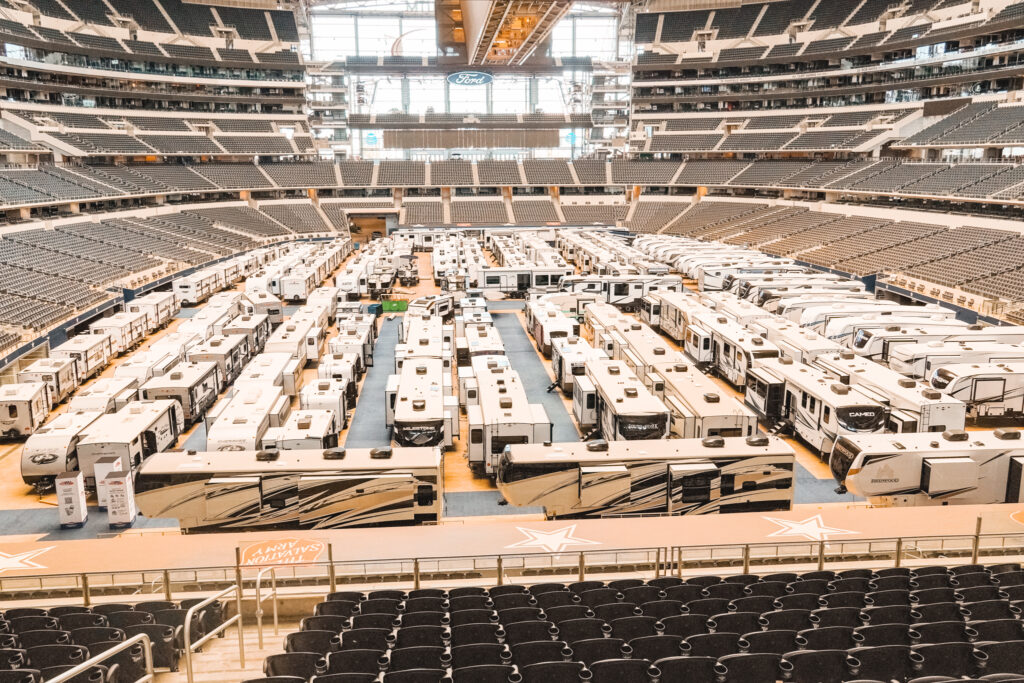 Texas-based dealer Jarrod McGhee tends to think big, which explains how he's been able to build Fun Town RV over 10 years into a 250-employee, 17-store RV retailer with outlets in Texas, Oklahoma and Illinois – with more on the way.
He's also managed to turn an annual weekend retail show, the "DFW RV Party," into one of the nation's largest U.S. RV retail events over the past five years.
As a matter of fact, McGhee says this weekend's show, a free family-friendly event scheduled for Thursday through Sunday (Mar. 9-12) in and around AT&T Stadium, home of the Dallas Cowboys in Arlington, Texas, could well draw as many as 75,000 people to a "party" that includes extensive displays of towable and motorized RV's – as well as pontoon boats — and a wide array of supplier exhibits.
Also part of this year's single-dealer show for Fort Worth-based Fun Town are stadium tours, live C&W music performances, autograph sessions with current and former NFL players, appearances by the Dallas Cowboys cheerleaders, numerous door prizes and an elaborate playground with bounce houses among other things.
"Year one, it was just a little bitty event held in a parking lot outside of AT&T Stadium," said McGhee, the owner and CEO of Fun Town, which also operates five stand-alone service centers and currently is adding four more retail outlets. "When I first partnered with the Cowboys, we became a sponsor of them in an RV parking lot where everybody brings their RVs in to tailgate before the game while companies like AT&T, Dr. Pepper and Whataburger also sponsor the different lots.
"Then year two was the first year we went inside (the stadium) and it was a great show,' recalled McGhee. "We had about 20,000 people in there, and it was really a phenomenal show for us because we weren't ready for that many people in a such a short period of time."
And while 2019 was another solid year with attendance up to something like 35,000, he recalled, Covid wound up putting an end to the third year's event when government officials at about 3 p.m. on the opening day ordered the show closed down as part of a city-wide mandate.
Following another solid round last year, McGhee is expecting big things for 2023, more info about which is available at dfwrvparty.com.
"We'll have anywhere from 250 to 300 RVs positioned inside and outside the facility. We bring help in from all of my stores, all the brands, and we have a very large merchandising section up on the mezzanine deck that all these vendors are in," said McGhee, whose Cleburne, Texas, facility ranked as the nation's No. 1 single-site dealership in 2022 according to Statistical Surveys Inc.
Consistent with Fun Town's wide-angle approach to its March "party," the exhibiting vendors represent a wide range of interests and exhibitors including Ford Motor Co., Cabela's, Truck System Technologies, Lippert Components Inc., Travel Easy Deck System, PullRite, Ultra-Fab, Lucas Oil, Holdrege Barn Builders, Tom Drake Roofing, Blazing Beard Products, Rhineland Cutlery, Camptown Outiftters, Lucas Oil, B&W Hitches and RV LIFE Pro.
"There's probably another hundred firms I could mention, everything from mobility scooter companies to companies that do all sorts of things," he added, "the point being that it's not just RVs and companies that do just outdoor products. So, we have a really good setup of folks that come in who occupy the vendor sections.
"And I believe our list right now (for this week) involves over 200 factory representatives," he added. "They'll be here just representing product. We probably have another 25 people coming in from the financial side working with the dealers. And our team (of employees) will be there. I'll have probably about 250 employees working this show, which, as you can see, is a huge event."
Source: https://rvbusiness.com/mcghee-fun-town-rvs-dfw-rv-party-could-draw-75000/