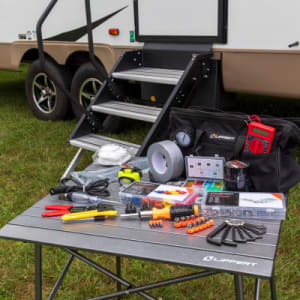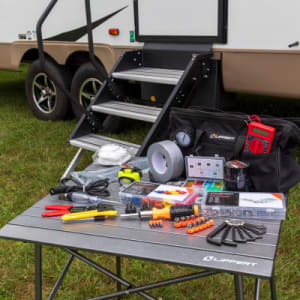 ELKHART, Ind. – Lippert Components, Inc. (Lippert) announces the debut of its RV tool kit. The product is the latest addition to Lippert's wide variety of campsite accessories designed to make life easier for RV owners, according to a release.
Lippert's RV tool kit allows RV owners of all experience levels to prepare for any kind of issue while traveling. It's packed with 15 essential tools for quick-fix, DIY jobs that give RVers the resources to troubleshoot issues while on-the-go, allowing them to skip a call to their nearest technician or a trip to the local hardware store.
This tool kit is a complete, RV-specific, cost-effective bundle that offers RV owners at any stage of ownership the opportunity to fix components on their RVs all on their own. This saves time, money and frustration when life happens.
The kit is equipped with a variety of tools and parts such as: assorted screws, wire connectors, wire strippers, a fuse set, an LED headlamp, a multimeter, a ratcheting screwdriver set, duct tape, electrical tape, a hex key set, a test light, a tire gauge, a utility knife and zip ties. To add convenience for the user, the kit also comes with a heavy-duty tool bag for easy portability.
"Our Customer Care Center has hundreds of field technicians out there every day helping RVers get back on the road, and many times if they just had the right tools, they could have fixed the issue themselves," said Mark Boessler, Senior Vice President of Sales for Lippert's Aftermarket Division. "The contents of this tool kit were hand-picked by these same technicians; it's what they would want if they were RVing themselves, and that says a lot. As one of the leading suppliers of components to the RV Industry, we know it's our responsibility to provide the best service possible, and this tool kit is a must have for beginner and veteran RVers alike."
To learn more about the RV tool kit, visit the product page.
Source: https://rvbusiness.com/lippert-introduces-complete-cost-effective-rv-tool-kit/