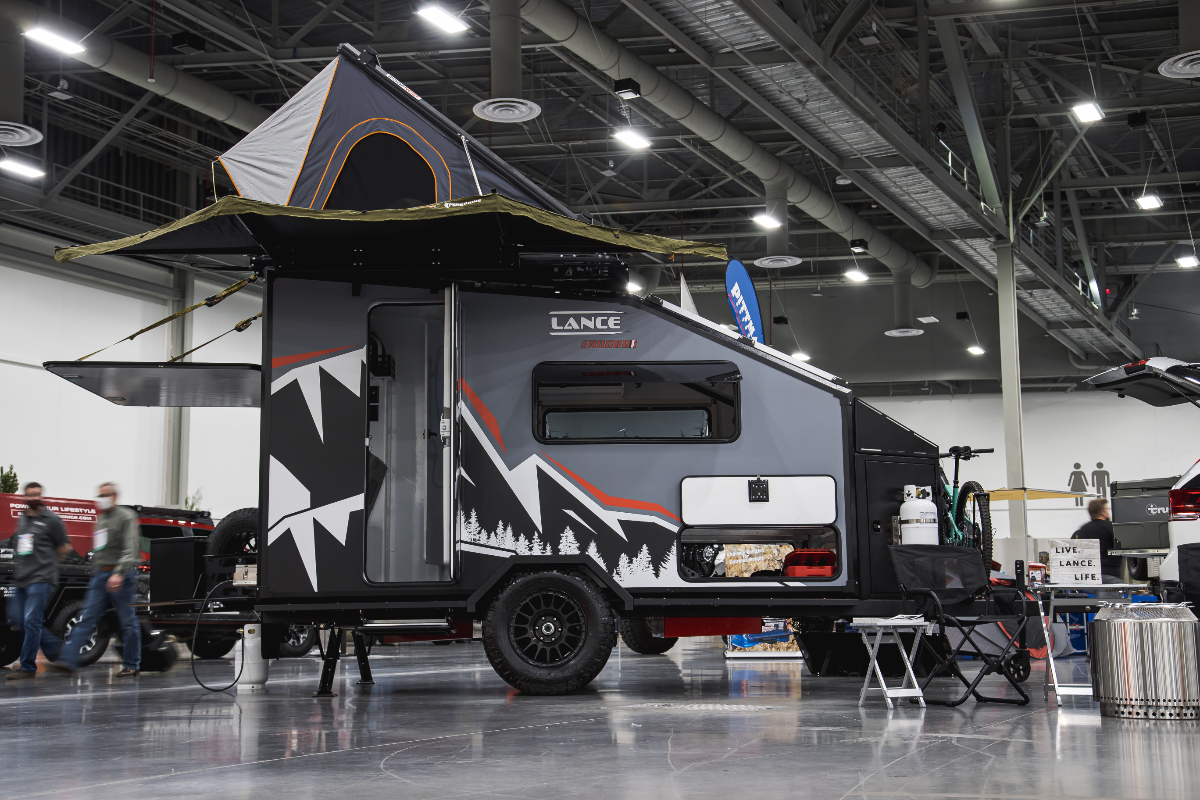 At the SEMA show back in November of 2021, Lance Camper introduced an intriguing prototype camping trailer called the Enduro. The off-road-focused towable received plenty of attention in overlanding and RVing circles thanks to its rugged build quality and innovative features. But at the time, the Enduro was still in the development phase, with no indication of pricing or availability. Now, Lance says it is ready to move forward with this exciting new model, with production ramping up next month.
In the months since the Enduro made its debut, the engineers and designers at Lance have been refining the product. After the SEMA show, the company listened intently to consumer feedback before finalizing its production plans. As a result, we now have a clearer idea of what to expect from this travel trailer when it begins rolling off the assembly line in April.
The Enduro is a single-axle towable built for overlanding and boondocking. It comes with a wet bath, a u-shaped dinette, and an exterior kitchen. Its off-road chops are bolstered with an all-new exoskeleton frame and an independent suspension courtesy of Curt. A fresh water tank and filtration system enhance the off-grid travel experience, while an optional solar panel and lithium battery array provide power at remote campsites.
"Off-road enthusiasts push the limits of their vehicles, which is not recommended with traditional trailers, Lance Product Development Manager Randy Hunter says in a press release. "With the Enduro, it offers the amenities overlanders want, like a full stand-up shower, larger than a queen size bed, and a real u-shaped dinette, plus heated/cooled forced air and water in a capable and towable package with a dry weight under 3300 pounds."
"Lance is no stranger to the adventure camping segment with our Truck Campers. Some might call the Truck Camper: the original overlanding RV," Lance Director of Sales and Marketing Gary Conley adds. "What we have done with the Enduro is taken the 'get out there and camp' spirit we know so well and combined it with Lance quality to make an off-grid trailer we think people are going to love."
According to the press release announcing the start of production, Lance will repurpose existing space to begin building the Enduro. The company has also created a sales and marketing team around this exciting new product, which it hopes to start shipping to customers in the very near future. Watch the Lance website for further updates.
The post Lance Camper Set to Begin Production of Enduro Off-Road Trailer appeared first on RV.com.
Source: https://www.rv.com/rv/trending-rvs/lance-camper-set-to-begin-production-of-enduro-off-road-trailer/