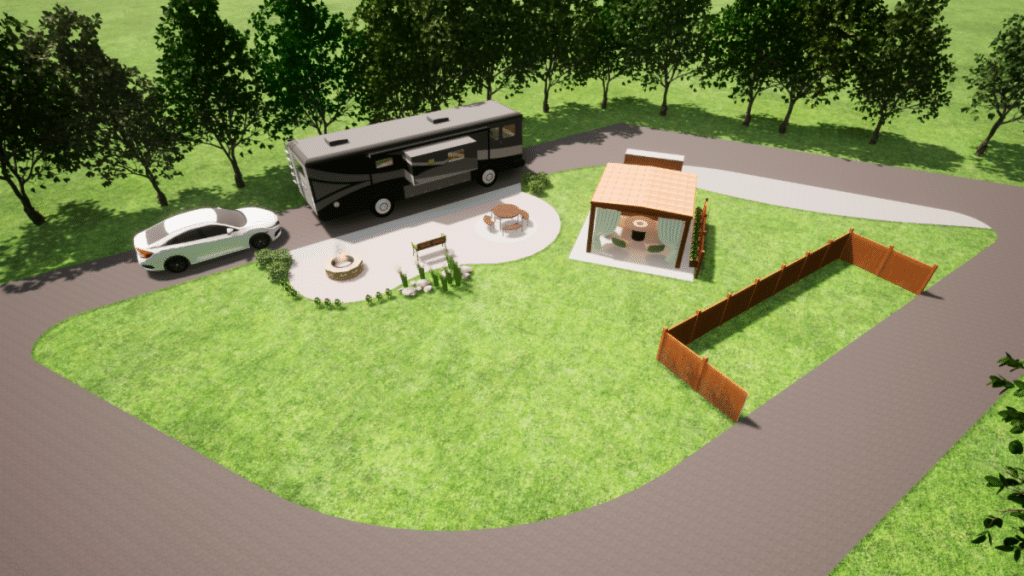 BILLINGS, Mont. – Kampgrounds of America Inc. (KOA) unveiled a new premium site class, the KOA Signature Site. Today, the company announced its latest offering, which will elevate the outdoor experience, whether you prefer an RV or Cabin Site. Each Signature Site will include an expanded KOA Patio with a covered seating area, such as a Skydeck or gazebo, expanded grilling elements, and a fire experience.
In the company's latest research, KOA found that 69% of campers expressed they would likely stay in a well-appointed, premium campsite, with a growing audience of younger campers more interested in socializing while camping. Already under development at some KOA locations, the KOA Signature Site brings campground amenities to a site-level experience and is expected to be a popular offering.
"The KOA Signature Site reimagines what an individual campsite can offer," said Darin Uselman, chief operating officer of Kampgrounds of America, Inc. "This elevated, expanded site caters to the camper wanting an exclusive campground experience."
Requirements of a KOA Signature Site include a minimum size of 3000 square feet allowing for ample room for relaxation. Upgraded landscaping will define the site and offer privacy for guests. An on-site gathering area consisting of a deck, raised platform, or covered pavilion will accommodate six in various orientations. Recommended items include EV capabilities, leash-free Paw Pens, and on-site recreation.
"The KOA Signature Site is just one example of our focus on innovation and development across KOA campgrounds," Uselman said. "It's important that we're moving the industry forward while elevating our offerings as we continue to provide the best in outdoor hospitality."
Currently a development focus, Kampgrounds of America Inc. anticipates that 50 KOA Signature Sites will be available across the U.S. and Canada by 2025.
Source: https://rvbusiness.com/koa-unveils-luxurious-elevated-signature-site-design/