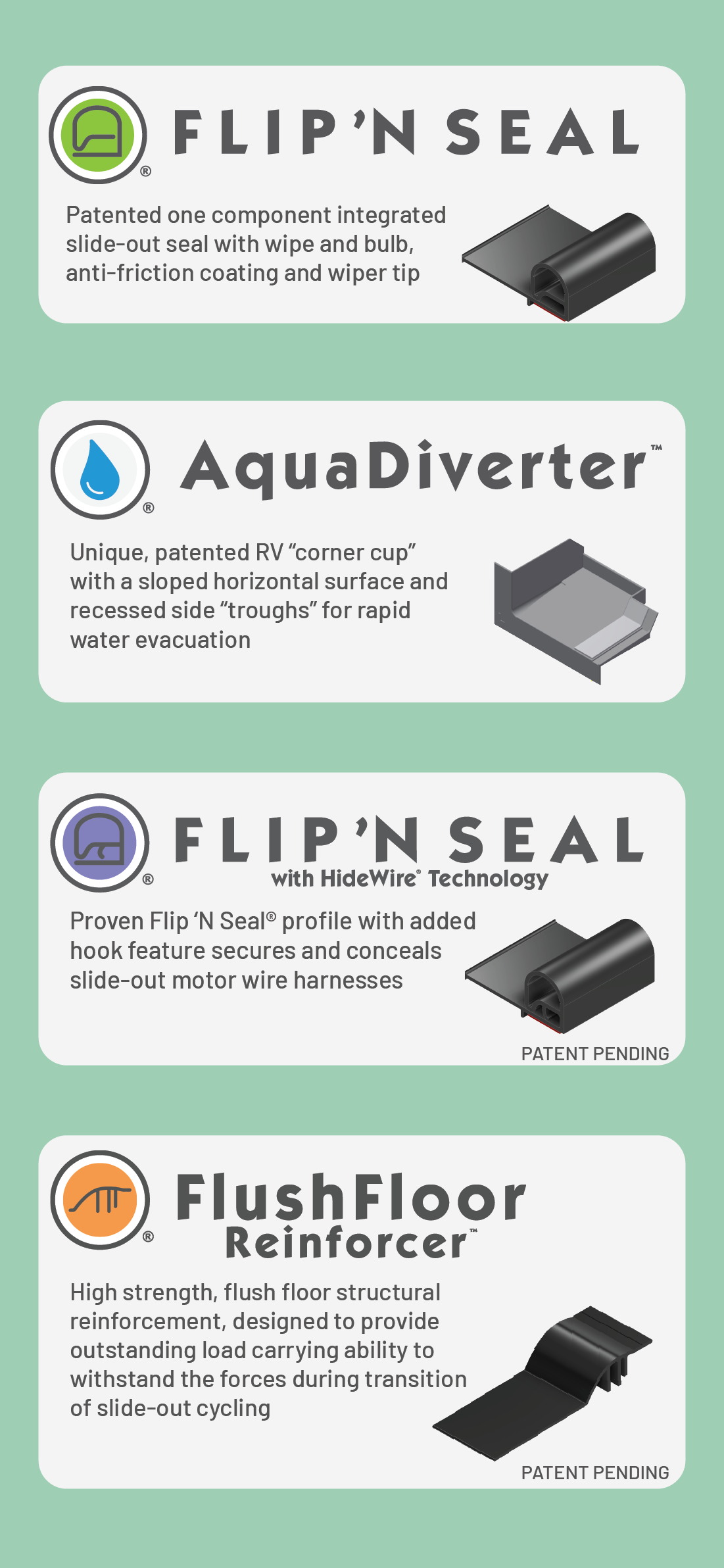 LAPORTE, Ind – Jaeger-UniTek Sealing Solutions Inc. is now offering the "Full Package Flip 'N Seal Slideout Sealing System," according to a press release, including three additional patented innovations created to securely and repeatably seal recreational vehicles from water, dust and temperature intrusion.
According to Colton Phelan, vice president of sales, "Over the past five years, our team has helped many leading OEM's convert to our patented, Flip 'N Seal slide-out sealing system, leveraging the highest performance automotive grade polymers and novel seal geometry. Our customers began to request that we invent a full system of technologies designed to achieve the highest level of RV consumer satisfaction, by eliminating water intrusion warranty costs and providing the lowest total cost of ownership. We were challenged to create new solutions which address very specific areas of need and were instrumental in delivering the best full sealing package for slide-out rooms".
According to company officials, the Flip 'N Seal Full Package System is now being launched in advance of the new model introductions.
Jason Cackley, Jaeger-UniTek application engineer, added "Our original, patented Flip 'N Seal, one-component seal, revolutionized the industry by consolidating two components into one. It is easy to install and creates a high-performance seal using material technologies that were pioneered in the automotive sealing market. Our team listened closely to our OEM needs, the consumer feedback from the market, distributors, and dealers to set targets for our product development objectives. Ultimately, we created the AquaDiverter, the Flip 'N Seal with HideWire Technology and the FlushFloor Reinforcer solutions, which are now launching in the marketplace in preparation of the new model year introductions. We are thankful for our customers challenging us and their trust in our design team to innovate market changing solutions that deliver best-in-class sealing performance."
Jaeger-UniTek Sealing Solutions Inc. is a leading engineered rubber and thermoplastic profile extrusion manufacturer serving automotive, industrial, and recreational vehicle industries. Jaeger-UniTek is a member of the Jäger Group, a global organization, headquartered in Hannover, Germany and is a fourth generation, privately held corporation.
For further inquiries about Jaeger-UniTek, please contact Macie Truex at macie.truex@jaeger-unitek.com
Source: https://rvbusiness.com/jaeger-unitech-now-offering-new-slideout-sealing-system/