Jackery Explorer 1000 Pro Lithium Power Station Test

Access to power when you're camping or caravanning can mean the difference between a memorial trip and one you'd rather forget.
There are, of course, plenty of ways to achieve this access, from a direct connection to a mains powerpoint, to a basic 100Ah deep-cycle battery. Or, you could consider a portable lithium power station. These are fantastic devices which, as their name suggests, comprise a lithium-ion battery, 240V powerpoints, an inbuilt inverter, a solar regulator, and even 12V and USB charging outlets.
They are usually available in capacities ranging from 1000W AC to more than 2000W AC – enough 
'juice' to power most appliances you are likely to take camping. In this regard, they provide much the same service as a petrol or diesel-fired generator.
We had the opportunity to test the Jackery Explorer 1000 Pro, a 1000W portable lithium-ion power generator. Here's what we thought…
ABOUT THE JACKERY EXPLORER 1000 PRO
The Jackery Explorer 1000 Pro comes with two switched 240V AC powerpoints, one switched cigarette-style 12V point, two switched USB A outlets, and two switched USB C outlets. It also has a light with three settings, an inbuilt MPPT controller, as well a digital display which provides the battery's state of charge, the electrical output (in watts) when an appliance is plugged in, and the input (also in watts) when it is being charged.
When the Jackery arrived, the state of charge was 98 per cent. There are three ways to charge this unit: off mains power – the fastest – via a 12V outlet, solar panels, or a combination of these.
The Explorer 1000 Pro arrived at my house along with two Jackery SolarSaga 80W solar panels, which are designed specifically to work with the Jackery lithium power plant.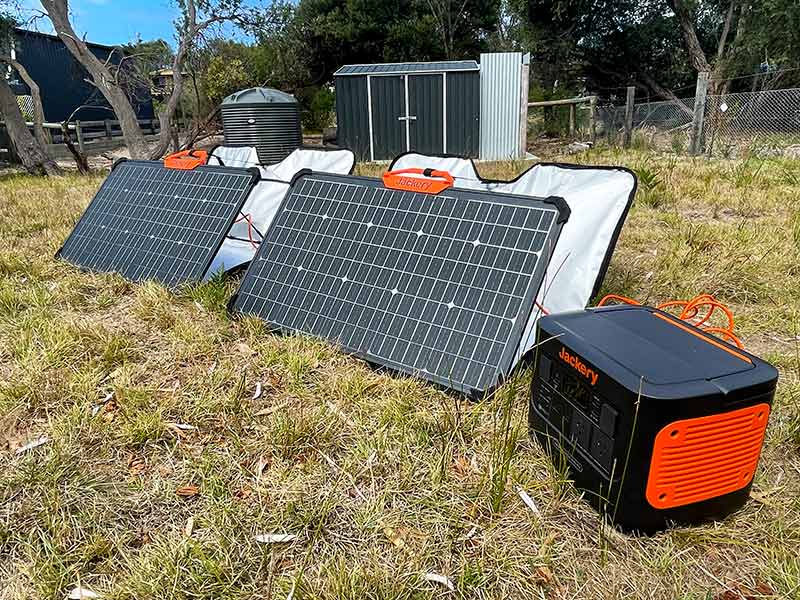 I conducted a couple of different tests. First, with the battery fully charged at home, I plugged in my toaster, which drew just over 800W via the integrated pure sine wave inverter. I cycled the toaster on a medium heat setting 11 times. After the 11th cycle, the battery had been discharged to 53 per cent – plenty of remaining power for other uses. A great start.
That weekend, I took off for a couple of days' camping to test the Explorer 1000 Pro and SolarSaga panels in a real-world setting. Once I was set-up, I began to appreciate just how well made the Jackery equipment is. It struck me that provided you looked after this equipment, this equipment would look after you.
SOLARSAGA PANELS
Each SolarSaga (RRP: $459) panel comes in a protective, padded bag lined with a reflective silver material. The panels are double-sided and you can arrange and then secure the panels at the required angle on top of the reflective bag such that additional energy is reflected off the bag towards the underside of the panel – particularly useful as the sun shifts position.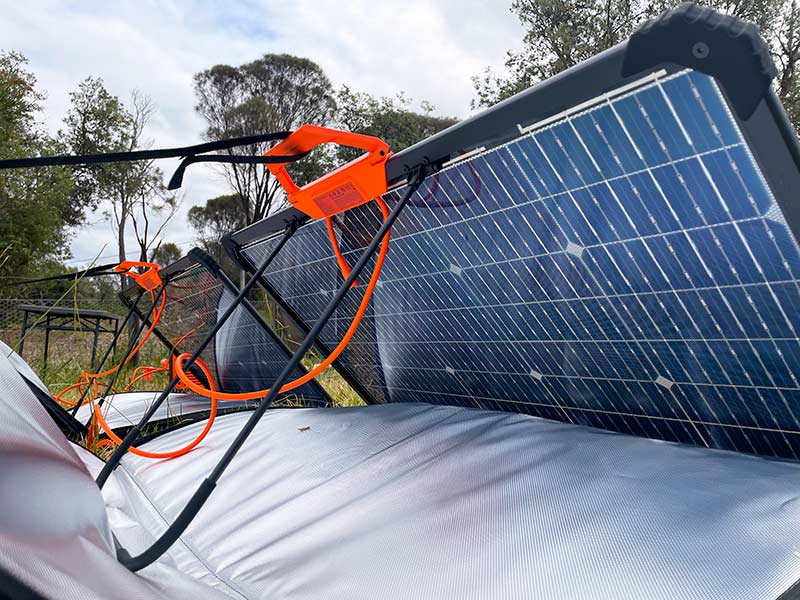 Now, it is possible to connect the SolarSaga panels in series, using a separate adaptor. However, I apparently chose horrible weather to test these panels – the sky was particularly overcast for the duration. With both panels connected to the Jackery Explorer 1000 Pro, the digital display confirmed a maximum input of 45W. With just one panel connected, the input was about 20W. After two hours connected to both panels, the battery had recovered six per cent charge, raising the overall state of charge to 59 per cent.
To reiterate: this was during very cloudy weather – to expect much more solar input than that would be unrealistic. However, I wasn't satisfied. So, on a different day, when the sun and sky were cooperating, I tried again. This time, on a bright, sunny day, the display revealed solar input of just over 140W – much better.
Each panel has been given an IP68 rating for water and dust resistance and comes with a 2m extension cable. These panels measure 906x528x27mm and weigh 5.1kg. The plastic handles and all connection points seem quite durable, too.
HOW I USED THE BATTERY
With the Jackery Explorer 1000 Pro now at 59 per cent, I used it primarily to charge my laptop and phone while I sat beside the fire streaming a couple of movies.
I was also pleased to realise that I can use the battery's in-built 12V socket to power my portable hot water service and inflate my air bed when I'm tent camping.
After a few hours of such usage, the battery had depleted to 37 per cent. However, I was still able to use my toaster in the morning!
With an AC input of up to 800W, the Explorer 1000 Pro will fully charge in just under two hours when connected to mains power. However, it will take up to nine hours in good conditions to fully charge on two 80W SolarSaga panels. Using the 12V car adaptor, it will take up to 12 hours.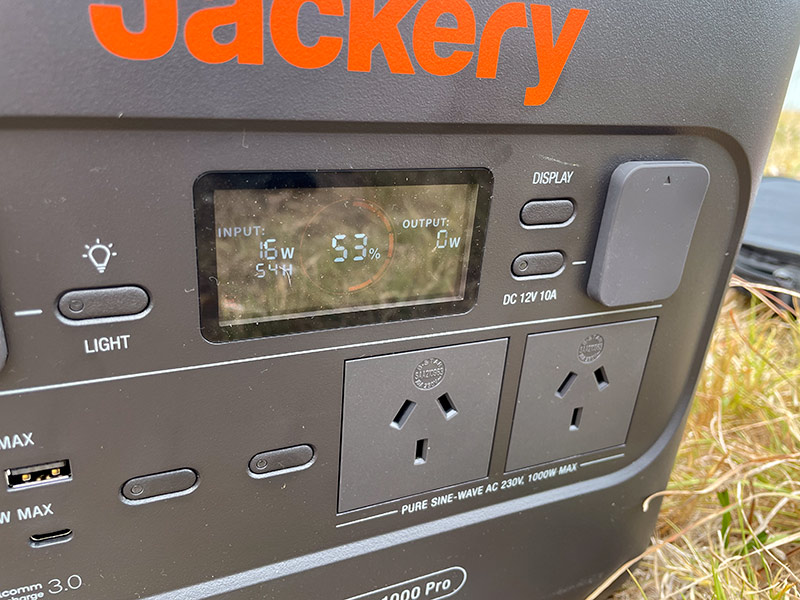 The battery, which weighs 11.5kg, has a projected life of 1000 full-charge cycles, at which point it will reduce to about 80 per cent capacity, and gradually reduce further from there. It features both over-voltage and short-circuit protection.
I set out to decide if this equipment would be a worthy addition to my tent-camping kit. I can unequivocally now say that it is. Portable lithium power stations such as this are quiet, produce no ongoing emissions, and when paired with solar panels, are completely 'green' to recharge. It will easily meet my power needs. However, the Explorer 1000 Pro is not waterproof, so it must be kept out of the rain.
Caravanners with a decent 12V system might not require a device such as this, unless they were heading out for the day and still needed power, but anyone else would find it incredibly useful.
FAST FACTS
RRP: $1899
WARRANTY: Three years
MORE INFO: https://au.jackery.com/products/explorer-1000-pro-portable-power-station
The post Jackery Explorer 1000 Pro Lithium Power Station Test appeared first on GoRV.
Source: https://www.gorv.com.au/jackery-explorer-1000-pro-lithium-power-station-test/