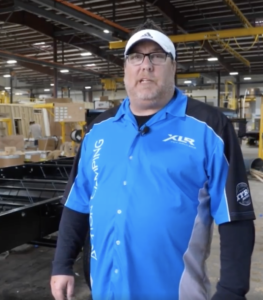 ELKHART, Ind. – Kelly Green, Product Sales Manager for XLR Boost Toy Haulers of Forest River RV, died suddenly Monday night, Feb. 13, 2023, at his home in Huntertown, Ind., according to a release.
Green started his career at Fleetwood RV in Decatur, Ind., as a Parts & Service Tech. He then became Service Manager at Dutchmen Manufacturing. His skills and knowledge, along with his tremendous work ethic, propelled him into becoming Director of Purchasing, eventually Vice President of Operations at Dutchmen.
Green decided to see if he could sell RVs. Ten years ago, He reached out to Brent Stevens, longtime friend and General Manager of XLR Toy Haulers. Stevens carved out a small sales territory. Green then contributed to being a huge part of XLR's success, managing to be No. 1 in his price point.
"I want to express my deepest sympathy to the Green family. The loss of such a good friend and colleague causes one to step back and evaluate what is important in the world. Your health, your family, and your friends should be your #1 priority," said Stevens.
OBITUARY
Kelly Aaron Green, 49, of Huntertown, Ind., passed away on Monday, Feb. 13, 2023. He was born on April 9, 1973 in South Bend, Ind., the son of Terry Green and Sandi Bruner. Green was employed by Forest River Inc. as Regional Sales Manager.
Green was known to have incredible fashion sense; he was also a grill master, bartender, avid Notre Dame Fan and Hall of Fame HAP football coach, but most importantly he was a hard worker and provider of his family. He loved family vacations and making sand animals, but his true love was his family and he loved them well.
He is survived by his wife, Kathy Green; three children, Kaleb Green, Cooper (Julia) Green, and Kourtney Green; father, Terry (Beverly) Green; mother, Sandi (John) Bruner; two brothers, Todd (Nanda) Green and Bruce Bruner; sister, Kelley (BJ) O'Connor; in-laws, Jerry and Judy Niedzwiecki; brother-in-law, Jay (Robyn) Niedzwiecki; niece, Wren Niedzwiecki; nephew, Rook Niedzwiecki.
He was preceded in death by his grandparents, including his beloved grandpa, BJ.
Visitation for Green will be held Thursday, Feb. 16, 2023 from 4 p.m. to 8 p.m. and Friday, Feb. 17, 2023 from 10 a.m. to 11 a.m. at Grace Gathering East, 3157 Minnich Rd., New Haven, Ind., 46774.
Funeral services will take place at 11 a.m. on Friday, Feb. 17, 2023 at Grace Gathering East with Pastor Scott Jester officiating. Burial will immediately follow in Huntertown Cemetery.
Fond memories and expressions of sympathy may be shared at https://www.mccombandsons.com for the Green family.
In lieu of flowers the family ask that memorial contributions be made to Empowered International, empoweredintl.org.
Source: https://rvbusiness.com/industry-veteran-kelly-green-of-forest-river-passes-at-49/