I Survived Bear Grylls, Episode 2 Recap: Going Commando
Bear Grylls has always sought out the most extreme challenges, and now he's offering the same thrill of adventure — and the top prize of $10,000 — to prospective survivalists on his new competition series, I Survived Bear Grylls (Thursdays on TBS at 9:00 pm ET/PT).
"Welcome to what is probably going to be the roughest, toughest most savage day of your life," Bear explains to Episode Two's five contestants: bow-tie-wearing educator Edward, former New Orleans Saints cheerleader Summer, wine shop-owning mom Sarah, overconfident and zero-experience survivalist Matt, and Jose, a veteran who's a purple heart recipient.
Ahead are the episode's top moments from each of the four challenges. Read last week's recap here.
Watch Your Tongue
Bear kicks off the show by giving his new contestants the cold shoulder with an Arctic-themed contest. In a throwback to a 2009 experience in Alaska — when he was so cold and hungry that he gutted a reindeer, ate its heart, and crawled inside the animal's body — Bear presents the players with Carcass Cache. Contestants must climb into a (fake) reindeer filled with blood and dig out one of the animal's (real) parts as Bear announces them: a tongue, stomach, kidney or heart. While some identify and retrieve the correct parts right away, after Bear asks for a kidney, Summer, the former NFL cheerleader, gets the tongue she gave Bear tossed back at her when she returns to the carcass to continue the search. On another round, a tongue again goes flying through the air when Bear requests stomach lining. "You guys are not going to be butchers!" Bear jokes.
On the Ropes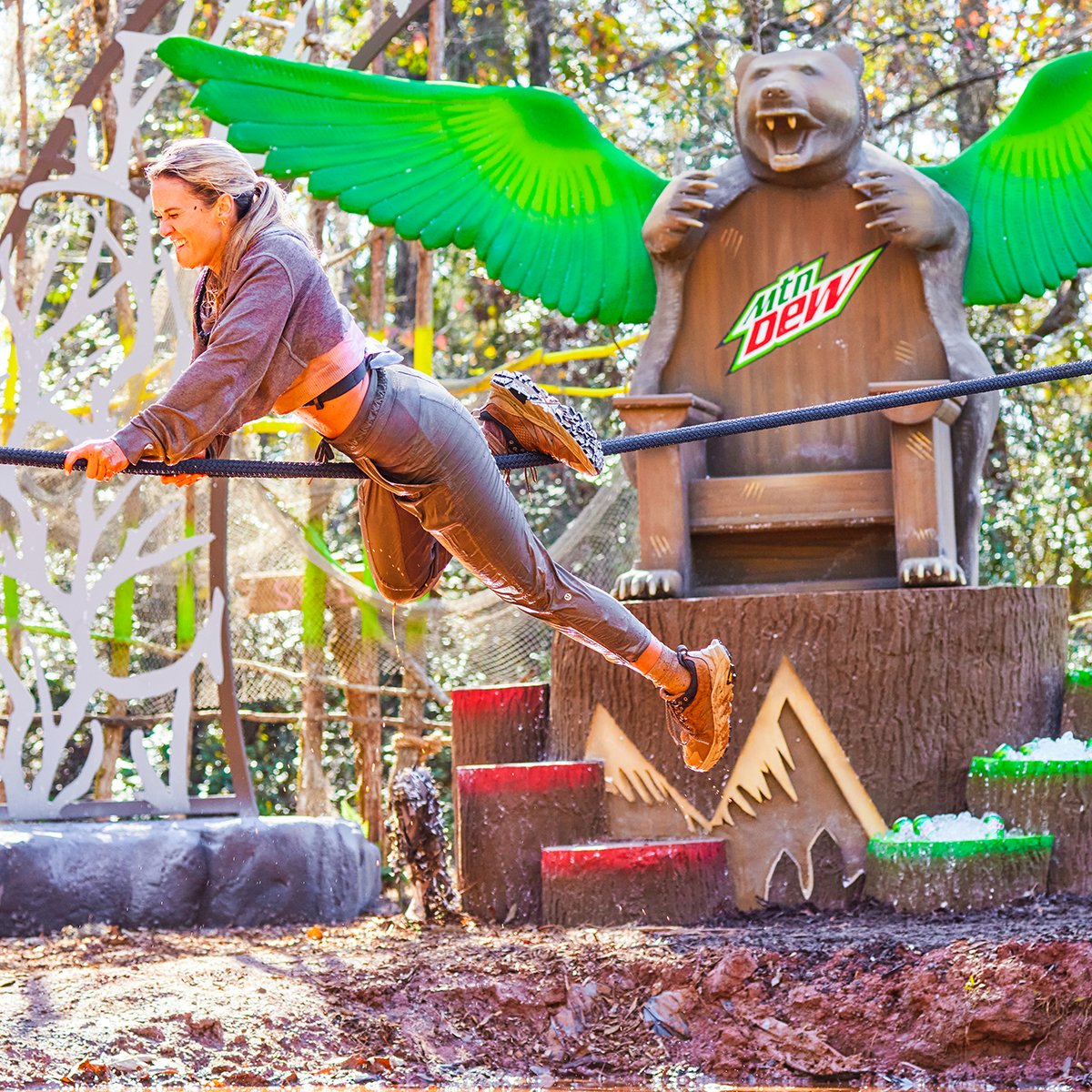 After the cold, it's time to head to the swamp. Former special forces commando Bear challenges the contestants to test their nerves, physicality and balance with Going Commando. Players must first crawl across a muddy pit and then return by shimmying over a pair of ropes stretched from shore to shore. Matt, the inexperienced survivalist, serves up some smack talk, telling Bear the challenge at hand "will be a lot harder than the stuff you might have done." Wine shop owner Sarah, with her hints of badass and hickory, boasts if she can raise five children, then Going Commando will be no problem. After the first round, one ends up precariously dangling in dirt at the finish line, while the other gets to take a seat on the winner's Mountain Dew throne.
Having a Ball
Bear warns the game's dial is about to get turned up with an improvised trip to the desert in Pick Your Poison. Aspiring survivalist have an inkling something bad is about to go down, literally, when Bear asks, "Have any of you guys ever had a moment where you've eaten something so disgusting you felt that uncontrollable urge to vomit?" One player responds with unexpected honesty: "My cooking, yes." But even the worst home cook probably can't serve up anything worse than what Bear has plated: three mystery sausage-like survival foods. Bear informs the eager survivalists they must chomp on the one he calls for — and complete their choice even if they're wrong. The gagging montages are almost as memorable as a shot of Bear standing by with a barf bucket, just in case, of course. In the end, Bear reveals what the contestants have snacked on: testicles and pig uterus. Bon appétit!
Light Bulb Moment
The final two budding survivalists face off in" Aww Chute," a simulation of a bear's natural forest habitat (and the environment Bear found himself in when he parachuted into the Rockies in 2006 and got blown into a tree). The players are strapped into tangled parachutes and get "stuck" in a thorn bush. They must weave their way through the bush, which resembles a jungle gym, unravel themselves and then reassemble a broken flashlight. As the two finalists begin the untangling process, Bear shows he's got some jokes: "It looks like a snake's wedding," he says. The winner sees the light at the end of the tunnel when they're first to complete the flashlight, switch it on and it works. "I didn't think I had a chance in hell, and here I am!" the newly crowned survivalist gushes.
---
Source: https://outdoors.com/i-survived-bear-grylls-episode-2/