I Survived Bear Grylls, Episode 1 Recap: Fangirl Gone Wild
Wannabe survivalists may think they're up for whatever unexpected challenges nature might throw their way, but can they overcome the extreme surprises Bear Grylls has in store for them? On his new competition series, I Survived Bear Grylls, the legendary survivalist is testing the mettle of five contestants with challenges based on some of his wildest adventures (fish eyeball appetizer anyone?). As the prospective survivalists are picked off one at a time, the last superfan standing wins bragging rights — and $10,000.
Ahead are the top moments from each of the four challenges on the show's first episode, which premiered May 18 on TBS at 9:00pm ET/PT.
Left Out in the Cold
"I will not only survive Bear Grylls, I will destroy the competition," proclaims gym rat contestant Kevin. Fresh out of college, Kevin reveals, he weighed just 120 pounds — but watching survivalist Bear encouraged him to get fit and be more confident. It's no spoiler to say Kevin didn't exactly do Bear proud. The first competition requires contestants to grab on to a rope and tote tents, coolers and other objects up a slippery avalanching slope called Mount Sherpa. While the other contestants blow by him, Kevin keeps crying, "Why can't I get up?" It all goes downhill from there, and he clearly doesn't have a snowball's chance in hell of winning. "Welcome to the mountains," Bear says. "When things go wrong, things go wrong fast."
Lip Service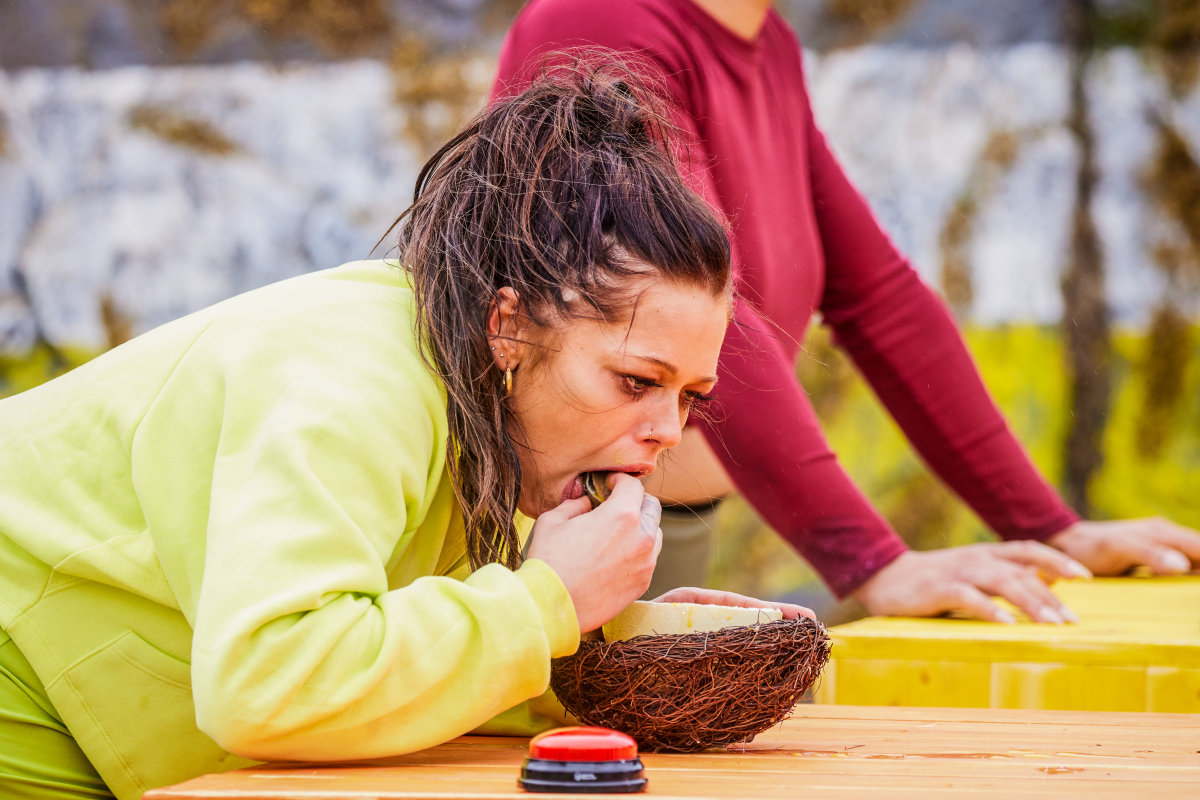 The contestants worked up an appetite climbing Mount Sherpa, and Bear, who has drunk pee through a snakeskin and oxblood fresh from the source, has a solution for that: giant ostrich eggs. More specifically, eggs filled with special ingredients, including fish eyes, ox lips, pig uterus and pizzle, also known as animal penis. "If Bear wants me to do something, I'll do anything," wild mom contestant Sarah gushes. "I'm not afraid, bring it on!" Bear does, and she valiantly pushes through, gagging down ostrich egg yolk and the other disgusting treats all the while. That is, until a chewy piece of ox lip resurfaces and flies from her mouth. Multiple times.
Puzzling It Out
"The stakes get ever higher, the challenges get ever harder and arguably ever more disgusting," Bear warns as the competition continues. And he's not kidding. The challenge "Mind over Matter" is based on Bear's time in the Namibian desert, and it's all about hunting prey — in this case capturing hidden puzzle pieces — in varying environments. Evil mastermind Bear's idea of a tough game terrain translates to a barrel full of raw meat filled with real worms. Just in case that's not disgusting enough, amateur survivalists must use only their heads and mouths to recover the puzzle pieces. "I would describe the raw meat as putting your head in a toilet, like that's how gross it is, but then everything's wriggling," one contestant with meat-filled hair explains. Even grosser? Contestants must figuratively and literally get their hands dirty when they have to root around in a manure pit for even more puzzle pieces.
Parting Shot
The fun of watching I Survived Bear Grylls is seeing past highlights from the survivalist's time exploring the wilderness, like a clip showing him in the Rocky Mountains in 2008. At the time, all that stood between him and starvation was a chipmunk and a homemade slingshot. The memory becomes the inspiration for the final challenge, "You're Killing Me." Contestants aim for targets (photos of their faces) using, what else, a slingshot. At the end of the game, the show's first winner gushes: "I know Bear has some amazing stories, but now I have one of the most amazing stories of all time, with Bear Grylls."
Stay wild!