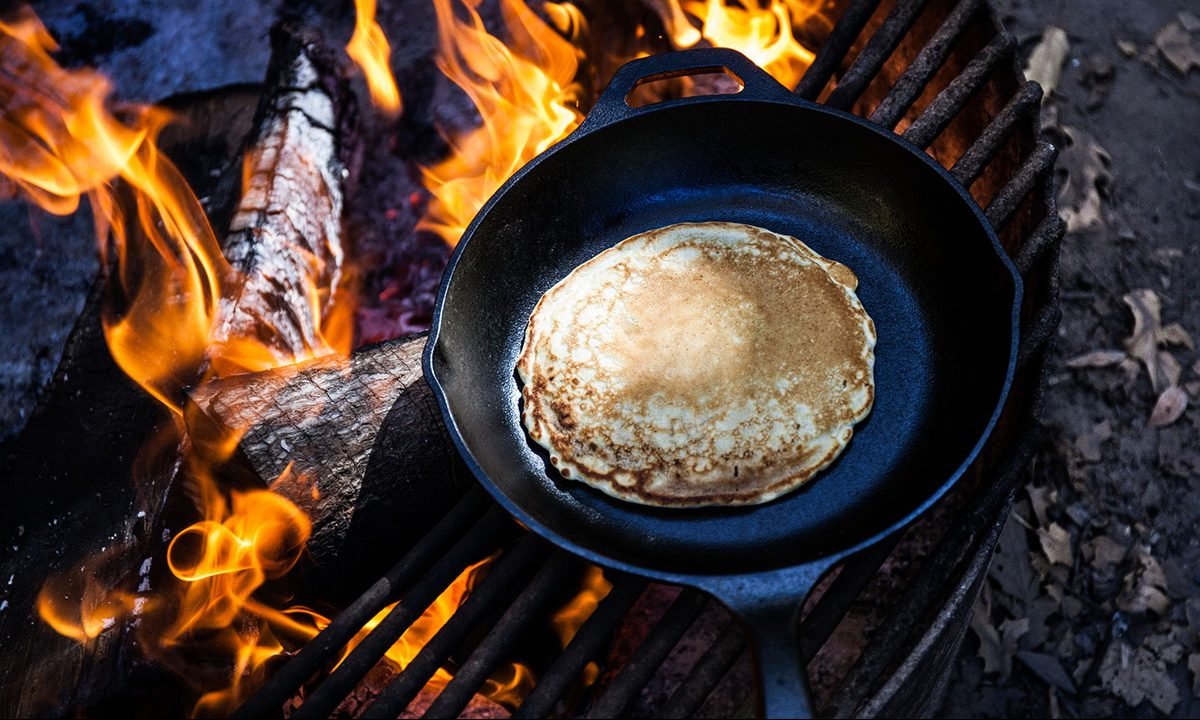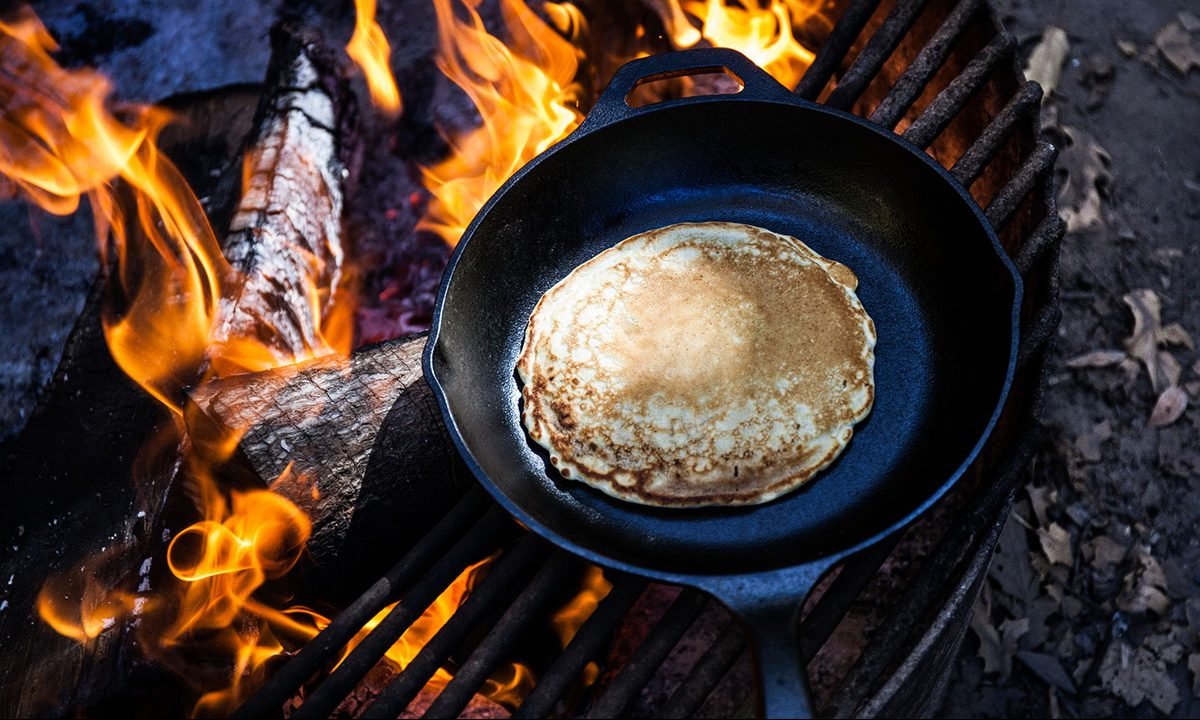 How To Make A Campfire Breakfast Like Bear Grylls
Bear Grylls gives a lot of thought to what he eats first thing in the day when he's out in the wild. Sometimes with a bit of preparation and advance planning, he has the perfect ingredients for a tasty and nutritious campfire breakfast – and some of these can be made without pots and pans.
Breakfast in a bag
Carrying a frying pan around with you on the trail can be heavy. On the other hand, a paper bag hardly weighs anything, and Bear often uses a bag to cook his entire breakfast over the campfire. Here is how he does it:
"Layer rashers of bacon inside the bag, making sure that the bottom of the bag is completely covered and that the bacon extends up the sides a little," says Bear in his book, Extreme Food. "Now crack an egg or two into this little bacon 'boat'. Roll down the top of the bag a few turns and place it on a grate over the campfire (but keep it away from any actual flames)."
Bear says that the fat from the bacon stops the bag from burning. When the fat is absorbed about halfway up the bag, you will know that breakfast is ready.
Energy-giving porridge
"A chocolate bar shoved into your pack might seem like a good idea when you're hungry, but the energy you get from the sugar will burn away very quickly," says Bear in Extreme Food.
Like many Bears, Bear Grylls loves porridge, as it gives energy that lasts longer than a chocolate bar – the oats provide slow-release energy that lasts a long time.
Bear Grylls advises taking porridge oats with you out on the trail. "Keep them dry and they last for ages, which means that as long as you have a supply of water and a campfire, you'll
have a quick and easy way of making yourself a hot, filling, and very nutritious meal that will give you plenty of energy," he says.
Porridge is normally made from oats, but you can actually make it from lots of different types of grains, for example, bulgur wheat, cracked wheat, or quinoa.
To make porridge, use two parts water to one part grain – for example, 40g of porridge and 80g of water. Bear likes to measure out his dry ingredients before he leaves home. He uses whatever cup or vessel that he is going to bring out into the wild with him – so that he knows exactly how much water to add.
It's a good idea to put the grain into a small light container (or a Ziplock bag) and mark it with the amount of water you need.
To cook the porridge, bring your water to the boil in a small trail saucepan. Add a little salt. Slowly stir in the oats – you can use a spoon, or even a clean stick. Keep stirring until the porridge thickens and starts to bubble. Keep stirring and scrape the bottom of the pan so that it does not stick.
Bear likes to add flavorings to porridge – carrying raisins and nuts, or adding edible berries like strawberries or blackberries.
"Remember, oats make flapjacks, which are great 'on the go' snacks and will give you much more sustained energy than just a chocolate bar," says Bear in Extreme Food.
Honey, oats, and butter or olive oil make a tasty, slow-release powder. You can make these on the trail – don't worry about the exact recipe and even if the mixture doesn't turn into proper bars, you can eat it warm with a spoon.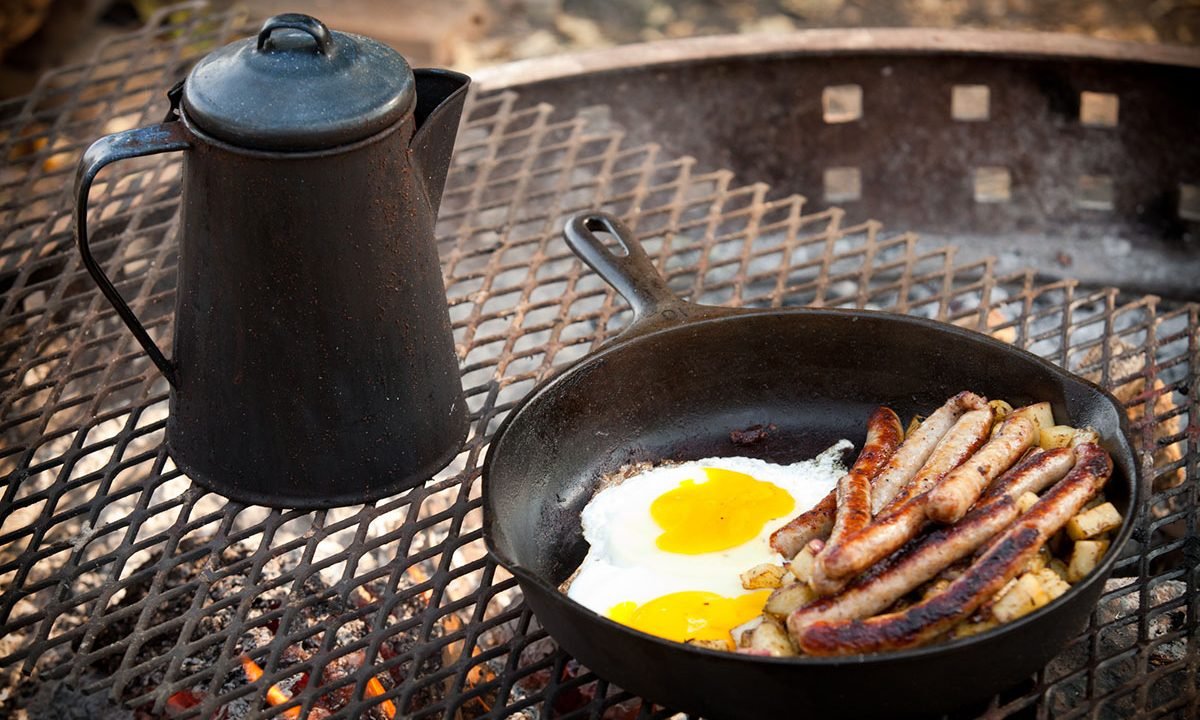 Pancakes
It can be handy to bring a packet of ready-made pancake mix with you, or make your own pancakes on the trail. Taking eggs and milk might be tricky, but it's easy to take some powdered egg and powdered milk. Pack some wholewheat flour (in a small reusable container or Ziplock bag) and you then have everything you need to make campfire pancakes.
To make pancakes, use about a cupful of flour and a couple of teaspoons each of powdered egg and powdered milk. "Don't stress about the proportions too much," says Bear.
Add enough water to make a batter which has the same consistency as single cream. Make the pan hot, add a drop of oil, and then add enough of the batter to cover the bottom of the pan.
Cook this for around a minute and then flip the pancake and cook it for another 30 seconds. Don't worry if it falls apart slightly – it will still taste just as good. Eat it as it is, or add some sugar, honey, or even a sprinkling of cinnamon from your trail spice box, if you have one.
"Pancakes are also great for wrapping around other foods to make a more substantial meal," says Bear. "Think grilled meat, fish, vegetables, or fruit: anything you might enclose in a bread wrap, you can also put in a pancake!"
Source: https://outdoors.com/how-to-make-breakfast-like-bear-grylls/