How to Get into the Wave
The Wave is a must-see for adventure seekers and nature lovers alike. Though the hike is strenuous (6 miles in the hot sun), getting to see the stunning sandstone formations is worth every minute on the trail—plus it makes for some phenomenal photographs. Since the late 1980s, though, you've needed to apply for a chance to get into this breathtaking destination. Even when you apply, getting to see the Wave is not guaranteed. So how do you do it? Here's the Outdoors.com guide to applying for Utah and Arizona's most exclusive hiking location (and what to do if you can't get in).
Applying for the advance permit
The first thing you need to know is that the Wave only admits 64 people a day (48 people three months in advance and 16 people on the day of). The advance lottery announces permit recipients on the first of each month, so be sure to fill out the application before then. The application itself is not difficult, just make sure to follow the directions to maximize your chances.
Pro Tip: Apply in a (small) group. You want to do everything in your power to make sure you're one of those lucky 64 people, so get a group together to bring up your chances. If everyone applies, you'll have a higher chance of being chosen. The best-sized group is around six people.
To access the application, head to recreation.gov and search the permits for Coyote Buttes North (The Wave). When you get to the application, it'll prompt you to put in some personal information like your name and address.
Pro Tip: Do not apply with alternate names, especially if everyone in your hiking group is applying for the permit. If they're listed as an alternate, it will disqualify their individual application.
The application will ask how many days you are applying for, the maximum being three. Pick your dates on the calendar and add how many people are in your group for each day.
Pro Tip: Avoid applying for weekends, if you can. The days you apply for do not need to be consecutive, so if you're going to be in the area for a while, skip the weekend dates and apply for a Monday.
The permit application costs $9, but it is 100% worth it for a chance to do this once-in-a-lifetime hike. Unfortunately, getting in is still pretty hard to do, and it comes down to luck. If you don't get in from the advance lottery, though, don't lose hope. There's always the daily lottery.
Applying for the daily permit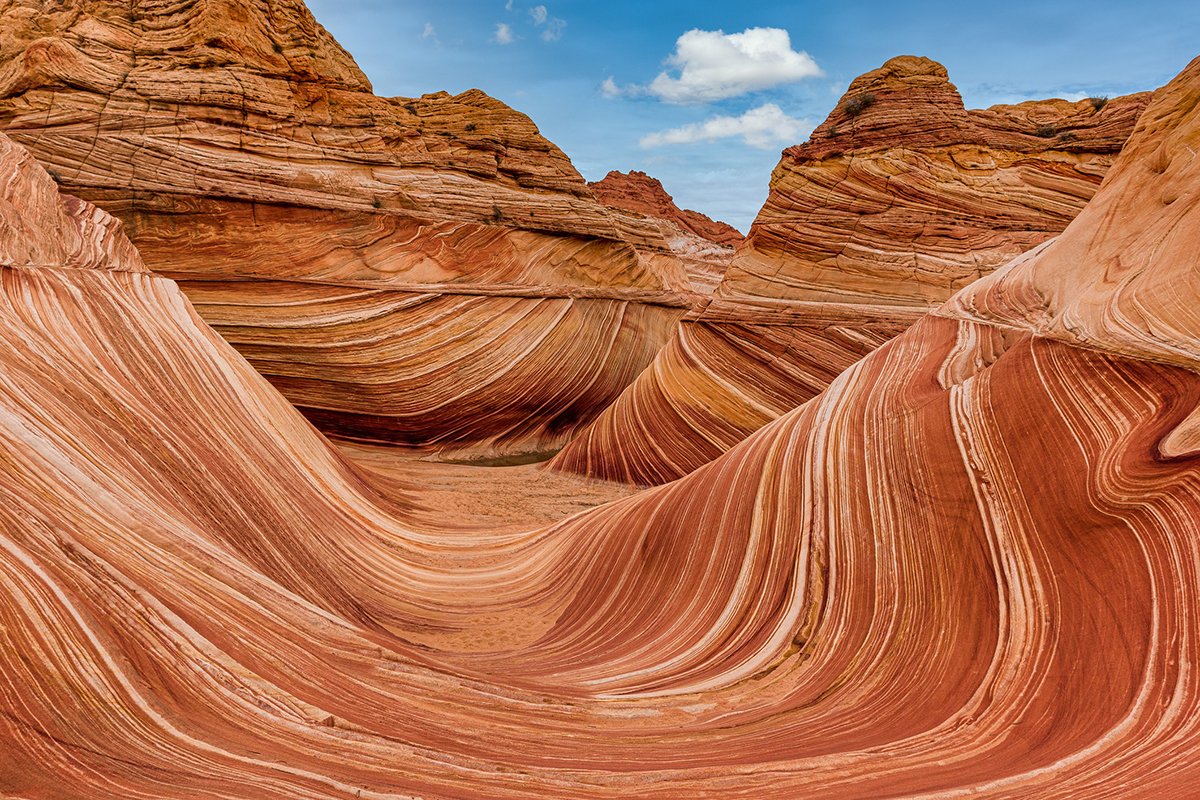 If you can't get an advance permit, don't panic. There is still an opportunity for you to get into the Wave, but you need to be comfortable with a more last-minute schedule. Over a dozen lucky people (16, to be exact) will get the chance to hike as part of the daily lottery.
Applying for a daily permit is a three-part process:
Apply: The application process for the daily Wave lottery is the same as the advance lottery, except you have to apply on a mobile device. The application window is open from 6 AM until 6 PM each day. You'll be notified whether or not you've been chosen by 7:15 PM on the same day. If you aren't already there, you'll want to hop in the car to get to Kanab, Utah or Page, Arizona.
Pick up: If you receive a daily Wave permit, you must be in Kanab or Page by 8:30 AM on pick-up day. If you do not arrive on time, you will lose out on your chance to hike the Wave, and you will need to apply again. When you get to Coyote Buttes, you'll be given a safety demonstration and you'll be able to pick up your physical permits.
Hike: By day three, you're on your way to hiking the Wave. A word of warning: Do not try to hike the Wave without a permit. Not only will there be park rangers waiting at the trailhead to check your permits, but if you try to hike the Wave without a permit, you'll be hit with a fine anywhere between $1,000 and $10,000.
If you don't get in
So you don't get a permit, now what? If you're determined to see that particular rock formation, there is one more option to see the Wave from the air. That's right, if you can't hike the Wave, fly over it. American Aviation runs overhead tours out of a small airport in Page, Arizona.
If flying isn't your thing, there are plenty of stunning hikes in the area that don't require a permit.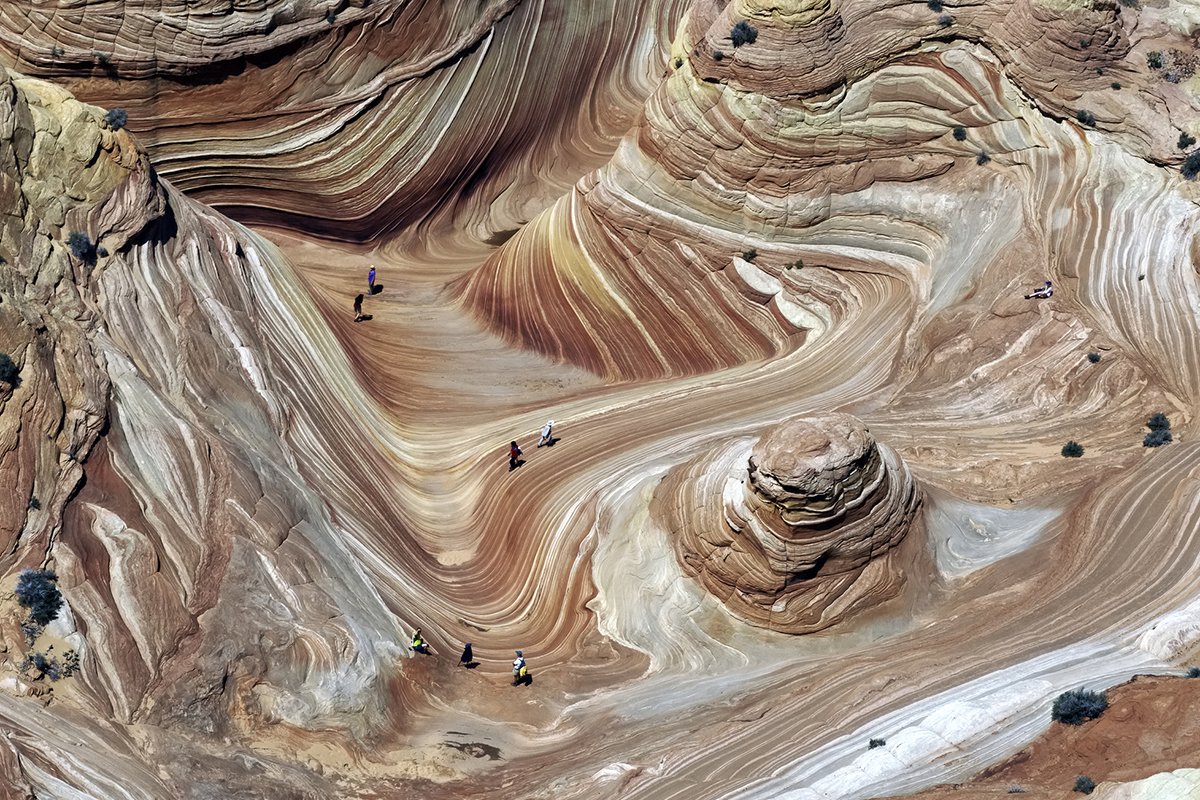 White Pocket
Just east of Coyote Buttes is Vermilion Cliff National Monument, which houses White Pocket. The rocks here are a beautiful contrast of white, pink, and yellow. With no need for a permit and equally beautiful views, if you can't get into the Wave, White Pocket is a wonderful alternative.
Yellow Rock
Located in the west-central area of the Grand Staircase-Escalante National Monument. This 2.6-mile hike is great for seeing multicolored Navajo sandstone formations. The red, yellow, and white sandstone make for great photographs and is often only visited by 1-2 dozen people per day.
Antelope Canyon
Though you do need a reservation for Antelope Canyon, you do not need to apply for a permit. If you take a tour of Upper Antelope Canyon, you'll be greeted by stunning sandstone carved by wind and water over many years. Walking through the canyon will leave you feeling like you're in a magical land.
Horseshoe Bend
A natural wonder 200 million years in the making, these sandstone hills are the same ones dinosaurs roamed. Horseshoe Bend is home to beautiful iron concentrations that turn into Moki Marbles.
The Swell
The Swell is the Wave's sister formation, and it's free. If you were really hoping to get a gorgeous photo of the Wave but couldn't get in, the photographs you get at the Swell will be a close second. The Swell is easy to get to, especially if you are visiting the Chains (where Lake Powell and Glen Canyon Dam meet).
The Wave might be the most exclusive hiking trail on this list, but if you aren't able to get in, it is not a wash. Try another hike on this list.