How Much Weight Can an RV Slide-Out Hold?

Thanks for your support! If you make a purchase using our links in this article, we may make a commission. And, as an Amazon Associate, I earn from qualifying purchases. See the full disclosure here.
Have you ever been sitting in your dinette or theater seats located in your RV slide-out and wondered: How much weight can an RV slide-out can hold?
Depending on the size and location of an RV slide-out, weight capacities can be different, but in general, RV slide-out weight limits range between 600 and 1,500 pounds.
Slide-outs add lots of living space to your RV. Most manufacturers add furniture or heavy kitchen appliances on slide-outs. So it seems like RV slide-outs can hold a lot of weight without damaging the track or other parts.
If you are considering an RV with a slide-out or two, this article will help you navigate how much weight an RV slide-out can hold.
How Does An RV Slide Out Work?
RV slide-outs are kind of a marvel of modern engineering. However, if you have never owned an RV with a slide-out, you may not fully understand how they work. Knowing how these mechanical features work will allow you to properly load your RV slide-out, so weight isn't a problem.
RV slide-outs provide additional space for your RV by adding small sections of usable area on a mechanical platform. These platforms are set on tracks that guide the slide-out into the proper position. Depending on the age of your RV and the size of your slide-outs, this process may be automatic or manual.
RVBlogger Editor's Note: Who Invented the Slide-Out? In 1915, Gustav Bretteville created the first RV slide-out on his Telescoping Apartment. Essentially, this RV was an early form of a non-cab-over truck camper for the Model T. We all owe our gratitude to the co-owner of Newmar, Mahlon Miller, for inventing the power slide-out in 1990 for motorhomes and towable trailers.
What Is A Slide-Out's Weight Limit?
The RV slide-out weight limit is dependent on a few factors. However, most RV's slide-out weight capacity is somewhere between 600 and 1,500 pounds.
1. RV Size
Most motorhomes, travel trailers, and 5th wheels that have large slide-outs accommodate the weight capacity that we have mentioned above. RVs with full-wall versions offer more substantial slide-outs with stronger mechanisms. These larger slide-outs can hold more weight than the small slide-outs that you may find on mid-size travel trailers.
Luxury Class A motor coaches and full-time oriented fifth wheels can have bigger weight RV slide-outs that hold much more than those mentioned above. Due to their construction and intended use, the RV manufacturers build these slides to hold as much as 4,000 pounds in the main slide-out. These are oftentimes referred to as "super slides".
2. RV Age
If you love your retro motorhome or travel trailer, you should know that if it has a slide-out, it probably wasn't designed to hold a lot of weight. Hopefully, you have access to the owner's manual, so you can understand the intended capacity of the slide-out.
When in doubt, don't use your slide-out to store a bunch of stuff. Just use it for the intended purpose (lounging, dining, or sleeping).
3. Location Of Slide-Out
The weight limits that are set for each individual slide-out are based on where it is located and how it affects the balance of the RV. The RV slide-out weight limit can also be altered depending on the layout of the RV's interior. If heavier features like water tanks and galleys are at the front, a slide-out with a larger weight limit in the rear is a possibility.
It is important that before you load your RV, or pile a bunch of stuff in the slide-out, you read your owner's manual. Our weight limit range is very generalized and is not specific to any one RV, travel trailer, or 5th wheel. Your owner's manual or local RV dealer can tell you the exact weight limit of your RV's slide-out.
Learn more about how to load up your RV gear and how to balance your RV correctly in our article, Why You Must Understand Tongue Weight on our sister site, Travel Trailer Pro!
Do RV Slide-Outs Need Support?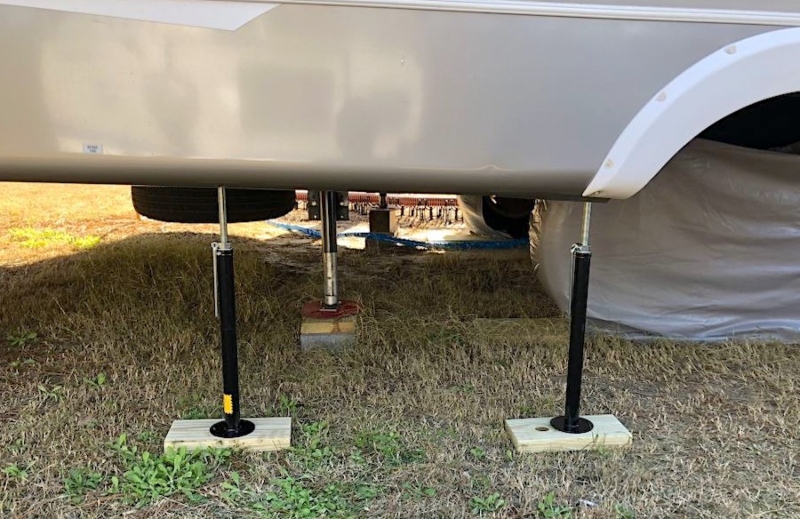 RV slide-outs can seem a bit like magic, and many people think that they need extra support. However, as mysterious as their engineering may seem, slide-outs do not need extra support.
We have written about this previously, and you can read the whole article called Do RVs Really Need Slide Out Stabilizers?
However, many people think that RV slide-outs are not sturdy unless they have additional support.
In reality, using supports on a "healthy" slide-out can cause problems for your RV. If your slide-out is sitting higher than it is designed to, the waterproof seal between the roof of the slide-out and the RV can warp. This will cause water to seep in between the slide-out and the RV roof.
Additionally, setting the slide out higher than it is intended can cause the platform to slide out of the tracks. This will cause you difficulties in sliding the platform back in.
Slide-out supports can be handy if your RV is older and the slide-out platform is sagging. This is the only time that a set of supports is necessary.
Can I Leave A Slide-Out Open?
Your slide-out is intended to be extended for a limited amount of time. You should not leave your slide-out extended permanently.
Over time, if the slide-out is left out too long, it can sag. When this happens, the seal between the slide-out and the RV frame is compromised. This can cause water, debris, and even rodents and insects to find their way into your RV.
Leaving your slide-out open for an extended amount of time can also cause damage to the frame of your RV. Keep in mind that these features are only intended to be used for a short duration and should never be left open when traveling.
You can find more information on leaving out your RV slide-outs in our article about properly storing your RV with slide-outs.
What Are The Disadvantages of RV Slide-Outs?
Slide-outs seem like a great idea, but they do have some disadvantages for the RV owner. Here is a list of some of the more commonly mentioned disadvantages.
1. Slide-Outs Can Limit Where You Camp
If you don't know how wide your campsite is, you may not be able to extend your slide-outs. This is a common problem with Forest Service campsites.
2. Slide-Outs Add Weight To Your RV
You'll have to carefully consider the gross weight of the RV as it pertains to the capacity of your vehicle. Slide-outs can really increase the dry weight, requiring a larger tow vehicle.
3. Your RV Maintenence List Will Increase
Each RV slide-out is just another mechanical part that you'll need to maintain properly. The result of improper maintenance risks damage to the slide-out. Damage means added repair costs and downtime from travel.
4. Packing Up Your RV In A Balanced Way
When packing up your RV, you'll have to put some more thought into what goes into the exterior and interior storage that sits in the slides. Keep lightweight things in the RV slide-out holding bays to avoid problems.
3 FAQs On RV Slide-Outs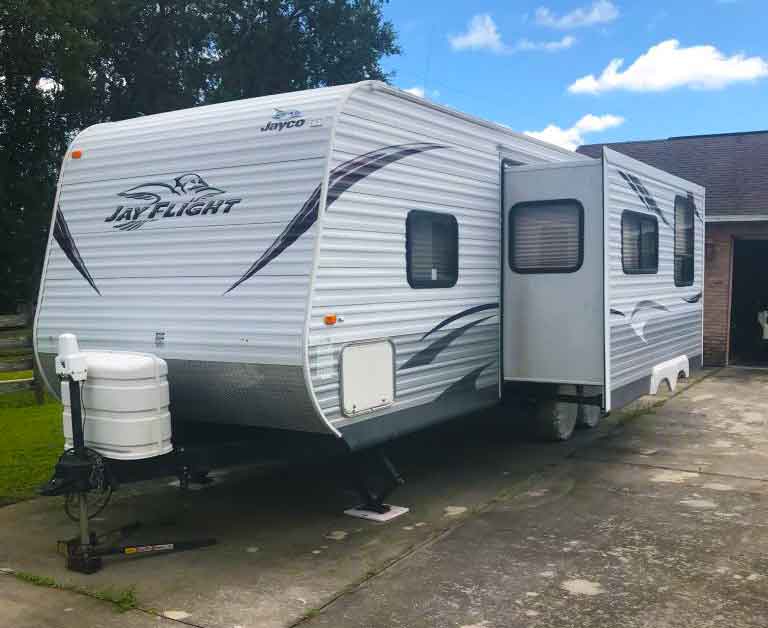 1. Can I Walk On My RV Slide-Out Roof
You should never walk on the roof of your slide-out. This can cause downward pressure on the slide, which may compromise the weatherproof seal.
The roof of your slide-out is also not as sturdy as the roof of your RV. Stepping in the wrong place could cause damage to the roof and interior of your RV.
2. Do RV Slide-Outs Break?
Even if you care for your slide-out just as recommended, it's likely that it'll break at some point. Many issues with slide-outs are fairly minor, but some can be substantial. Common issues you may experience with your slide-out can include:
Motor failure
Hydraulic line leaks
Weatherproof seal damage (leaks)
Platform sagging
Broken cables
Misaligned tracks
3. How To Repair RV Slide-Outs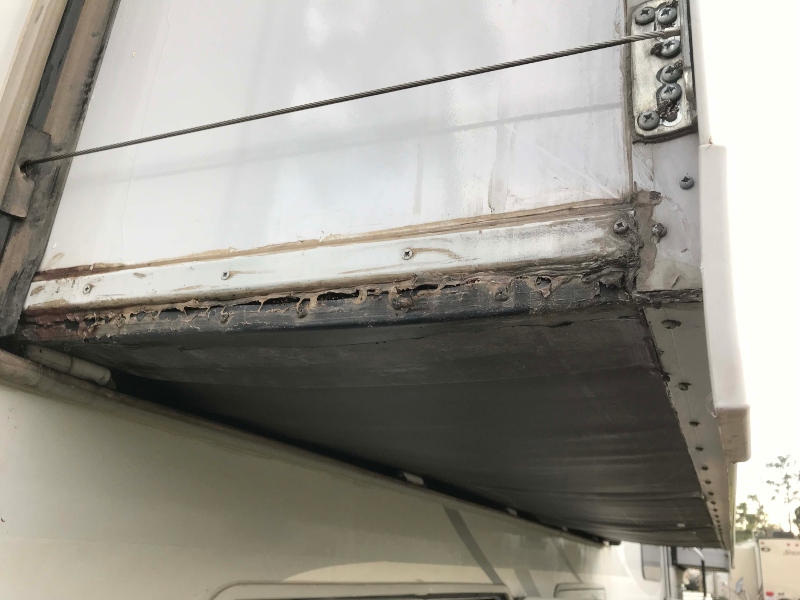 If your slide-out does break, many of the simple problems you can fix on your own. If your slide breaks while you're out traveling, many RVs have a manual crank or a process for returning the slide without the motor. This'll get you home, so you can dig deeper into the problem.
Your owner's manual will give you some troubleshooting steps to help you walk through the problem. Making repairs can be a simple DIY project. There are lots of YouTube videos out there that can be helpful for minor repairs to your slide.
If you feel confident in your mechanical skills, you can even replace the slide mechanism for your RV. If you need to replace the mechanism or motor for your slide, there are plenty of great options that you can install yourself.
However, not all repairs should be a DIY project. If you find that the issue with your RV slide-out is substantial or beyond your skills, your best solution is to find a certified RV tech near you through the RV Technician Association of America (RVTAA) or your local RV service center.
Attempting to repair substantial problems like this can add to the damage and may result in an even larger repair bill.
Final Words On RV Slide-Out Weight Limits
The weight an RV slide-out can hold, as described in the owner's manual, is intended to protect your RV and increase its usable life. These marvels of modern engineering give you more living space and increase your travel comfort. But they are intended to hold only a particular amount of weight.
To reduce the wear and tear on your RV slide-out, don't overload it with stuff. This will keep it from sagging and allow the motor to properly extend and retract your slide time and time again.
When properly maintained and cared for, your RV and its slide-outs will make traveling and exploring more fun.
---
Related Reading:
---
About the author:
Jason Gass is a full-time freelance writer and part-time RVer whose goal is to share great stories around a campfire with good friends.
When he's not working, he spends most of his time camping, searching for the best breweries, and road-tripping in his teardrop trailer with his wife, daughter, and two dogs.
Source: https://rvblogger.com/blog/how-much-weight-can-rv-slide-out-hold/