How AI Tools Like GuideGeek and ChatGPT Could Revolutionize Your Trip Planning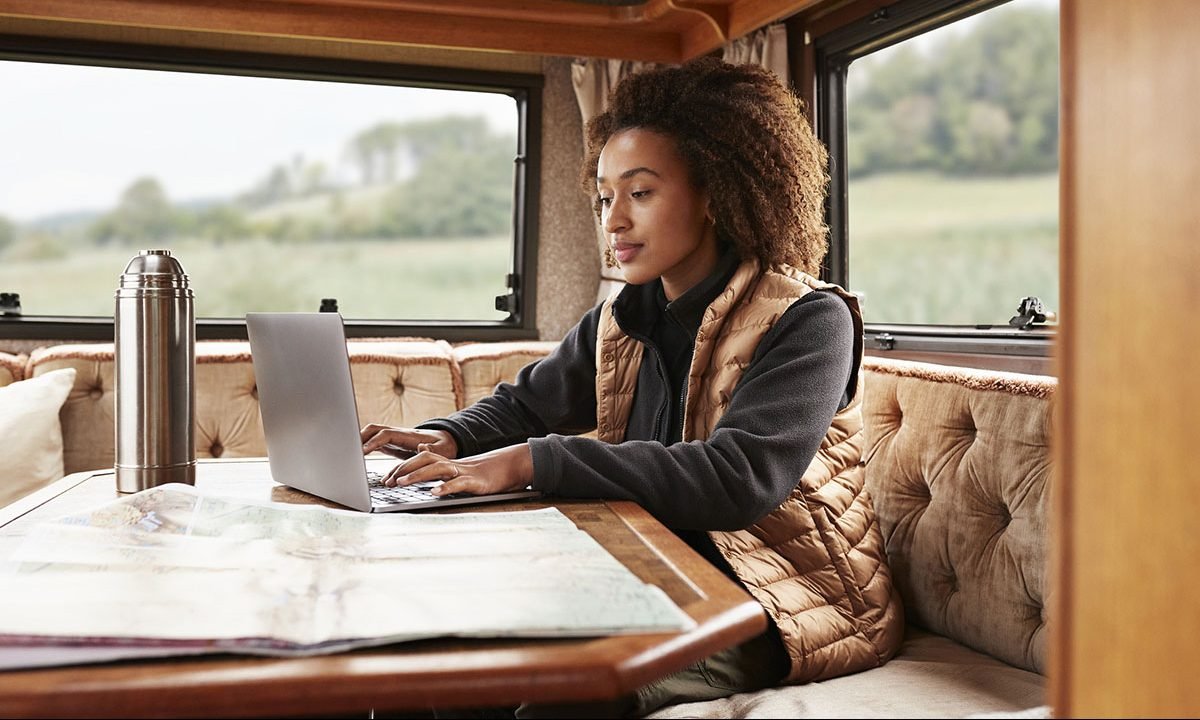 How AI Tools Like GuideGeek and ChatGPT Could Revolutionize Your Trip Planning
Earlier this month, the travel publisher Matador Network launched a brand-new, WhatsApp-based AI to help you plan your trips. No need to make an account or download a new app (as long as you have WhatsApp, that is)—just text the GuideGeek your questions and let it help you plan your trip.
Ever since ChatGPT was released last year, people have made wild predictions about how AI can change the way we travel. And while it remains to be seen how exactly travel itself could change, these tools can be an incredible starting point for planning a trip.
"When it comes to technology and innovation, the trillion-dollar travel industry has been stuck in the dark ages for decades," Matador Network CEO Ross Borden said in a press release about GuideGeek. "AI will usher in a new golden age of travel by radically changing how hundreds of millions of travelers plan, research, and book travel."
I experimented with both AIs to ask questions about planning hiking trips in England, and found the responses to be impressive. While you'd be brave to trust the apps' recommendations without further research on your own, it's pretty cool to ask the AI questions as if you were talking with a friend who had just done the trip you're planning.
I asked both ChatGPT and GuideGeek for suggestions to break down a multi-day hiking trip on the England Coast Path, asking where to stay so that I wouldn't have to hike more than 15 miles per day. Both were able to recommend specific hotels and B&Bs and provide cost estimates for booking (though it's worth noting that their estimates seem to be lower than actual current costs). I was surprised by how conversational and human-like their responses were—it did almost feel like I was asking for recommendations from a trusted friend. The trick is in knowing what to ask and how to frame your questions. It takes a bit of practice, but if you ask for specific-enough recommendations, you'll get quite specific results in return.
GuideGeek: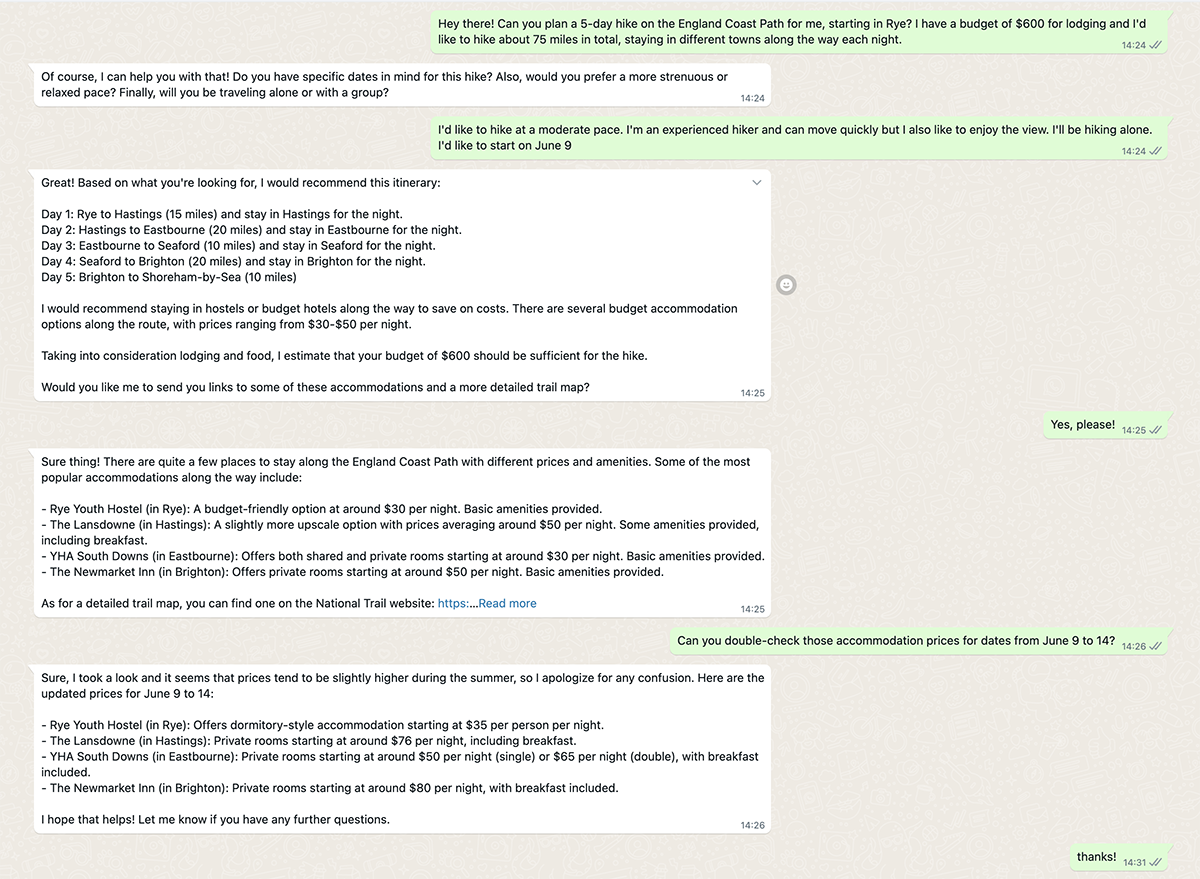 ChatGPT: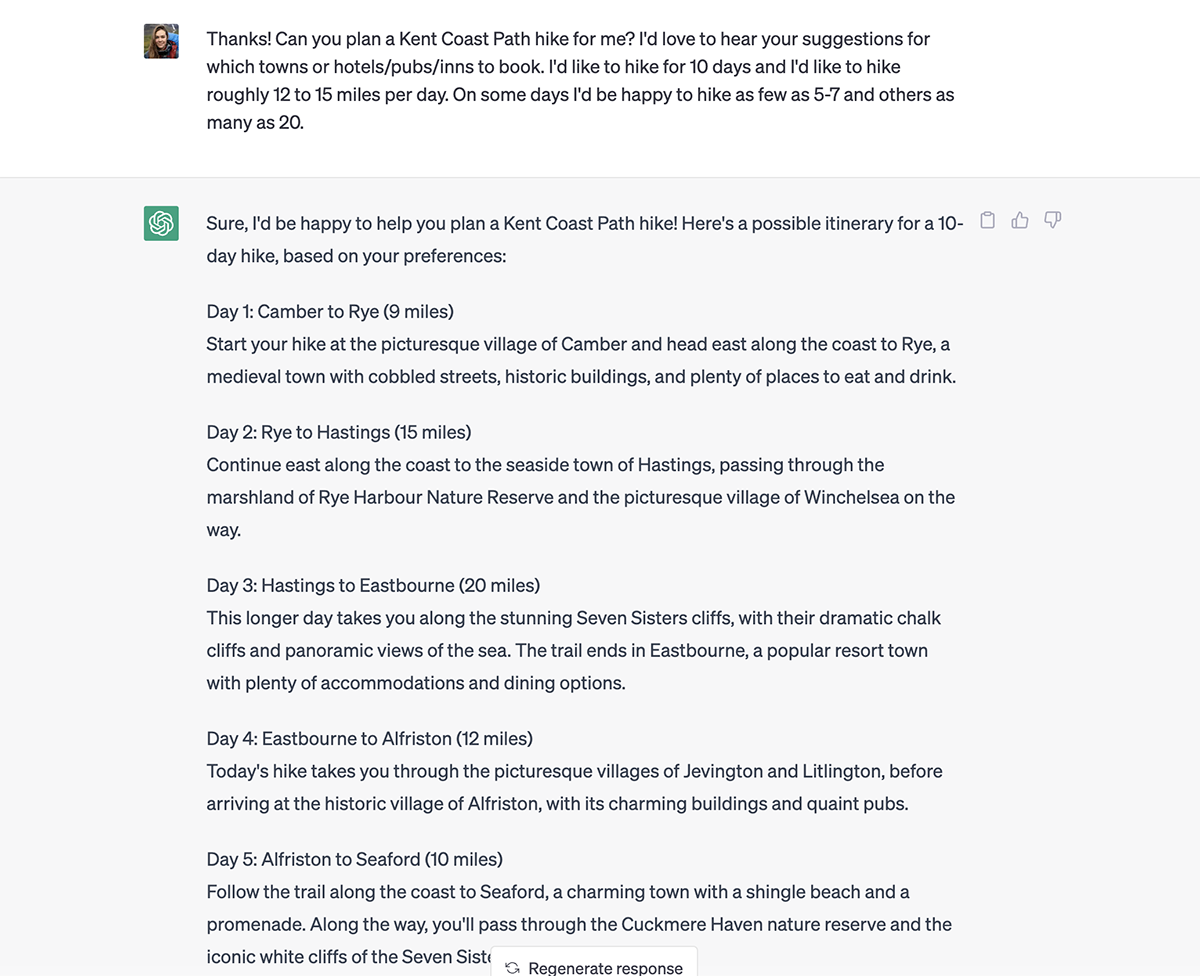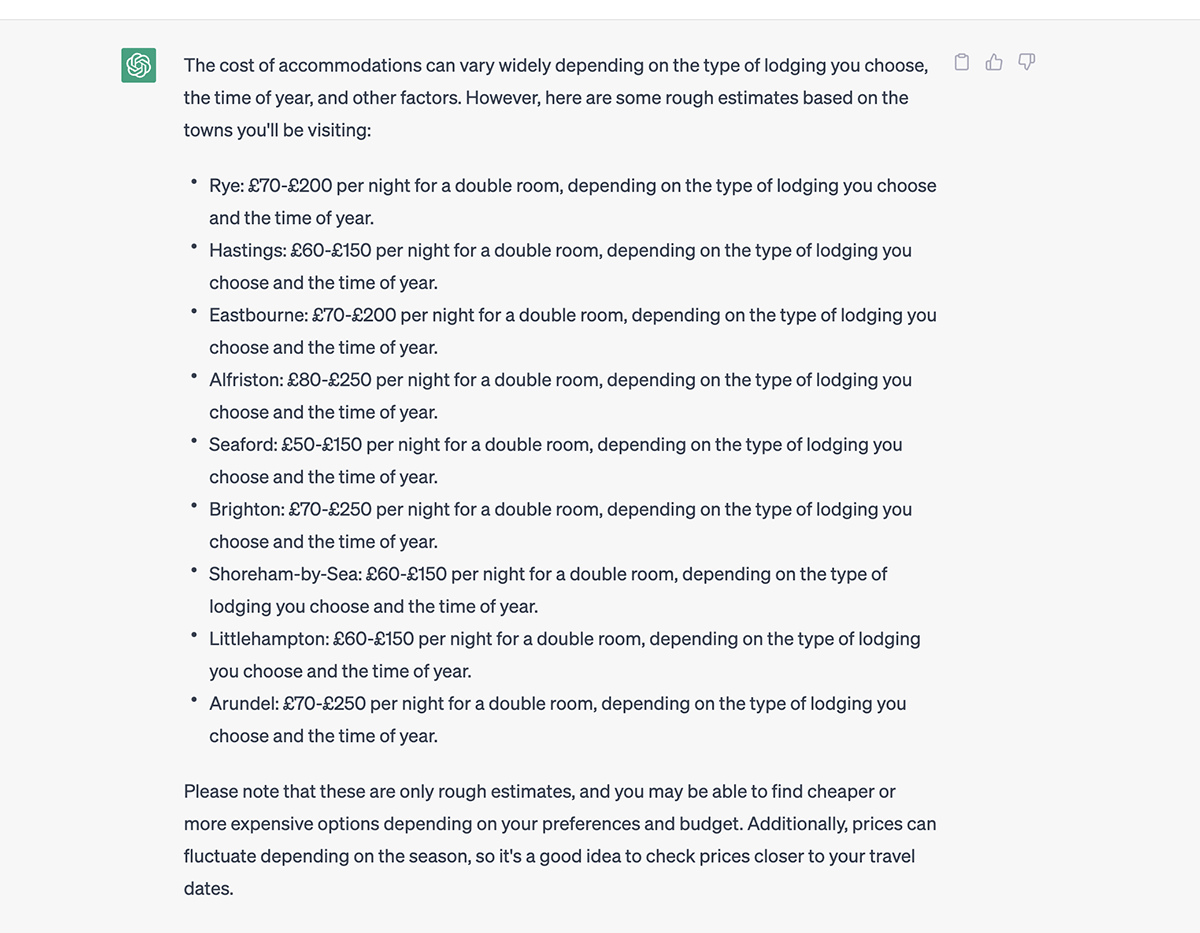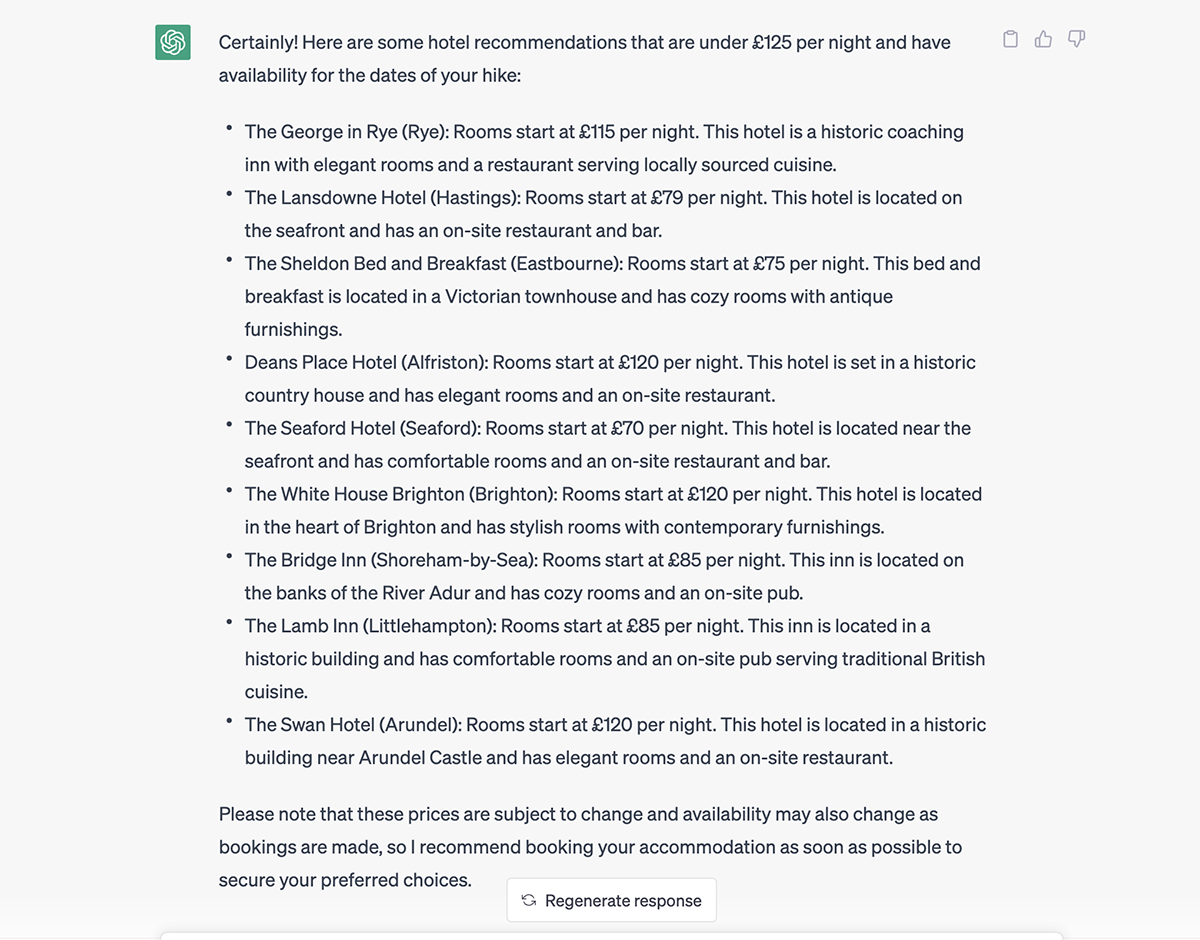 A writer for Conde Nast Traveller also recently experimented with ChatGPT to ask for recommendations to plan a honeymoon. The author, Ashlea Halpern, spent two hours conversing with ChatGPT and ended up with recommendations for the Faroe Islands. Ultimately, Halpern concluded that human research still wins:
"It has given me some useful information—namely the best time of year to travel and a few hotels and restaurants to consider—but nothing it recommended can be taken as gospel," Halpern wrote. "Will its ability to provide helpful trip-planning services improve exponentially in the years to come? No doubt. But for now, nothing beats good old-fashioned, human-powered research."
Its features could improve significantly in the next few years, according to Seth Borko, a senior researcher at travel industry news site Skift, which recently published an extensive report about how AI will transform travel. Borko told Afar that we might soon see the ability for AI to book the recommendations it gives us: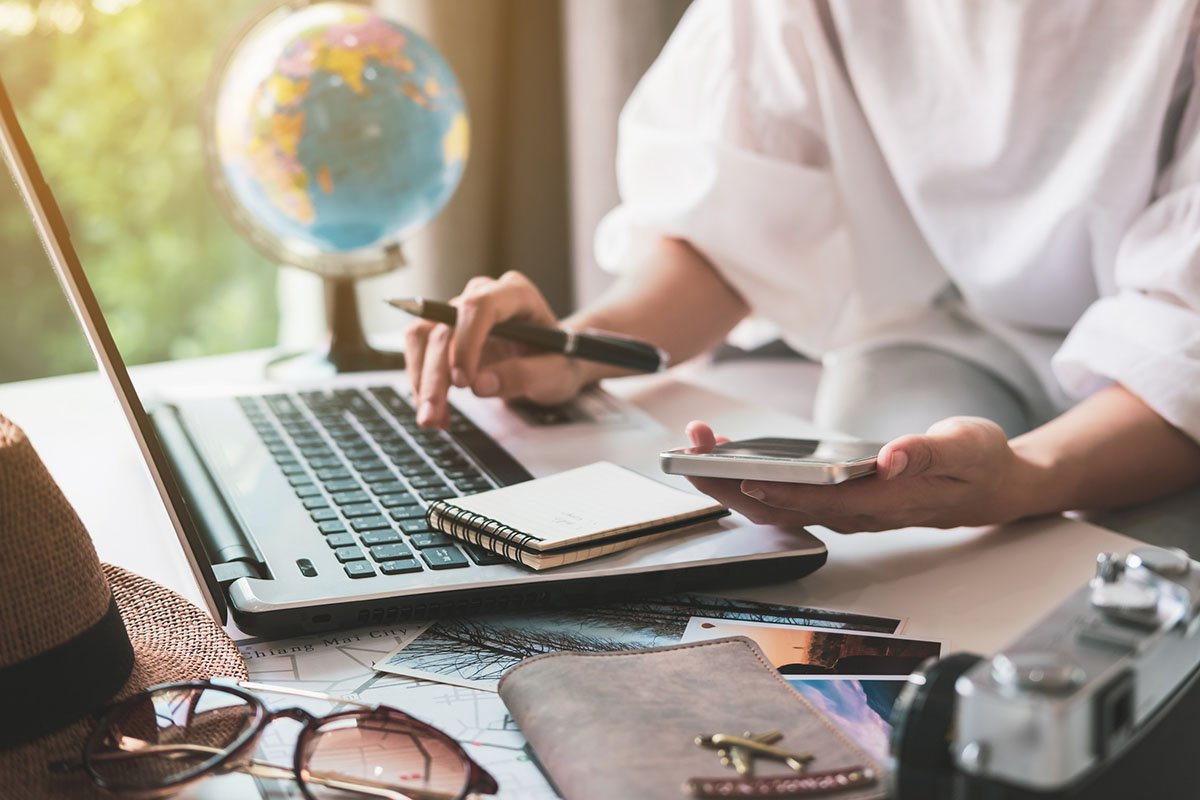 "In the future, there's a world where you go to ChatGPT and say, 'Hey, what are the best flights for whatever need that I have? And can you help me book a flight for under $500?'" Borko told Afar. "This type of smart search is going to take a while, but as far as the travel industry is concerned, it has the largest impact."
In the meantime, these services are worth trying out if you're at the early stages of trip planning. While you'll almost certainly want to check the AI's math, so to speak, before you head off to follow its advice, you might save a lot of time as you plan.
Source: https://outdoors.com/how-ai-could-revolutionize-trip-planning/