How A Newborn Foal Is Giving Scientists Hope For The Future Of 'The Last Wild Horse'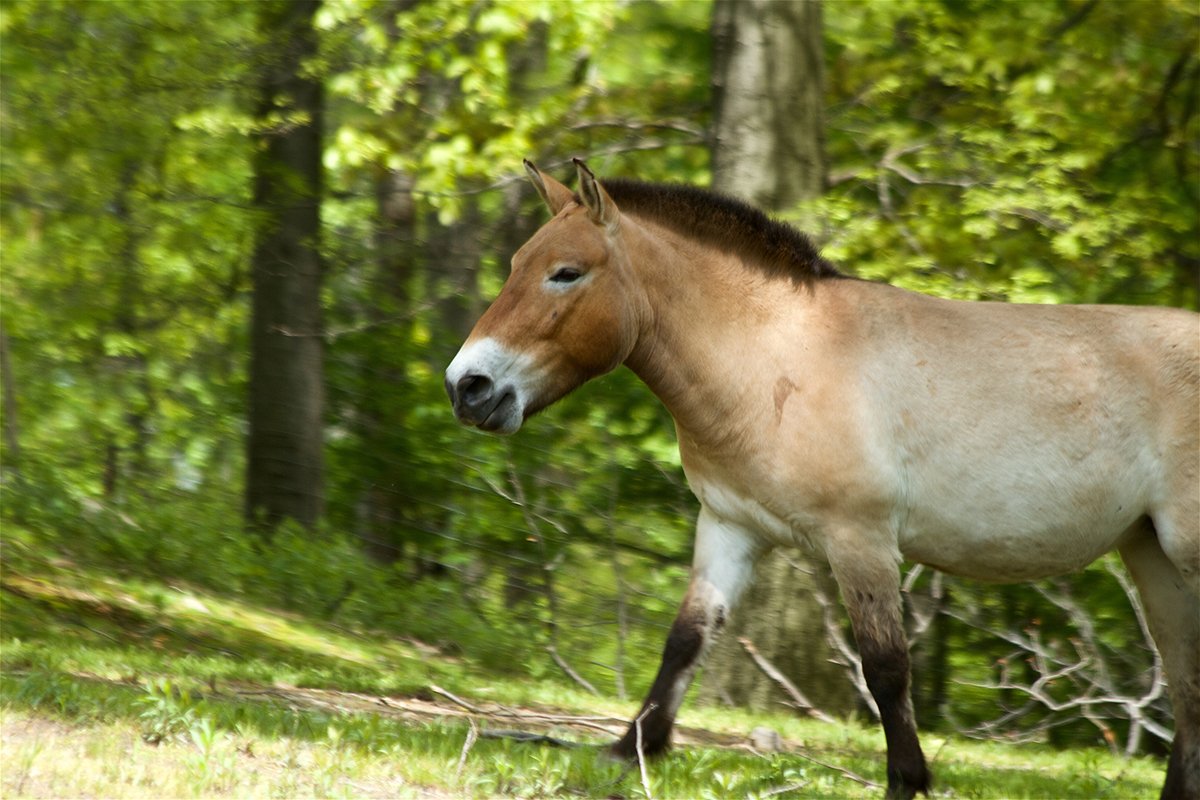 How A Newborn Foal Is Giving Scientists Hope For The Future Of 'The Last Wild Horse'
A rare baby horse born in England is bringing hope to a wildlife reintroduction program in Mongolia.
Luujin, a Przewalski's horse, was born last week at the Whipsnade Zoo in England. The zoo is working with scientists in Mongolia to save the species, which is considered the last of the "truly wild" horses in the world.
Przewalski's horses, otherwise known as takhi or Mongolian wild horse, were considered extinct in the wild until horses from the Whipsnade zoo were brought over to Mongolia and reintroduced to the wild, according to a press release from the zoo. Now, there are hundreds of wild Przewalski's horses. The reintroduction was so successful that they were reclassified as critically endangered in 2008, then removed from that list and classified as endangered in 2011.
The Whipsnade Zoo's program isn't the only effort to try to save these horses. In February, a surrogate mare in San Diego gave birth to a clone of a Przewalski horse whose cells were preserved over 40 years ago, according to a report from Equus Magazine. The horse's cell line was cryopreserved in the "Frozen Zoo" of the San Diego Zoo Wildlife Alliance Biodiversity Bank.
While there are many places in the world where you can see "wild" horses, such as Cumberland Island in Georgia, Assateague Island off the coast of Virginia and Maryland, Tooele County, Utah, and the mountains of Wales, these horses aren't actually wild—they're feral. The difference is that a feral horse is descended from domesticated horses, and they've just learned to live on their own in the "wild." Przewalski horses are actually wild because they are not descendants of horses domesticated for work or farm life.
"Luujin's name [which means "compass" in Mongolian] symbolizes moving in the right direction for this species — from extinct-in-the-wild to roaming in their native habitat once more, which is an incredible collective achievement for conservationists," Tungaa Ulambayar, a conservationist at the zoo, said in the release. "Luujin is a reminder of the incredible potential of conservation zoos to bring species — quite literally — back from the brink of extinction."