HipCamp Starts #WeHikeToHeal for Women's Wellness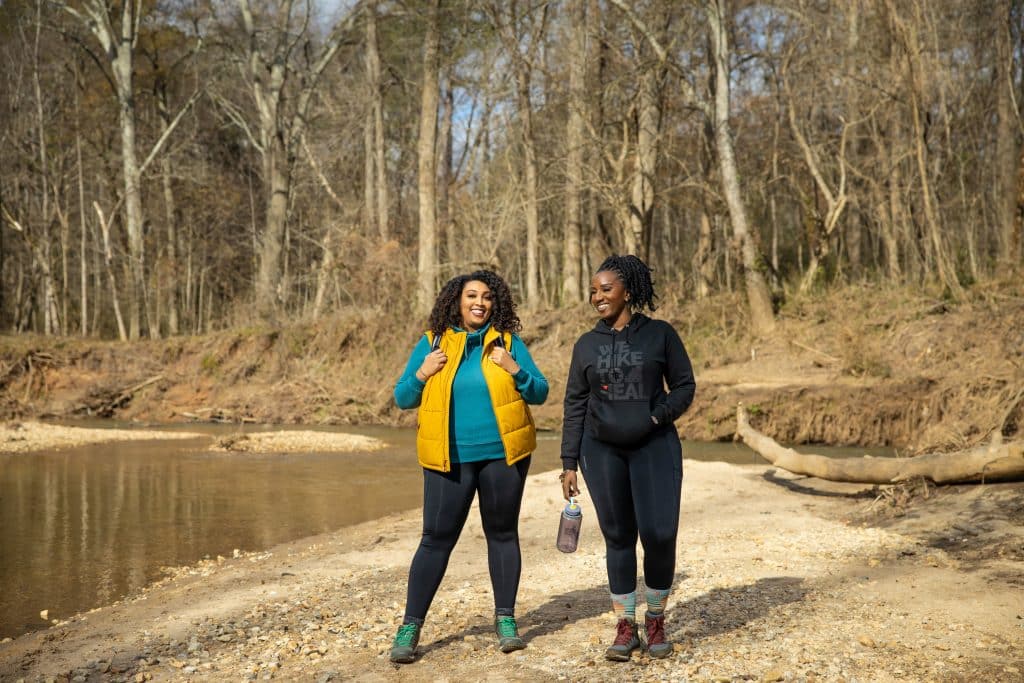 SAN FRANCISCO – For the third consecutive year, Hipcamp and REI will team up to sponsor Outdoor Journal Tour's #WeHikeToHeal Challenge, a month-long outdoor wellness initiative focused on improving the mental and emotional health of women across the United States. This marks the brands' shared commitment to promoting access to the outdoors and encouraging diversity in outdoor spaces, according to a release.
The #WeHikeToHeal Challenge, which runs from May 1-31, includes in-person and remote offerings nationwide. Activities include weekly guided group hikes across the nation, daily guided meditations, and journaling prompts. The campaign's culminating event is an all-inclusive campout and retreat at a private lakeside campground in Conyers, Georgia, May 27-29.
Americans' mental health reaches a 20-year low, making time outside even more important.
Economic concerns and anxiety related to the impact of COVID-19 are what likely drove record numbers of Americans to seek mental health care in 2022, according to a recent Gallup Poll.
Young Americans are feeling the strain: Younger Americans aged 18-34 report especially poor mental health, with nearly half (47%) assessing their emotional wellbeing as poor or fair, while only 16% of those aged 55 and older said they felt the same.
Those with lower annual incomes are also experiencing extra stress: Respondents in households earning less than $100,000 also felt an added strain, with an average of 31% reporting their mental health was fair to poor, compared to just 12% of those in households earning $100,000 or more.
In times of great stress, getting outside can be especially beneficial. The American Psychological Association points to mounting evidence that time outside carries multiple physical and psychological benefits, from increased happiness to mood regulation to an increased ability to concentrate.
Something as simple as a stroll through a city park can carry benefits like greater feelings of empathy and connection. Recent research shows that green views near children's homes promote self-control behaviors. And even the sounds of nature can be restorative.
How Hipcamp and REI support outdoor access together.
"The past few years have taken a toll, but we know that getting into nature is one of the easiest ways to lower your stress and enjoy a mental health refresh," said Hipcamp Founder and CEO Alyssa Ravasio. "Research shows that humans thrive in nature, so we're excited to support better mental health across the U.S. by supporting #WeHikeToHeal and delivering on our mission to get more people outside."
Hipcamp will play a major role in the initiative's end-of-month campout and retreat. In addition to sponsoring accommodations for the event, which will be hosted at one of Hipcamp's top-rated sites in Georgia.
​"The #WeHikeToHeal initiative is an incredible opportunity to help people experience the healing power of the outdoors," said Jenny Avalos, REI program manager of inclusion marketing partnerships. "In continuing our work with Hipcamp and Outdoor Journal Tour, we can encourage more women to turn to nature to bring solace and comfort into their lives."
REI will provide gear for the culminating event, including camping gear, gift bags, as well as an meditative art outdoors activity for participants.
"As we build on the success of the past few years, we look forward to welcoming record numbers of women outside in 2023 thanks to our continued work with REI and Hipcamp," said Outdoor Journal Tour Co-Founder Michelle Jackson-Saulters.
Where to register:
To register for #WeHikeToHeal events, please visit www.outdoorjournaltour.com/wehiketoheal.
Social Media Links:
Hipcamp: @hipcamp
REI: @REI
Outdoor Journal Tour: @outdoorjournaltour
About Hipcamp
Founded in 2013, Hipcamp is the world's largest provider of outdoor stays. It gives a growing community of good-natured people the opportunity to list, discover, and book unique outdoor experiences. The fully remote company operates in the United States, Australia, and Canada, and to date has helped people spend more than 7 million nights under the stars. When listing on Hipcamp, farmers, ranchers, vintners, and other landowners generate new revenue streams to conserve their land and keep it wild. By making it simple to get outside, Hipcamp protects habitat and supports a growing love for the land.
About Outdoor Journal Tour
In the summer of 2015, Outdoor Journal Tour founders Kenya and Michelle Jackson-Saulters had the idea to get a small group of friends together to hike Stone Mountain near Atlanta, Georgia. The plan was for the women to climb to the top and journal about their goals. But once they opened their eyes (after a short meditation) they noticed that two new faces had joined the group. The women explained that they had seen the group and they felt compelled to join. That's when Kenya and Michelle had their "aha" moment. And ODJT was born. The Outdoor Journal Tour community and #wehiketoheal organization, which is a designated 501(c)(3) nonprofit, are designed for women who want to dive deeper into their personal development but don't feel seen in traditional self-help spaces. #wehiketoheal is a month-long outdoor wellness experience that merges principles of mindfulness with outdoor activity. Participants have the opportunity to explore scenic landscapes and hiking trails while being guided through an empowering personal discovery process that uses physical activity, journaling, and meditation as healing tools. Learn more on their website at outdoorjournaltour.com.
About the REI Co-op
REI is a specialty outdoor retailer, headquartered near Seattle. The nation's largest consumer co-op, REI is a growing community of 23 million members who expect and love the best quality gear, inspiring expert classes and trips, and outstanding customer service. REI has 181 locations in 42 states and the District of Columbia. If you can't visit a store, you can shop at REI.com, REI Outlet or the REI shopping app. REI isn't just about gear. Adventurers can take the trip of a lifetime with REI's active adventure travel company that runs more than 100 itineraries across the country. In many communities where REI has a presence, professionally trained instructors share their expertise by hosting beginner-to advanced-level classes and workshops about a wide range of activities. To build on the infrastructure that makes life outside possible, REI invests millions annually in hundreds of local and national nonprofits that create access to—and steward—the outdoor places that inspire us all.
Source: https://rvbusiness.com/hipcamp-launches-wehiketoheal-for-womens-wellness/