Harvest Hosts' Members Drive $100M in Host Sales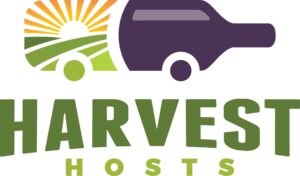 VAIL, Colo. – Harvest Hosts, a membership program that gives RVers access to unique RV camping options, announced May 10 in a press release that at the start of National Small Business Month that its members have spent over $100 million at host locations to-date, which includes nearly 5,000 small businesses across North America, and are expected to spend another $50 million this year.
One of the main pillars of the Harvest Hosts model is the reciprocity between hosts and members. In exchange for complimentary overnight parking provided through an annual membership fee starting at $99, members show appreciation for Hosts' hospitality by supporting their businesses – whether that's buying fresh produce from a farm, a bottle of wine from a winery, a sweater from an alpaca ranch, tickets to a museum or a round of golf. There is never any charge to small businesses for being part of the Harvest Hosts program.
"Small businesses are the backbone of America, and we're thrilled to be able to support these authentic local operations by driving significant revenue to their bottom line. We encourage our members to support the places they stay and we don't take a penny, nor charge any fees to the hosts to be a part of the program," says Joel Holland, CEO of Harvest Hosts. "Seeing more than $100 million in revenue attributed to Harvest Hosts members is just the beginning, as we expect more than $50 million to be spent in 2023 alone as the program grows."
Hosts in the program are small businesses, including farms, wineries, breweries, distilleries, museums, golf courses, churches and more. Businesses like Blue Heron French Cheese Co in Oregon, Summer Crush Vineyard & Winery in Florida, and Weldon Mills Distillery in North Carolina, depend on tourism and sales or donations to survive. The increase in visitors from Harvest Hosts makes a true bottom line difference, especially during critical times like slow seasons. The program also offers some particularly unique experiences for travelers, such as doing a swamp tour, seeing a drive-in movie, exploring an ice cave or touring a bison ranch – opening up a wide range of travel potential for families, couples and solo RVers alike.
Over the years, Harvest Hosts members have been happy to support the small businesses hosting them, on average buying $50 worth of local goods per visit. This translates to $12,000 – $15,000 of additional revenue per Host each year on average. Harvest Hosts takes no cut of the Hosts' spending from the members, so all of that additional revenue directly benefits the local businesses.
"Since 2020, we have had over 3,350 Harvest Hosts guests stay with us on the farm," says Wendy R. Barton, Marketing Director of Lane Southern Orchards in Fort Valley, GA. "They always follow the Harvest Hosts Code of Conduct and our rules about when and where to park. It has been a tremendous success for us, we have seen the program draw more than $90,000 in additional revenue and met great people along the way!"
RVIA projects that 67 million Americans plan on taking an RV trip this year, carrying with them a lot of buying power. Harvest Hosts' goal is to get these travelers off of the main highways and onto local mainstreets. Beyond the revenue benefits, small businesses are finding immense value in being part of the Harvest Hosts network for its marketing potential and human connection. For Hosts in rural areas, it's harder for those who are not local to discover them and less likely that someone on the road would visit by chance. Being listed on Harvest Hosts introduces these small businesses to a network of over 250,000 members, for absolutely no cost.
"We are well off the beaten path and seldom receive drop-in visitors. We decided to try Harvest Hosts so we could bring people to the ranch and introduce them to our alpacas," says Sharon Milligan, Owner of Red Granite Ranch in Livermore, Colorado. "I really had no idea what to expect. We already have 20 bookings through the middle of July. We enjoy talking to people about our ranch and alpacas, and from our reviews, I believe our guests have enjoyed learning about our lifestyle as well."
Hosts' feedback over the years has been overwhelmingly positive. The potential for increased income and marketing efforts is a massive value and especially impactful for small businesses during times when tourism and the economy are down. In addition to the revenue boost, many Hosts also share that they most enjoy interacting with new people through Harvest Hosts.
For more info, visit https://harvesthosts.com/.
Source: https://rvbusiness.com/harvest-hosts-members-drive-100m-in-host-sales/