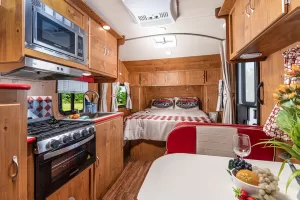 Enjoy the fun of the '50s with this modern, lightweight travel trailer.
By Robbin Gould, Editor
March 2023
Retro is cool. Look around and you'll see signs of it everywhere, from music and movies to decor and design. So, why not an RV, too?
The Vintage Cruiser travel trailer from Gulf Stream Coach is a hip home on wheels that exudes an air of yesteryear while featuring modern construction and conveniences.
The model line includes 13 floor plans in lengths of 20, 23, and 26 feet and an easy-to-handle width of 90 inches. Single-axle and double-axle configurations are offered. The 19RBS shown in the accompanying photos is 23 feet 1 inch long, with a dry weight of 3,119 pounds.
The Vintage Cruiser Story
Dan Shea, Gulf Stream Coach chairman and son of company founder James Shea Sr., remembers a vacation his family took when he was a boy. The trip was special, because Shea Sr. planned to build a business in northern Indiana, and family vacations wouldn't fit easily into his schedule for quite some time. The family traveled across the country in a "woody"-style station wagon. That vacation — and the station wagon — became lasting memories for the youngster.
Years later, drawing upon those memories, Dan Shea decided that retro styling and the "woody" look could be powerful design themes for a line of travel trailers. He and his team at Gulf Stream adapted advanced lightweight construction techniques and one-piece fiberglass roof construction already used in the company's Euro-themed Vista Cruiser travel trailers. The result? "A camper that could revive memories and inspire fondness for the simpler life of an earlier era," company literature explained.
Dan Shea thought the Vintage Cruiser would appeal to seasoned trailer campers who appreciate solid construction, low weight, smart use of space, and predictable road manners. But RVers of all ages, including first-time buyers, also saw the Vintage Cruiser as a great platform with which to experience the basic fun and adventure of camping.
The Vintage Cruiser debuted in 2015 and was received enthusiastically. In 2016, Gulf Stream introduced the "Woody" décor option, thus bringing Dan Shea's original idea to fruition.
In addition to describing some of the attributes of this charming travel trailer, this article also focuses on the popular 19RBS floor plan.
Exterior
RVers instantly notice that the Vintage Cruiser evokes an air of nostalgia. Its lower overall height makes for an easier entry, yet the interior height is just 1 inch shy of 7 feet. Front to back, the RV sports a subtly aerodynamic profile.
Cream-colored paint is accented by either crimson or teal; the latter is applied to the A-frame, bumper, radius metal, fender skirts, and wheel rims. Exterior graphics add more vintage flair. The "Wood Estate Wagon" option, official name of the "Woody" decor, boasts cream paint with wood-style exterior graphics.
The front and rear of these units feature a brushed diamond-plate panel, part of the included Vintage Package. And to further channel the retro style, shiny moon hubcaps are added to the unit's 14-inch radial tires, which ride on Dexter axles with the E-Z Lube system.
A light on the hitch facilitates hookup in the dark. The manual power tongue jack can be replaced with an optional power model if desired. The two 20-pound propane cylinders that ride along at the front of the RV are protected by a cover. The rear of the RV is prewired for a backup camera.
Vintage Cruisers incorporate a pass-through storage bay; a nice addition is the LED motion-sensing light inside it, which activates when the bay door is opened. All storage compartments have radius doors with magnetic catches. The RV also features LED running lights and black-tinted radius windows. The lighted entry steps lead to a friction-hinged door that opens into the interior.
An optional power awning with LED lighting and outdoor speakers creates a camp-side area in which to relax. An exterior mount accommodates a TV, which can be detached from mounts in the bedroom or living area and brought outside. Enhanced entertainment can be enjoyed outdoors if the optional home theater is selected. A rear-bumper-mounted gas grill is another option.
Construction
Despite the Vintage Cruiser's cool '50s vibe, make no mistake about its state-of-the-art production. The sidewalls are composed of vacuum-bonded laminated fiberglass, welded square-tube aluminum frames, and rigid polystyrene insulation, which is said to create a strong, yet lightweight structure. A one-piece, seamless, laminated fiberglass roof extends from the front hitch point to the rear bumper; this eliminates seams and joints between the roof and front and rear walls. Azdel — a synthetic wall substrate known for its strength, lighter weight, aversion to water and mold, and sound-deadening and insulation qualities — is used in place of wood as the outer/barrier layer of insulation and structure in the walls.
Interior
Walking inside a Vintage Cruiser is a bit like imagining a family camping trip of yesteryear. Like the exterior paint schemes, the interior is colored with teal and cream or crimson and cream. This includes the two-tone upholstery used for the dinette and sofa cushions and the home-style café curtains hung on decorative rods. The refrigerator-freezer adds a bold pop of color with doors painted either teal or crimson, which is repeated along the edges of the table and the counter. This colorful theme continues with a two-toned diamond pattern on the backsplash behind the stovetop as well as the custom comforter on the bed. Flat cabinet doors add more of a vintage look.
The walls and ceiling are covered in easy-to-clean vinyl. However, in the Woody package option, floor-to-ceiling pine-look paneling is used instead; this creates a warm, rustic-cabin feel. The Woody package also features Southern Pine cabinetry in place of the standard light cherry, and Hickory Saddle vinyl flooring in lieu of the standard high-performance vinyl.
The 19RBS floor plan is 23 feet 1 inch long. In this layout, the bath stretches across the rear of the unit, with the kitchen and dinette in the midsection, and the bedroom in the front.
The bath area includes a foot-flush toilet, a linen closet, and a radial shower with a glass door on the patio side. A wardrobe and a vanity topped with a mirrored medicine closet are on the street side. The ceiling incorporates a high-velocity vent. The entire rear of the RV can be closed off for privacy.
The booth dinette exudes a comfy "diner" feel, with its two-tone, rounded bench seats and a table that also has rounded edges. Storage is provided under one of the bench seats. A large window treats occupants to a nice view of the outdoors. Across from the table is a mount for the optional 19-inch LED HDTV, which hangs above the pantry. A nondirectional RV antenna and booster is provided with the Vintage Cruiser.
The compact kitchen includes a microwave oven and a two-burner cooktop with cover; an optional three-burner range and oven is available should RVers prefer. A lighted power range hood hangs above the cooktop. The single-basin farmhouse-style sink is paired with a high-rise faucet. Blue LED accent lights on the stove controls and below the sink add flair, and illumination, at night.
In lieu of a private bedroom, the 19RBS has curtains that separate the sleeping area from the rest of the RV. This unit includes a walk-around bed that measures 60 inches by 74 inches. Against the front wall, shirt closets flank the bed and are joined by overhead cabinets; reading lights are installed underneath the latter. Specially designed Vintage Cruiser pillow shams are an additional treat.
Systems
This RV features 30-amp electrical service; a 30-foot power cord is included. It also comes equipped with a 35-amp converter/charger with LED lights. The 19RBS is heated by a 20,000-Btu furnace and is prewired for an optional 13,500-Btu, nonducted air conditioner. Hot water is furnished by a 6-gallon water heater with direct-spark ignition. The fresh-water capacity is 27 gallons; gray-water and black-water holding tanks contain 33 gallons each. A convenience-switch panel includes tank monitoring capability. Multiple USB charging ports stand ready to power individual electronic devices throughout the RV. It also comes ready for satellite and cable.
The Vintage Cruiser has struck a chord with RVers who look back on a simpler time, one full of fun, friends, and family. Its light weight and ease of use combine with that ever-popular '50s vibe. So, put a vinyl on the record player, if you've brought one along. Take a trip down memory lane in a cozy retro RV with modern trimmings. It's the cat's meow.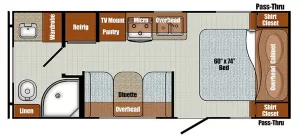 SPECIFICATIONS | VINTAGE CRUISER
MANUFACTURER
Gulf Stream Coach, 503 S. Oakland Ave., Nappanee, IN 46550; www.gulfstreamcoach.com; (800) 289-8787
MODEL
2023 Vintage Cruiser
FLOOR PLAN
19RBS
EXTERIOR LENGTH
23 feet 1 inch
EXTERIOR WIDTH
90 inches
EXTERIOR HEIGHT
10 feet 2 inches (with optional A/C)
INTERIOR HEIGHT
6 feet 11 inches
DRY WEIGHT
3,119 pounds
HITCH WEIGHT
390 pounds
NET CARRYING CAPACITY (NCC)
1,261 pounds
TIRES
14-inch radial
BRAKES
electric drum
FRESH WATER CAPACITY
27 gallons (includes 6 gallons in water heater)
HOLDING TANK CAPACITIES
gray water — 33 gallons; black water — 33 gallons
PROPANE CAPACITY
40 pounds; (2) 20-pound cylinders
WATER HEATER
6 gallons; direct-spark ignition
ELECTRICAL SERVICE
30 amps
HEATING SYSTEM
20,000-Btu furnace
AIR CONDITIONING
(1) 13,500-Btu, optional
REFRIGERATOR
6-cubic-foot refrigerator-freezer
TOILET
foot flush
WARRANTY
1 year, limited; 3 years, structural
MANUFACTURER'S BASE SUGGESTED RETAIL PRICE
$30,618
The post Gulf Stream Vintage Cruiser appeared first on Family RVing Magazine.
Source: https://familyrvingmag.com/2023/03/01/gulf-stream-vintage-cruiser/