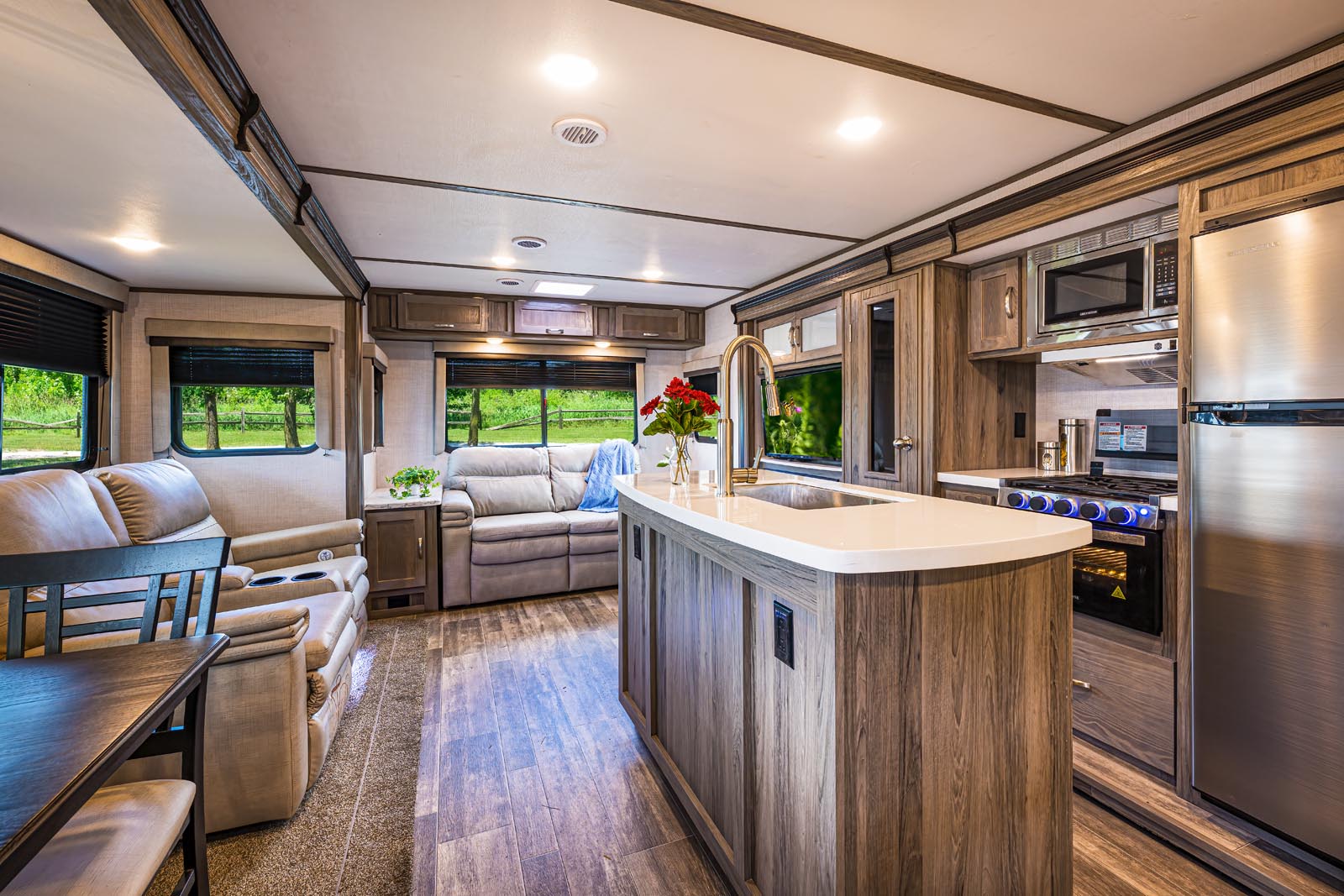 NAPPANEE, Ind. – Now in its 40th Anniversary Year building RVs that make creative and practical use of every square foot of interior space, Gulf Stream Coach is highlighting its model 290RL in the company's flagship laminated fiberglass brand, ENVISION, according to a press release from the company.
Factory representatives and dealer staff say that the 290RL has sold very well at early season RV shows throughout the US and Canada. According to these sales professionals, the refinement and quality of the 290RL are redefining the word "camping" for many people exploring the RV lifestyle for the first time.
The 290RL uses opposing double slide-outs to provide a truly spacious and functional living area akin to the "Great Room" concept so popular in residential architecture. Like its residential counterparts, the 290RL integrates casual living room furnishings, an entertainment center, a dining area, and an island kitchen. The arrangement is ideal for entertaining family and friends.
Theater seating is a popular option for the the casual living area, where large expanses of tinted glass frame beautiful views of the outdoors and flood the interior with natural light. Easily seen from any seat is the entertainment center, with a home theater-style sound system, hookups for an optional HDTV up to 50" in size, and an optional electric fireplace/heater.
The full-function kitchen features a central island with farmhouse sink and extra counter space, a three-burner gas range, oven, microwave, and lighted exhaust fan. A state-of-the-art two-door 12V 10.7 cu. ft. refrigerator/freezer with floor-level pet dish drawer sits on one side of the range; a huge floor-to-ceiling pantry is on the opposite side.
A four-person booth style dinette with its own picture-window views is just a step away from the kitchen island; a free-standing dining table and chairs is an available option. Also handy is a small-appliance counter with outlets for a coffeemaker, air fryer, or toaster.
A short hallway leads from the main space to the large bath, which includes an oversized shower, linen storage space, foot-flush toilet, high-performance vent fan, and an extended vanity with washbasin, bank of drawers, cabinets, double mirrored medicine cabinets, and GFI outlets.
Beyond the bath, a residential-style panel door secures the master bedroom with an extra-length (60" x 80") bed, his & hers mirrored hanging closets and nightstands, overhead cabinets, and under-bed storage. Opposite the bed is a truly impressive recessed floor-to-ceiling wardrobe with even more hanging space and drawers.
The sheer space, comfort, and luxury of the 290RL are all made possible by the advanced technology used in its construction. Light weight, strength, and resilience are provided by a six-sided welded square tube aluminum frame and vacuum bonded laminated fiberglass walls, fabricated on-site using processes perfected at Gulf Stream Coach
A structural layer of Azdel synthetic substrate separates the outdoor environment from the interior, providing insulation for sound and heat, and a barrier impervious to moisture, all while reducing weight. The emphasis on light weight construction means the 290RL minimizes overall weight, maximizes cargo capacity, and improves fuel economy.
There's little that campers looking for an oasis of luxury can wish for in a full-featured laminated fiberglass travel trailer that the 290RL doesn't provide. It's a perfect example of the thoughtful, experienced design that has made Gulf Stream Coach the RV industry's leading independent manufacturer, and the favorite of generations of camping families for forty years.
Source: https://rvbusiness.com/gulf-stream-envision-290rl-offers-residential-great-room/