Golden Village Palms RV Resort: A Hidden Gem In Southern California

Golden Village Palms RV Resort: A Haven For RV Enthusiasts
There are so many RV resorts in California that it's hard to keep track of them all. However, a few rise above the rest and stand out as the best of the best. Golden Village Palms RV Resort is a massive RV park that has earned a spot at the top of the list.
In addition to its large size, this RV park is comfortable and luxurious. It's an upscale resort that is perfect for adults who need a vacation. You can stay at an RV site, rent a cabin, or even own a vacation home here! There's something for everyone, and you're certain to have a great experience no matter where you stay.
Overview
Golden Village Palms RV Resort is located at 3600 W Florida Ave, Hemet, CA. It's nestled in Diamond Valley, which is a beautiful area that showcases some of the best parts of California. This location puts it midway between San Diego and Los Angeles, so you can visit these major cities without too much hassle.
The size of this resort is one of the key factors that sets it apart from the competition. It has a grand total of 1,019 sites, 700 of which are for RVs. The remainder of these sites are rental cabins and vacation homes. Full hookups for water, electricity, and sewage are provided by the park. It's also open all year long, so you don't need to worry about it closing for the winter.
Rates
The rates in this park are also quite affordable! Many guests pay between $35-$45 per night, but the price increases if your RV is particularly large or requires a special site configuration. Higher prices are close to $60-$90 per night, while the cheapest sites can be booked for about $25. Many luxury California resorts cost $100 per night or more, so you're getting a great deal with Golden Village Palms RV Resort.
You can also rent one of the resort cottages if you'd like a more homey environment during your stay. These cottages are high-end and equipped with everything you need for a comfortable visit. Each one is fully furnished and comes with a full kitchen, hardwood cabinets, a front deck, and a paved driveway. Cottages cost about $179 per night, and they're well worth the price. Considering the location and wealth of luxurious amenities, these prices are amazingly low!
Amenities
When it comes to amenities, Golden Village Palms RV Resort really shines. This is a truly luxurious resort that gives guests everything they could hope for in terms of comfort and entertainment. While families with kids can enjoy their stay here, many of the amenities are geared towards adults and retired RVers.
For instance, there are three heated outdoor pools in the resort. Hot tubs are also available, so everyone can enjoy a nice soak after a long day. Water aerobics classes are hosted frequently, so visitors can stay in shape and enjoy the water. You can also rent poolside cabanas for the day and enjoy great service and perks. Rentals come with cooling towels, soft drinks, and snacks as well.
For those looking to get some exercise, you'll love the onsite fitness center. There are various classes throughout the day, as well as indoor and outdoor exercise facilities. The entire resort is gated and guarded with trustworthy security measures. You can rest assured knowing that you and your RV are safe and sound here.
The activity garden is one of the highlights of this resort. It's packed with courts and open spaces for all sorts of games and sports. Visitors can play bocce, horseshoes, volleyball, frisbee golf, driving ranges, shuffleboard, and pickleball. There's even equipment for a large outdoor game of chess! Pickleball is particularly popular in this area, so you'll have the chance to play on professional courts and participate in championship games.
There are also standard lifestyle amenities like clean showers, restrooms, and laundry facilities. The roads are all paved and well-maintained, so you won't need to worry about potholes. There's an onsite snack bar for delicious treats, and you can get ice within the resort as well. Worship services are also available in this park, so you won't need to travel a long distance to attend your church. Pets are more than welcome here, and they will enjoy the enclosed dog run.
Overall, the amenities here are top-notch. The park is well-designed so everyone can access the features they want. Whether you love to stay active or just relax by the pool, Golden Village Palms RV Resort has something for everyone.
Nearby attractions/activities
The resort itself is packed with fun things to do, but the surrounding area has even more opportunities for adventure! Within 10 miles, you can find a casino as well as hiking and biking trails, great fishing spots, and boating harbors.
Diamond Valley is a great spot, and it's full of delicious restaurants and fun shopping destinations. You can also visit the Western Science Center, Diamond Valley Lake, and the Diamond Valley Lake Aquatic Center.
As mentioned previously, Golden Village Palms RV Resort is located right between San Diego and Los Angeles. If you want to explore these larger cities, you're in a great place. These cities are bustling and vibrant, so you'll never run out of things to do or see.
If you want to eat like a local while you stay at the resort, try some restaurants in the Hemet area. Some of the most highly-rated options include:
Harvard St. Bakery and Cafe
Golden Ginger
Los Vaquero's Mexican Grill
Dattilo Ristorante Italiano
Oryz Family Restaurant
Steer n' Stein Restaurant
Golden Hibachi Buffet
Downtown Deli and Coffee Company
Taqueria Azteca
Octillo Restaurant and Cantina
And many more!
The California coast has a huge range of cuisines, so there's something for every palate here. You can always enjoy the snack bar at the resort, but fine dining is never far away when you stay at Golden Village Palms RV Resort!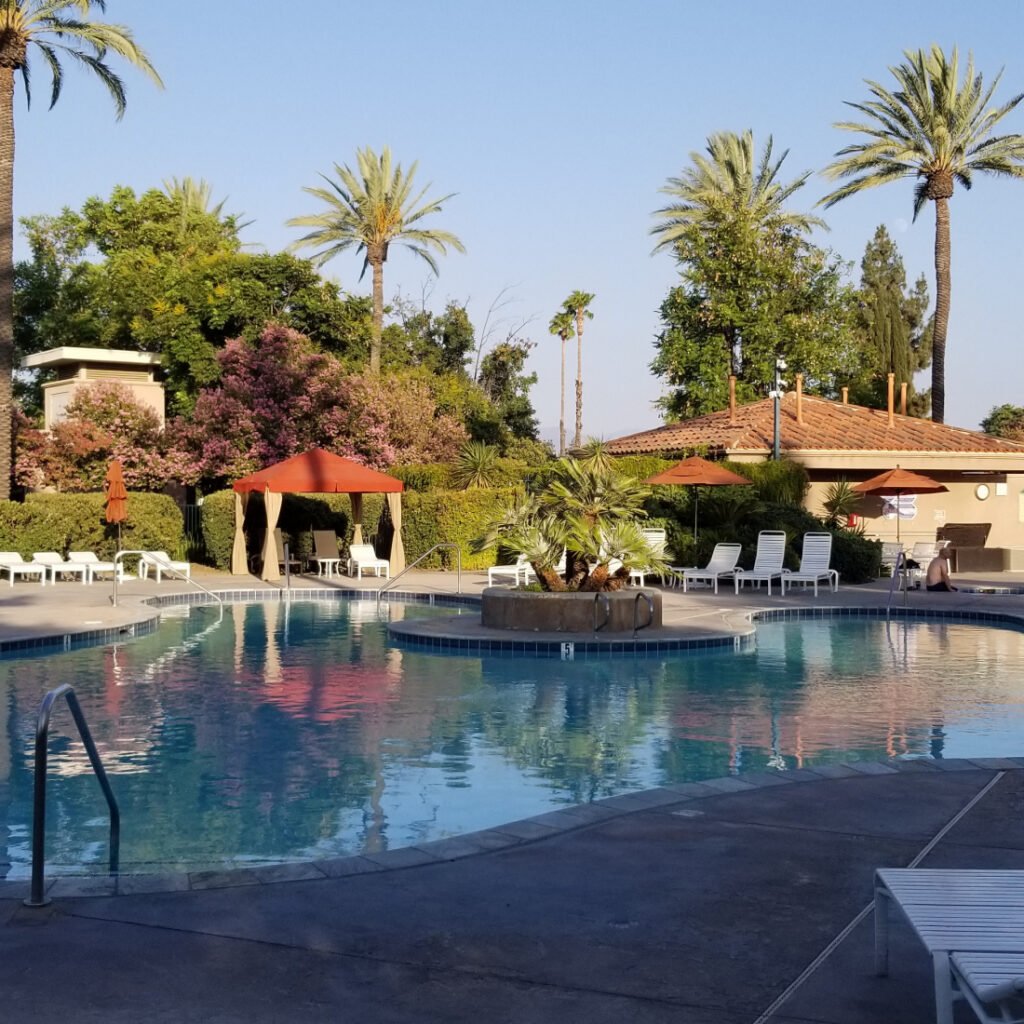 Resort reviews
A resort may have a lot of amenities and space, but it's not any good unless there are plenty of guest reviews to back it up! Luckily, Golden Village Palms Resort has plenty of feedback from visitors.
On RV LIFE Campground Reviews, this resort has scored an 8.3/10 average rating from guests. This makes it a highly favored park in the state of California. More than half of the reviewers gave this park an "Excellent" rating.
According to one recent review,
"We originally planned to stay for one month, mid-DEC to mid-JAN, but extended for a second month after the first couple of days. The park has some permanent residents and many seasonal residents that we met, all were great people and we made some long term friendships. Activities were plentiful while we were there, some daily or weekly and many special events (some free, some an extra charge). We joined the pickleball club while there and played daily on the ten courts, weather permitting.

The resort is gated, but we did hear of stolen electric bikes. We didn't have anything valuable that we left outside. The park is over a mile around the perimeter road, which my wife and I walked regularly with our dogs, picking citrus (lemons, oranges, tangerines, grapefruit) from the many trees around the park. There were also two dog parks for off leash time for the pups. There are three heated pools and three hot tubs. I used the hot tubs several times. My wife used the gym and had no issues. There is a billiards room that was really nice. There is also an indoor shuffleboard area with 8 lanes that gets weekly competitive use by the residents. Many other activities that we did not partake in.

Our site was by the pickleball courts, and with the hedges it was challenging to get the 40′ fifth wheel in the spot the way we wanted. Once in we loved the location and had views of snow capped mountains on clear days. All utilities worked well. Shopping for what you need is close by. During our stay we also left the park to explore. We visited Old Town Temecula, wineries in Temecula, Idyllwild, Palm Springs (including the aerial tram), and San Diego. Nightly rate includes the monthly electric bill. We really enjoyed our time at GVP and I see why so many winter here year after year. We camped at Golden Village Palms RV Resort in a Fifth Wheel.

– via Westburd
Learn more
All in all, Golden Palms Village RV Resort is a popular spot for RVers. It's a beautiful park that has a lot to offer to guests. For more information, visit their website at goldenvillagepalms.com.
For all of your camping and trip planning needs, look no further than RV LIFE Campgrounds and RV LIFE Trip Wizard. Campground Reviews is a trusted source of campground and RV park reviews offered by camping and RV enthusiasts just like you. With its accompanying RV LIFE App, RV Trip Wizard gets you to your camping destinations utilizing RV-friendly routes specific to your RV and travel preferences.
Been to a campground lately? Don't forget to leave a review! Reviews help other RVers like yourself, and they help the campground. Leave a campground review today!
Related articles:
The post Golden Village Palms RV Resort: A Hidden Gem In Southern California appeared first on RV LIFE.