EDITOR'S NOTE: Go RVing Canada recently provided the following member update for February 2023.
What's Happening at Go RVing Canada
As the winter comes to a close and we approach the Spring planning season, now is the time to educate consumers on the importance of buying early. Find out how Go RVing Canada is bridging the gap by connecting consumers with dealers and buying events, and how we're getting the RV community excited about planning their 2023 trips with our association on gorving.ca.
This quarterly newsletter is designed to keep you up-to-date at a high level with what's happening at Go RVing Canada. Should you want further information of on-going programs, contact us.
It's been a busy time for the industry as we've entered into buying season and in-person RV shows. In this edition, we provide you with an update on how we are supporting the 2023 show season, and reveal the new metric updates from our digital and content efforts. We unveil an exciting new partnership that takes us "backwoods & backstage" with country music star, Brett Kissel! Furthermore, as the Premiere dealer-tie in program evolves, we present up-to-date traffic statistics and benefits for dealers who have opted-in to the program. Finally, new tips from our Integrated Agency team have been added to the "Knowledge Centre" to help keep you up-to-the minute with emerging marketing trends and tips so that you can improve your own dealerships strategy.
We look forward to sharing a very special member update with you next month as we unveil the highly anticipated 2023 Wildhood campaign!
Remember: Resources from the Go RVing Canada Dealer Tie-In Program are available to all employees at your dealership, so be sure to forward this newsletter to your marketing department. To get your colleagues signed up for Dealer Tie-in portal access, click here.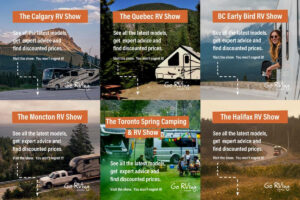 Go RVing Canada Supports the 2023 RV Show Season
Go RVing Canada has teamed up with Jungle Agency, Agnostic Media, and RV-niche content creators to promote show events for the 2023 RV trade show season.Every year we drive awareness of the shows by initiating a digital marketing campaign to support additional reach, with targeted paid-advertisements across social to increase traffic and awareness of regional shows in Canada. To garner wide-spread media coverage, Agnostic Media is working hand in hand with Provincial show directors to cater messaging to the press, and is actively pitching to regional media outlets to engage communities and support awareness of RV Shows.
To further support the shows, we partnered with content creators to support pre-show ticket sales, as well as on the ground content creation for both the Calgary and Ottawa RV show and saw great success! As a reminder to all provincial directors, Go RVing Canada is here to support and we want to see success throughout all regional shows, please contact us if you are interested in additional promotional support from our team!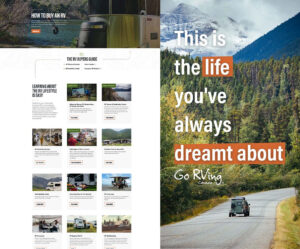 Go RVing Canada Website + Digital Review
We continue to evolve our strategy and develop exciting new content and tools for our online hub, which continues to grow by over 10% in both user traffic and KPI conversions. With all our campaign websites combined, our digital ecosystem receives over 2M visitors a year! With our digital focus shifting to enhanced social tactics and more content creation in 2023 we plan to create more trip and RV focused content for the website, and continue to motivate online audiences to visit local RV dealers. Expect fresh new imagery, video content, and updated RV tips and travel stores on the website in the months ahead!
The widely successful campaign 'Brewdocking' saw over 150K website visitors to the microsite and 30K signups to our newsletter. We are confident continued brand partnerships will capture new audiences and strengthen our online brand positioning. We also plan to target emerging consumers interested in the RV lifestyle via insights gained through social channels and our research studies. Lastly, the results of our digital ecosystem review have been compiled and we are upgrading most areas of the website to offer a better user experience, improve access to trip guides, and deliver revamped listings to drive more traffic to our member websites.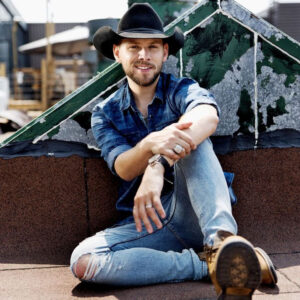 Go RVing Canada Partners with Brett Kissell To share Backwoods RV Recipes
We are thrilled to announce that we have partnered with Canadian Country music star Brett Kissel to spread awareness of the RV lifestyle through entertaining video and social content.Brett will be filming 5 Go RVing Canada segments to compliment the promotion of his new show on the sportsman channel "Backwoods Backstage". The segments will highlight cooking farm to table meals after a day of RVing with friends and family, while sharing his favourite backwoods recipes. The partnership will also involve a contest giveaway of a signed guitar by Brett.
The program will be launched in April to encourage RVers to begin planning their trip, and to try Brett's recipes while on the road.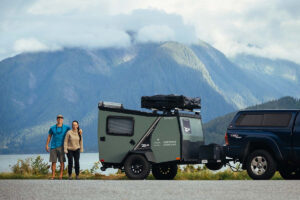 Join the Dealer Tie-In Program and Reap Major FREE Marketing Benefits
Target an emerging demographic with new marketing material added to the Go RVing Canada dealer tie-in program! The program is routinely updated with new high-quality assets, including RV lifestyle imagery and video's to use on your social channels and in dealer marketing campaigns. Save $1000's by joining the free program exclusive for RVDA dealer members.
Did you know you can boost your dealerships awareness by upgrading your membership to the Premiere level? Premiere tie-in members take advantage of unique benefits, including a 4-5x increased chance of traffic to their dealership page.Take advantage of over 350k visits to gorving.ca's listing pages! To upgrade to the Premiere level, contact contact us.
Current Premiere members will receive their renewal emails with the ability to pay online. New Premiere program benefit details to be released in Mid-March.Not a member of the program yet? What are you waiting for! The bulk of the program is completely free and available to all members of the RVDA. Take advantage of professional marketing assets for content creation, including 100's of RV lifestyle images, promotional videos. We will be announcing the launch of the NEW Wildhood campaign soon, and dealer Tie-In members get first-access to the invaluable assets that will be added to the program.

Industry insights from our team of experts.
Agnostic Media Public Relations & Communications
"Canadians are pivoting previous travel strategies and planning early, exploring domestic travel, and securing reservations now for sought-after summer months"
Amidst economic uncertainty and the rising cost of living and inflation across sectors, travel remains a priority for Canadians. These days, Canadians are pivoting previous travel strategies and planning early, exploring domestic travel, and securing reservations now for sought-after summer months. Recognizing the influx of domestic travellers since the pandemic, Parks Canada is updating its booking system and expanding reservations beyond camping to include other activities – further incentivizing Canadians to book early and plan ahead.
---
Jungle Media Social Media Strategy
"Video vs. Imagery: How and when to use different video formats"
Video and image content both have their unique benefits on TikTok and Instagram, it depends on the type of content you're trying to share and the goals you have.
Benefits of Video Content:
Increased engagement: TikTok and Instagram users are more likely to interact with video content than static images.
Higher reach: Videos are favored by the algorithms of both TikTok and Instagram, meaning they tend to be shown to more users.
Greater storytelling potential: Videos provide a more dynamic way to tell your brand's story and showcase products.
Benefits of Image Content:
Quick consumption: Images are easy to consume and can quickly get your message across.
Better for product showcasing: On Instagram, images can be used to showcase products, with the option to tag products and link to purchase pages.
Increased sharing potential: Images are more easily shareable than videos, making them a great option for memes and viral content.
But which platform is better? Instagram is a visually-driven platform that offers high engagement rates, a large and diverse user base, and advanced targeting options for businesses. TikTok, on the other hand, has a younger user base and a unique short-form video format that allows businesses to showcase their products and services in a creative and entertaining way. Both platforms/formats have their strengths and have the ability to promote your content through paid media so the best approach is to use a mix of both, depending on your goals and the type of content you're trying to share.
---
Broken Heart Love Affair Creative & Advertising
"Tik Tok is now being used as a search engine"
TikTok has grown remarkably fast, reaching more than a billion users faster than Facebook and YouTube. It's even more surprising that TikTok has overtaken Google as the dominant search engine for Gen Z.
Is it a sign that searching the internet is changing?
With TikTok surpassing Google as a preferred search engine for younger people, more brands are considering joining this upstart platform that can seem frenetic at first glance. Consequently, brands must now ensure that their social media are properly optimized and maintained as part of their social strategy, especially if they are in the travel, dining, or consumer packaged goods sectors.
It's time for brands to start working with search teams to create content for TikTok. It is vital that they pay attention to daily, hourly, and digital societal events that could turn into viral content.

Source: https://rvbusiness.com/go-rving-canadas-quarterly-member-update-for-february/