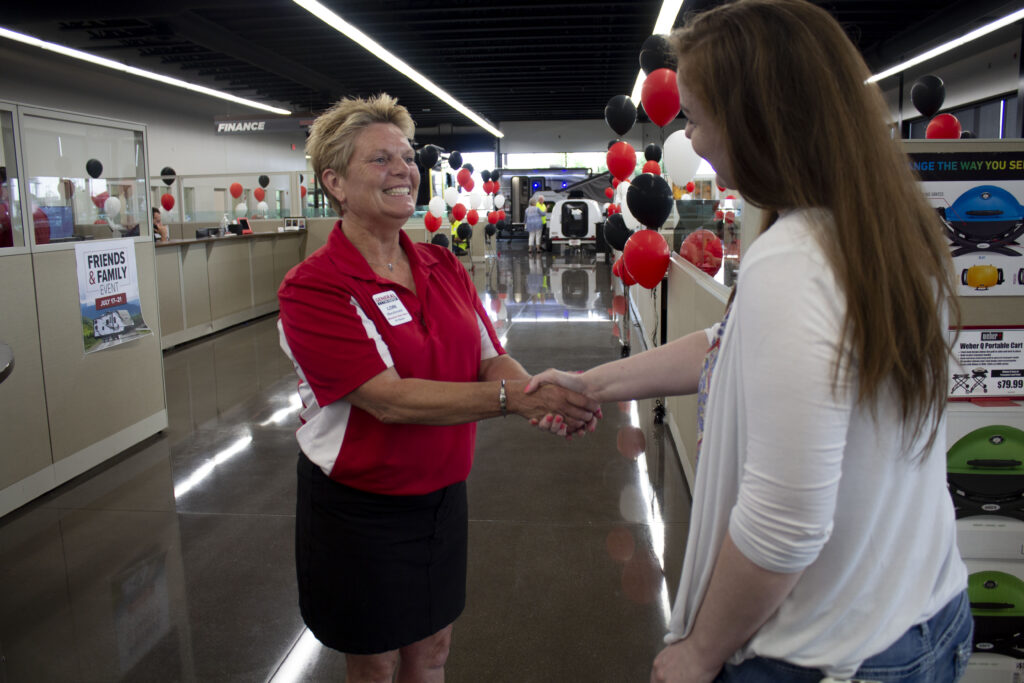 WIXOM, Mich. – General RV Center has collaborated with industry leading manufacturer American Coach to create a reimagined design process that allows shoppers the ability to customize their RVs with premium materials and advanced technology.
The American Coach Experience, which will be permanently housed at the General RV Superstore in Dover, Florida, will be unveiled at the 2023 Florida RV SuperShow running Jan. 18-22.
A first in the RV industry, The American Coach Experience encompasses the full line of luxury Class A Diesel motorhomes, including the flagship American Eagle, American Dream and American Tradition. Once customers are ready to design their own American Coach product, they will step inside the custom-built Design Center, imagined by American Coach's interior designer Mindy Cox. The Design Center allows customers to sample materials from various decor packages for a fully immersive experience.
"We take pride in sourcing high-end fabrics, solid surface materials for countertops and luxurious wood cabinetry for engineered quality craftsmanship that exceeds all expectations," said Doug Miller, Product Manager for REV Recreation Group's Class A products.
Following the Florida RV SuperShow, the Design Center will join an exposed Freightliner Custom Chassis with a fully integrated, gold standard Liberty Bridge Foundation to form the permanent American Coach Experience at the General RV SuperStore in Dover, located just outside of Tampa.
"General RV in Tampa is the largest American Coach dealer in the country," said Bob Green, Director of Sales at General RV Center. "We are excited to bring this experience and offer more choices for American Coach customers in 2023 and in the years to come."

About General RV
Founded in Michigan in 1962, General RV Center is the nation's premier RV dealer. The company operates 14 full-service dealerships in Michigan, Illinois, Ohio, Virginia, Florida, Utah and Pennsylvania. Each location offers a large selection of RVs for sale, RV service facilities and retail RV parts and accessories. The company is celebrating its 60th anniversary this year. Visit GeneralRV.com for more information.
About REV Recreation Group, Inc.
REV Recreation Group, Inc. is a REV Group subsidiary and a leading manufacturer of Class A Gas and Diesel recreational vehicle brands. This company has one of the best and longest standing distribution networks in the industry and boasts some of the industry's most recognized and iconic brand names such as American Coach®, Fleetwood RV®, and Holiday Rambler®. Headquartered in Decatur, IN, which is also its principal manufacturing location, it operates two state-of-the-art service and repair centers and a genuine parts online warehouse.
Source: https://rvbusiness.com/general-rv-collaborates-with-american-coach-at-tampa/