Gear Review: The Kershaw Link

The Kershaw Link is a rugged folding knife. I know because I used it during a week-long camping trip. With it, I put up a tipi, built a bow drill, and really put it through the paces. And I'm happy to say that it performed quite well.
The Link has just enough heft to it. It has a 3.25-inch CPM 20CV stainless steel blade, which looks fantastic. It gives the blade an almost bushcraft aesthetic. It has higher amounts of carbon and chromium that make it harder and more resistant to corrosion, which is ideal for anyone spending a lot of time on the trail.
With an aluminum handle, it weighs just under 5 ounces. While that's light, it's not too light, so it feels safer in the hand and doesn't make me worry about being too rough with it.
The most fun feature of the knife is hands down the SpeedSafe-assisted opening. You end up opening and closing it 50 times before you even use it. The opening is smooth and fast, but it's also quite functional. The ability to safely and quickly open the Kershaw Link with one hand just makes everything easier.
You can also move the pocket clip to either side for right or left-handed carry. There's also a lanyard hole if that's your thing. Some people prefer that type of carry-around campsite, and some think it looks cool to have some paracord attached. I found it to work well.
Last but not least, the Kershaw Link is manufactured in the USA. For some people, that means something. They even gave it the model number 1776 to make it even more special.
If a larger fixed-blade camp knife isn't quite your speed, the Kershaw Link might be the perfect fit for you. It will easily do everything you need a knife to do around camp.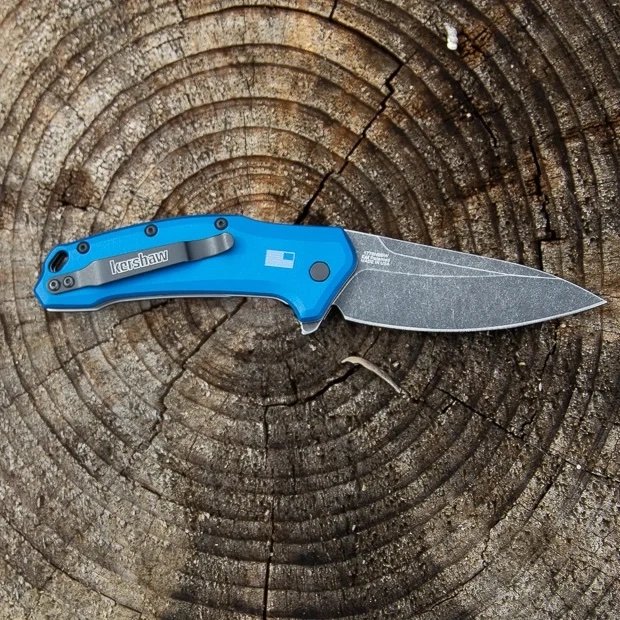 Specs/Features
Overall;: 7.6 in. (19.3 cm)
Blade: 3.25 in. (8.4 cm)
Closed: 4.4 in. (11.2 cm)
Thickness: 0.36 in. (9 mm)
Material: CPM 20CV
Finish: Stonewashed finish
Handle: 6061-T6 aluminum
Weight: 4.7 oz
Price: $160