Gear Review: The GCI Freestyle Rocker
A few years ago, GCI Outdoors introduced its patented spring action rocking chair. It's the type of chair that'll bring you a little taste of home at the campsite. While rockers on a chair are nothing new, the GCI Freestyle Rocker can rock on almost any surface. It's unlike any other camping chair that you'll find on the market.
Using the patented spring-action rocking technology, it automatically adjusts to the surface so you get smooth rocking on uneven ground. ​​The base of the chair is basically a long ski, and the rockers attach to the end. That means that not only is the chair extremely stable, but you easily get the full rocking action with minimal effort.
Plus, on a traditional rocking chair, you're on the rockers all the time. If you lean forward it never comes to a stop. On the CGI Outdoor rockers, if you lean forward, the front legs come in contact with the ground and you're completely stable. If you're sitting at a table you can lean forward and it feels like a regular camping chair. In fact, there are six points of contact on the ground.
Lastly, packing the Freestyle Rocker is pretty easy. It folds up flat and there's a handle on the back of the frame that makes it easy to carry to the car, soccer field, campsite, or wherever you're headed for the afternoon.
If your old camping chair is on its last leg, you'll have a hard time finding one that is as comfortable and easy to transport as the GCI Freestyle Rocker.
GCI Freestyle Rocker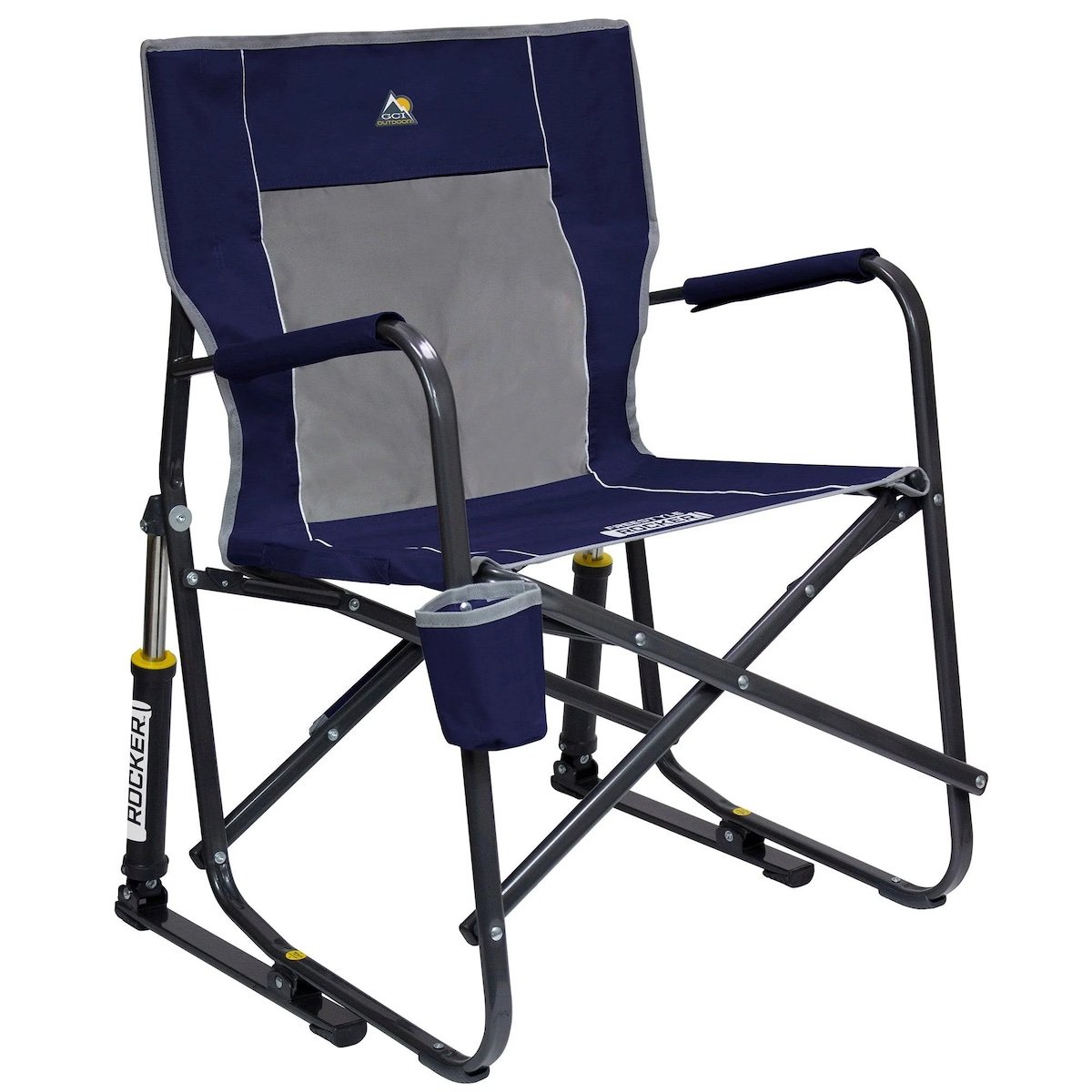 Features
Spring-Action Rocking Technology
Eazy-Fold Technology
Mesh Backrest
Carry Handle
Specs
Height: 34.8 inches
Width: 25 inches
Depth: 24 inches
Weight: 12 pounds
Supports: 250 pounds
Price: $75
Source: https://outdoors.com/a-closer-look-at-the-spring-action-rockers-from-gci-outdoor/