Gear Review: Fireside Pop Up Pit

As a portable fire pit, the Fireside Pop Up Pit does everything right. It's easy to set up, it's big enough to have a good-sized fire, and the bottom shields the ground from heat, so it doesn't scorch the grass. But what I love most is how versatile it is.
Performance
The Fireside Outdoor Pop Up Fire Pit comes in a small carrying case and it's incredibly intuitive to set up. In fact, it only took me 90 seconds. Also, packing it up is easy too. I disassembled it, rolled it up, secured it with the velcro straps, and slid it into the carrying case. It takes up very little space in the car and fits just about anywhere.
With two-by-two feet of space, it offers enough space to build a fire that can generate some real heat. The stainless steel mesh base allows for excellent airflow, so the fire will burn hotter and with less smoke. Also, the mesh is taut and dips slightly toward the middle. It's not much, but it's enough to keep the coal bed concentrated in the center, so I wasn't worried about coals rolling around where they're not supposed to be.
The heat shield is effective. I had a fire going for about two hours and the ground beneath was cold the entire time. I'll admit that I wondered whether or not the stainless steel mesh would hold all of the coals in, but it did. It's a tight weave, and nothing fell through at all. The ability to comfortably have a fire on a gorgeous lawn is a big win in my books. It's a bummer to wake up the next day to find a dead patch of grass caused by the enjoyable fire you had the previous evening. If you want to preserve your beautiful lawn, you'll want to pick up the heat shield as well.
Lastly, it comes with Tri-Fold Grates for cooking. Attaching them is a snap, and there is enough space to cook dinner for four to six people. It was easy to slide the coals around on the stainless steel mesh to create cooking zones of various temperatures. After dinner, I put some leather gloves on, removed them, and tossed a few more logs on the fire.
The Verdict
Honestly, there isn't anything I don't like about the Fireside Pop Up Fire Pit. I think $99 is a fair price for a lightweight, portable firepit, that can be set up in under two minutes. The Fireside Outdoor Pop Up Fire Pit offers an excellent, leave no trace option that few others can.
The Fireside Pop Up Fire Pit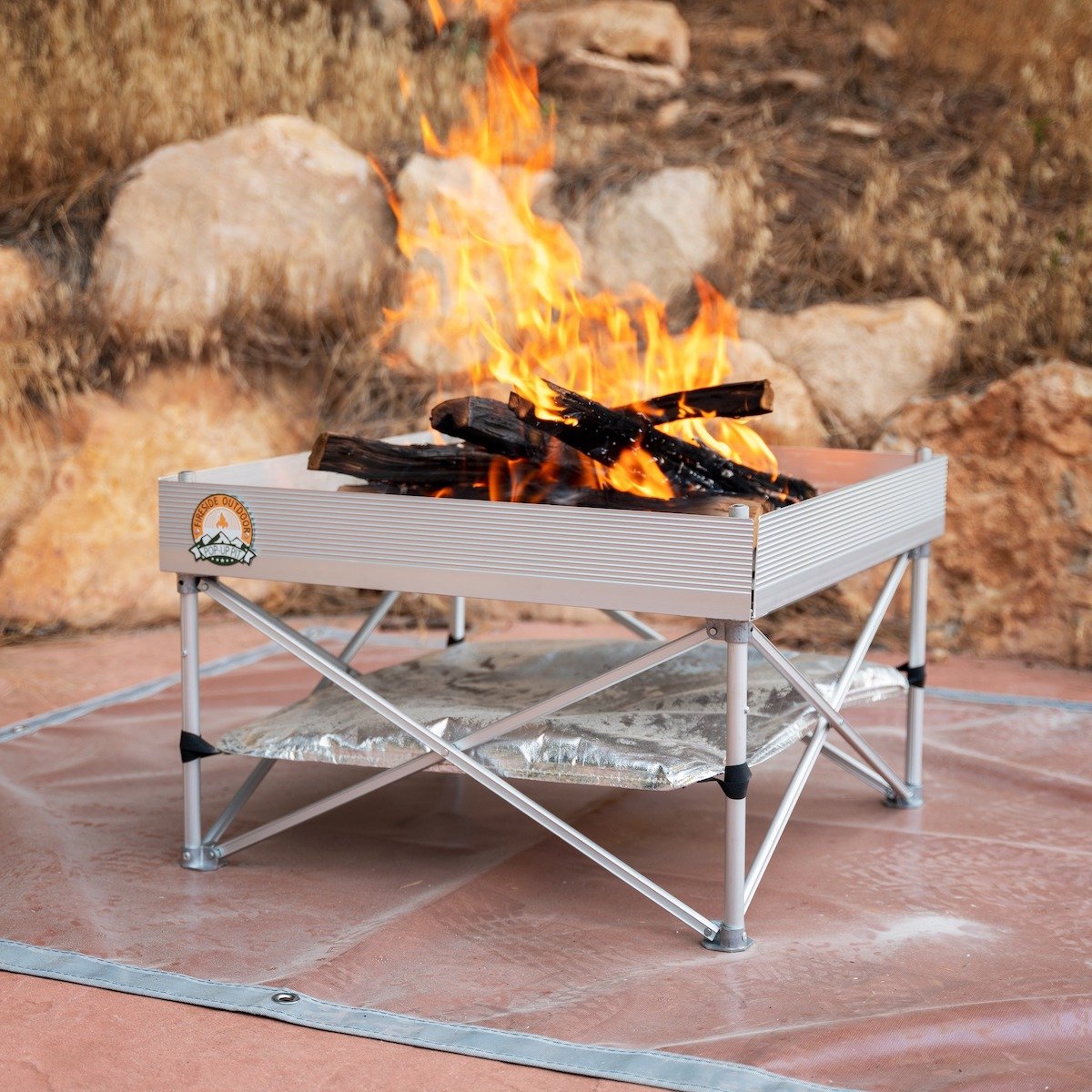 Features
Leave no trace fires
Meets USFS and BLM guidelines
Includes heat shield
Specs
Weight: 8 poundslbs
Holds up to 125 pounds
Price: $99.95
Source: https://outdoors.com/fireside-outdoor-pop-up-fire-pit-review/