Free Camping In Colorado: A Guide To The Best Spots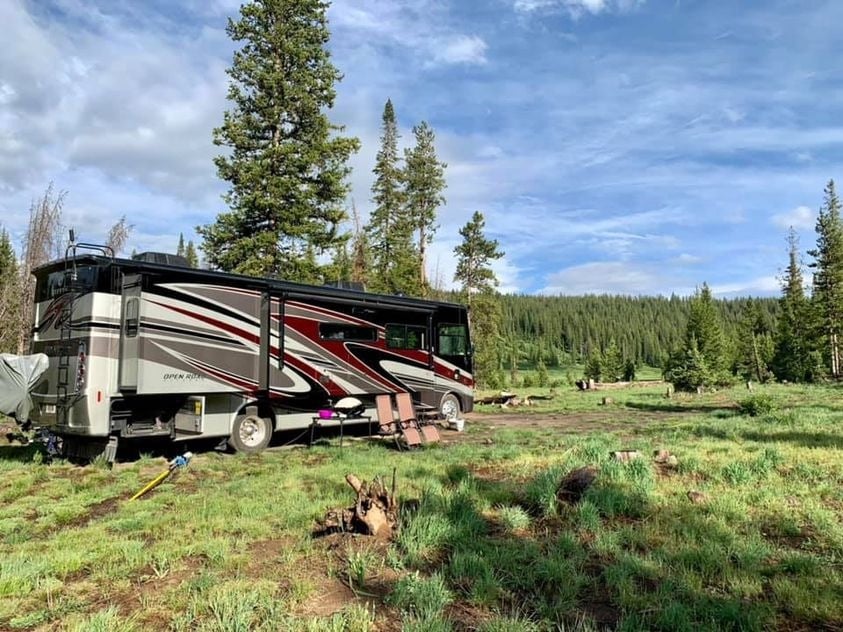 Colorado's Best Free Camping Sites for RVers
Colorado is, by far, one of the most beautiful states. It is the ideal place for outdoor enthusiasts to get their fill of hiking, kayaking, rock climbing, and other outdoor activities, and all of this makes it an RVer's paradise.
The only problem? Campsites in Colorado are expensive. Some RV parks charge $100 or more a night, a price many RVers are unable to pay. Thankfully, a solution exists: free campsites in Colorado.
Yes, you read that right. There are places where you can camp in Colorado without spending a single dime! No, these campsites aren't glamorous, but they are a place to park in one of the most beautiful places on earth without going broke, and we think that is plenty.
Where can you camp for free in Colorado?
Wondering where you can find these mystical free campsites in Colorado? We hear you! We were pretty excited to camp in the Centennial State for free too.
Believe it or not, there are actually a number of free campsites in Colorado. That said, we didn't want to include just any campsites. We've sifted through all of the Colorado boondocking sites we could find to give you a list of the top four free campsites in Colorado. Choose from this list and you won't be disappointed.
Rabbit Ears Pass Dispersed Camping
Looking for beautiful camping in northern Colorado? Rabbit Ears Pass Dispersed Camping might be the camping area for you. The sites are scattered along a Forest Service road just off I-40. The sites a half-mile down the road would be difficult for a big rig to reach; however, the sites at the beginning of the road are easily reachable by any rig. That said, even those planning on stopping within the first quarter-mile should expect to deal with some ruts in the road.
These free campsites in Colorado come complete with beautiful views, hiking trails, and a little stream. There are no amenities, but many sites are level and some campers report getting some cell signal with Verizon and AT&T. T-Mobile is nonexistent in this area. 
Blodgett Campground
Located in Leadville, just an hour west of Breckenridge, Blodgett Campground is a favorite of boondockers. It is located on Forest Service land just off a road that is in relatively good condition (expect some washboarding, though). There are about four to six sites here, and the campground can accommodate RVs up to 22 feet in length.
No hookups, trash cans, or tables are available. Campers can expect to get very limited Verizon, AT&T, and T-Mobile depending on where they park. There are a couple of hiking trails from the campground and a lovely little creek that runs nearby. RVers are also treated to mountain views.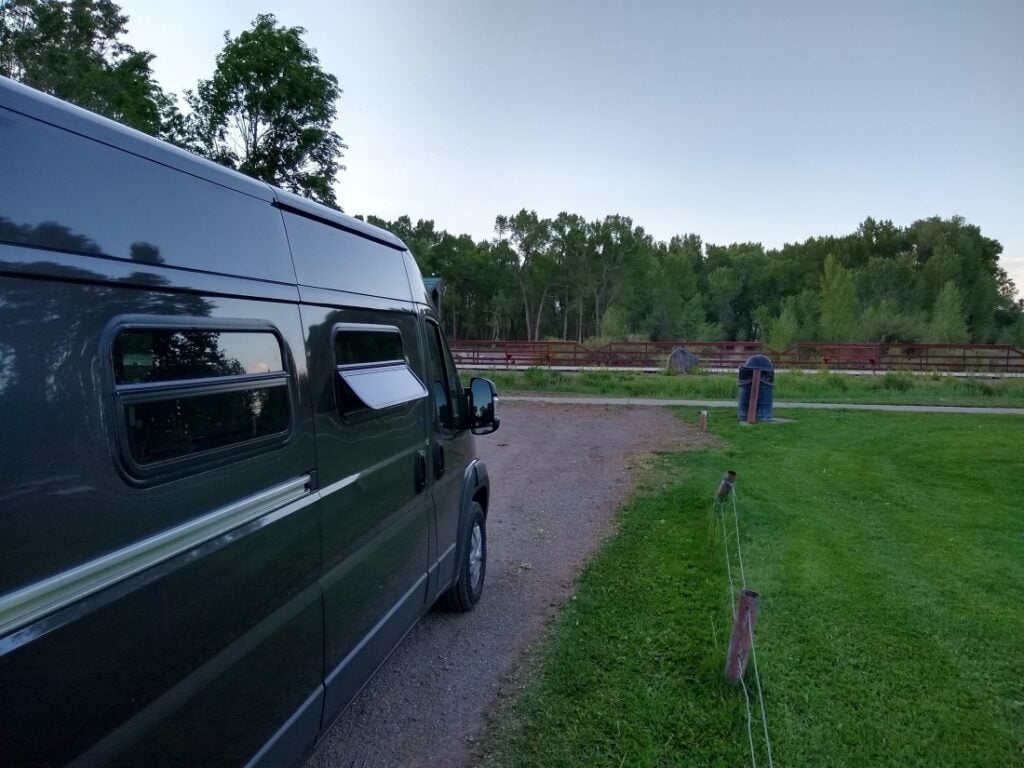 Del Norte Town Park
Del Norte is a cute small town in southern Colorado. It may not be on your bucket list, but it's still well worth visiting, and the fact that the town plays host to a totally free campground makes it the perfect road trip stop.
Del Norte Town Park campground does not offer any hookups at all. That said, it does have a level gravel place to park, and there is a place to fill your fresh tank, as well as a dump station. Additionally, the campground is located in a city park, meaning there is a playground, walking paths, and trash cans available.
It should be noted that there is a one-night limit at this campground, and visitors should call the local police to confirm it is okay to stay when they arrive.
Columbine Campground
Last on our list is Columbine Campground in Nucla, CO (not to be confused with the campground of the same name in Idaho Springs). This campground is tucked away in the Grand Mesa Uncompahgre and Gunnison National Forests, and is run by the Forest Service. Expect to drive on some rough roads to get there, but once you're parked, it is well worth the drive.
Hiking and four-wheeling opportunities are located very close by, and the views are fantastic. This is the perfect place to reconnect with nature alongside your family or friends! That said, you shouldn't expect any hookups, trash, or cell service in this spot.
Important tips for using free campsites
Free campsites are a fabulous opportunity. If you're new to the concept of free camping, you're likely eager to discover all the available boondocking locations. However, there are essential details to consider before embarking on your adventure.
Whether you choose to head to one of the four free campsites in Colorado listed above or another spot entirely, use these tips to stay safe and keep free camping free, beautiful, and available for all to use.
Acquire necessary permits
While many boondocking spots really are totally free, there are some that require campers to acquire a permit before they make themselves at home. These are usually pretty easy to get. Some can even be applied for online. Make sure you have any necessary permits before camping!
Arrive prepared
Boondocking spots may be free, but the vast majority of them come with zero amenities. This means campers must come prepared to take care of themselves. Fill your freshwater tank and arrive with your waste tanks empty. Charge your battery before you head out and have a way to top it back up (whether by solar power or a generator).
Pack it in, pack it out
With no trash cans around, you will also need to deal with your own garbage. Never leave trash lying around, as this can damage the ecosystem and could lead to the campground being closed. Instead, store your garbage inside your rig (away from critters) in a tote with a lid until you can take it into town to dispose of it properly.
Respect your neighbors
Most dry camping sites don't come with a list of official rules. Therefore, there aren't any hard-set quiet hours or other such guidelines. Nevertheless, it is important that you respect your neighbors. Use common sense. Consider what the rules in a campground might be. Give people space, keep noise down at night and in the early morning, and avoid rambunctious gatherings if other campers are around.
Be bear aware
Most of the best boondocking sites are in the wilderness. This means wild animals will be around, including (but definitely not limited to) bears. Go into your boondocking adventure with bear spray and a way to keep food locked away indoors. Never approach a bear.
Donate when appropriate
Some free campgrounds ask for a donation at the end of your stay in order to keep the campsites maintained and free. If this is the case and you are able to donate, please do. It doesn't have to be much, but whatever you can donate will ensure others get to enjoy the campsite and you can return in the future.
Get RV-safe directions
For all of your camping and trip planning needs, look no further than RV LIFE Campgrounds and RV LIFE Trip Wizard. Campground Reviews is a trusted source of campground and RV park reviews offered by camping and RV enthusiasts just like you. With its accompanying RV LIFE App, RV Trip Wizard gets you to your camping destinations utilizing RV-friendly routes specific to your RV and travel preferences.
Been to a campground lately? Don't forget to leave a review! Reviews help other RVers like yourself, and they help the campground. Leave a campground review today!
Related articles:
The post Free Camping In Colorado: A Guide To The Best Spots appeared first on RV LIFE.