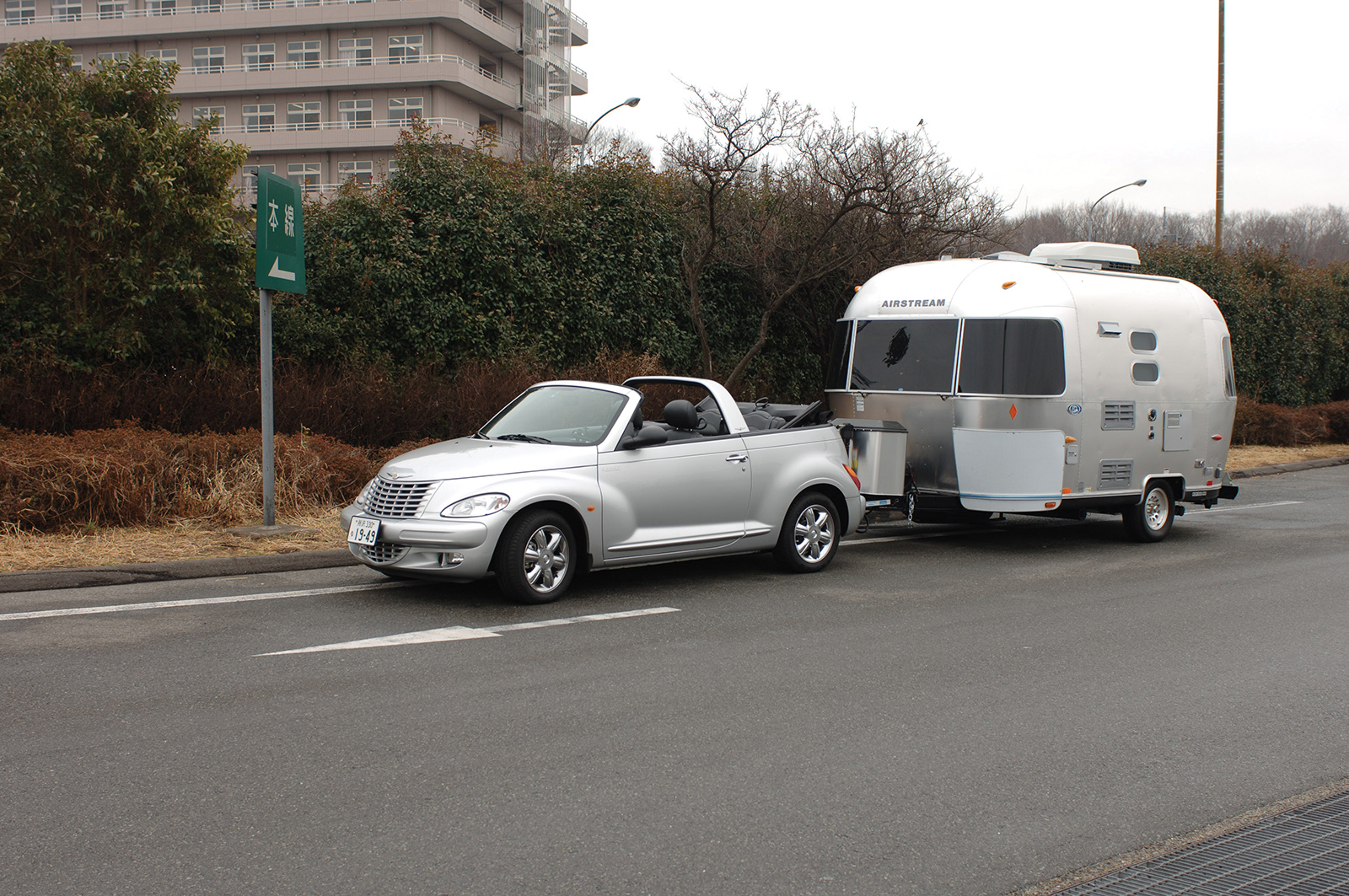 By Andy Thomson
A couple of years ago, we took a 4200 kilometer trip through Europe. I was surprised to see that there were far more trailers on the road there than there are here in North America. Most of the trailers we saw were 20-24' long and most were being towed by four cylinder cars. 
Obviously, the European RV market has adapted to the fuel situation, and the prevailing trends in family transportation. Trailers in Europe are very light, with good suspensions. European RV manufacturers neither understand nor use equalizing hitches, and believe it or not, they still use mechanical brakes. The four cylinder cars were cruising without difficulty at highway speeds, and they seemed to be handling the aerodynamic drag of their trailers without a problem. Even more interesting was the observation that the RV enthusiasts we encountered were towing on roads that were generally more challenging than ours. 
The North American Perspective
Over the years we have set up plenty of four cylinder tow cars, starting with Volvos in the mid-70s, but until two years ago we had never actually toured to any great extent with the smaller engine options and lightweight trailers. Following our European adventure, we decided to add a four cylinder tow vehicle to our corporate fleet, and we currently have two vehicles in our fleet that have very different personalities, but tow suitable trailers very nicely.
The first of our four cylinder tow vehicles is a 2005 PT Cruiser convertible, which we have been using to tow lightweight 7.5' wide aerodynamic trailers and Airstreams up to 22' long. The PT Cruiser has a turbocharged 2.4 litre four cylinder engine and the same transaxle is the one used in Chrysler vans with V-6 engines, so it has plenty of extra capacity. There are a few special considerations to keep in mind when towing with high output small displacement engines. When towing with a turbocharged engine, it is important not to operate the engine under boost for long periods of time. It is fine for entering an expressway or passing slower traffic, but not to climb a five mile mountain pass or drive all day at the speed limit, into a strong headwind.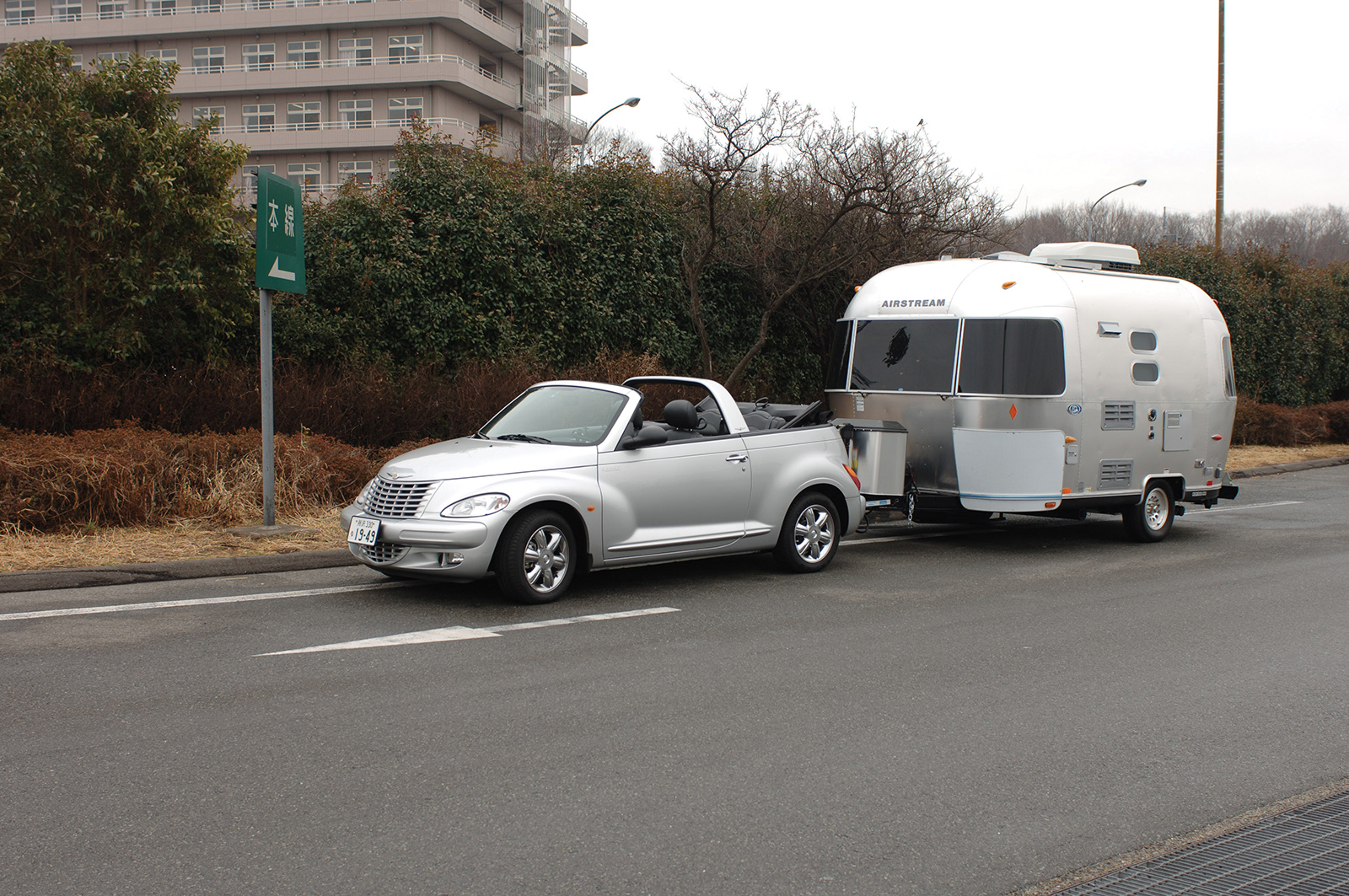 To prep the PT for towing we added a transmission cooler, vacuum gauge to measure boost, and the hitch and wiring. There is not enough room under the back of the car for both a solid hitch and a spare tire. Fortunately, the spare fits easily in the trunk with plenty of room left over.  The body structure is surprisingly strong for a convertible and easily handles the torque from the 550lb. torsion bars.
The PT Cruiser has what would seem to be a short 103" wheelbase, but the rear overhang is only 37", or 36% of the wheelbase.  The rack & pinion steering is very precise, and the 205/55HR x 16" tires have virtually no side sway. At highway speed with the Airstream the combination is rock solid and passing trucks and cross winds have no effect on handling. The lightweight trailers are barely affected by passing trucks or cross winds however there is some buffeting when following a transport.
Performance with the PT Cruiser is excellent and few RV combinations are as much fun to drive. 0-100 KPH takes only 23 seconds with a 19' Airstream. As you might guess, maneuverability is excellent, and you can easily whip in and out of tight spaces. We have 60,000 kilometers on the PT now, with 16,000 of that logged while towing trailers. It has been completely reliable and has never had a warranty claim. While solo fuel efficiency is quite good, towing with the PT Cruiser produces mileage data not much different than a larger tow vehicle. Towing an Airstream at 100 KPH the PT Cruiser can deliver 16.4 miles to the Imperial gallon or 17.2 L/100km. If you are looking for an economical day to day vehicle that can tow a small trailer for your annual vacation it is a good choice, I think it is the only convertible available that can carry four adults comfortably. The sedan version offers more interior space than many small SUVs and is quite reasonably priced.
Diesels are on the horizon
In the near future, the most efficient tow vehicles for travel trailers and smaller fifth wheels will be powered by very efficient, high-torque small displacement diesels. Last August, we decided it would make sense to gain some experience with these new diesels.  At the time, the only modern diesel available in North America was in the VW Jetta. Our Jetta diesel is mated to a 5-speed manual transmission. So far, we have logged more than 13,000 kilometers while towing 25' and shorter Airstreams as well as a range of aerodynamic lightweight trailers less than 26' long. We use our Jetta to tow new trailers from the factories back to our dealership.  The fuel economy is amazing: 50 – 55 MPG is very easy to attain on a solo highway trip. Towing Airstreams the Jetta runs easily at 27-32 MPG, and we regularly log 24-28 when towing the conventional lightweight trailers. While the Jetta easily handles 22' Airstreams & lightweights, we would not recommend it for towing trailers this large over mountainous terrain. Like all diesels, the acceleration is not blistering, but the torque pulls steadily and once up to speed it holds it easily. Amazingly it tows in fifth gear most of the time.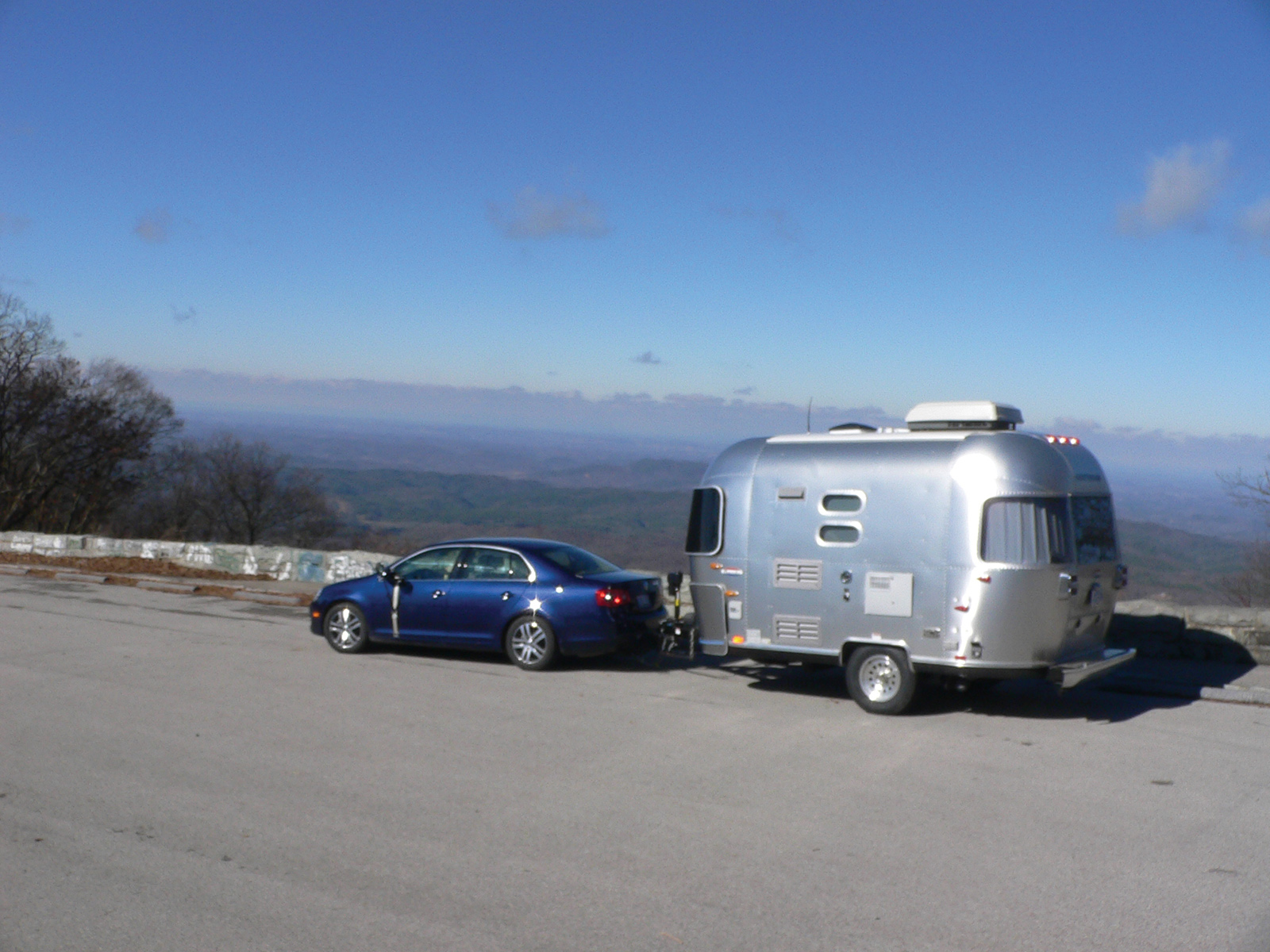 When I mention that we are towing with a Jetta Diesel the first assumption is that it is a very small car to be towing with. Most people don't realize that the Jetta grew up a couple of years ago, and it is now a far more substantial vehicle with independent rear suspension. As well, the Diesel engine grew to 1.9 litres with 100 HP and 177 lbs ft of torque at just 1600 RPM.  
The Jetta's wheelbase is 101.5" and the rear overhang is 45", or 44% of the wheelbase. This is more of an overhang that we would normally like, but combined with the independent suspension and the very tight tire and wheel combination it handles very well. It is not quite as stable and aggressive handling as the PT Cruiser, but if you did not do the direct comparison you would find it excellent. The ride is neither harsh nor soft, just a nice balance. The Jetta is a comfortable car to drive long distances – it is also very quiet, with the diesel only noticeable during cold starts.
Interestingly, in Europe, where they don't use equalizing hitches and unbelievably still use mechanical trailer brakes, the Jetta has a 3000 lb. towing recommendation. In North America it is rated at only 1000 lbs., likely because they don't see the towing capability as a marketing advantage. We were able to install a very solid hitch platform on the Jetta that reaches forward of the rear wheels, we use a 550lb. Eaz-Lift hitch with a welded ball mount.
The next wave of tow vehicles…
Hybrid cars have been getting a lot of attention lately, but I worry about the current longevity of the battery technology. The TDI engines deliver fantastic economy and performance, and they have a long track record, lasting hundreds of thousands of kilometers. It will take a lot of driving to offset the additional cost, but the payback will no doubt be there.
If you would like to try either of these vehicles in a real-life situation they are available for test drives at Can-Am. Simply call ahead to ensure they are not off on a trip to pick up another new lightweight trailer!  
Source: https://www.rvlifemag.com/four-cylinder-towing/?utm_source=rss&utm_medium=rss&utm_campaign=four-cylinder-towing