First Impressions: Iridium GO!
If you have a look at the coverage maps of any of Australia's mobile phone telcos, you'll see that, despite their claims that their networks are growing, there's still a great swath of the continent that has no mobile coverage at all. In fact, you don't have to travel too far into regional and remote areas to find yourself out of mobile phone range. If you're a caravanner whose sole method of communication is a mobile phone, and you encounter an emergency situation, you could easily find yourself without any means of contacting the emergency services. That's why you must consider carrying a satellite-based communications device.
A few months ago, we reviewed the ZOLEO Global Satellite Communicator and found that, for the majority of caravanners who are travelling the outback, it is a great, cost-effective way to communicate with anyone, anywhere in the country. But it is limited to text-based communications. What do you do if you need to physically talk to someone no matter where you are?
That's when you have little choice but to go for a satellite phone. These are great devices but their functionality is no better than an old-style mobile phone from the 1980s. Sending a text message is difficult due to their numeric keypad. Emails are almost out of the question and you have to replicate your contact list on more than one device.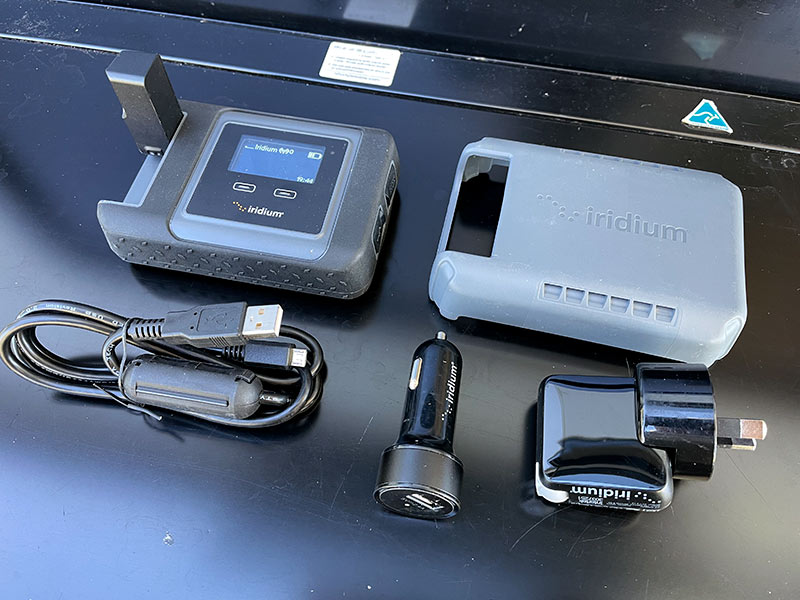 All that aside, the biggest issue with satellite phones is they are limited to outdoor use. The reason for this is they rely on line-of-sight access to satellites out in space. Some of these networks rely on just one satellite in geostationary orbit high above the equator. Even the Iridium satellite network, with its 66 active satellites in low earth orbit, cannot be accessed from inside your caravan.
This is where the Iridium GO! looks to be a very good alternative…
WHAT IS IRIDIUM GO!?
Iridium GO! is a small, self-contained device that provides an interface between your smartphone and the Iridium satellite phone network. It is similar to the ZOLEO in that it is a small device, about the size of a large pager, and it uses an app on your smart device to function. 
Iridium GO! uses wi-fi to connect up to five devices at a time. Theoretically, you can place the Iridium GO! anywhere it has an unobstructed view of the sky and you can make voice calls from any location as long as you can connect to the Iridium GO!'s wi-fi network. Iridium quotes an effective range radius of 30m! That's very impressive.
WHAT ELSE CAN IT DO?
In addition to satellite phone calls, the app allows you to send and receive text messages using your smart device's keyboard. All your phone contacts are automatically available through the app. The app also allows friends and family to track your location as you travel.
Iridium GO! can send and receive emails and access weather reports; however this is via a separate app. Don't stress, both of these apps are free to download for both Android and iOS devices. The Iridium GO! can also do SOS alerting.
WHAT DO YOU GET IN THE BOX?
The Iridium GO! comes with:
Legal information booklet; and
GEOS emergency services brochure
If you rent an Iridium GO! from the SatPhone Shop, you will get a heavy-duty carry case that looks like it would survive being dropped from a cliff while still protecting its contents.
CAN IRIDIUM GO! HANDLE DATA?
Strictly speaking, the answer is 'yes', but it's limited to just 2.4kbs, which rules out surfing the internet, let alone streaming media.
FIRST IMPRESSIONS
Straight away you can tell that Iridium GO! is made to survive the Australian outback. Even outside of the carry case, it can take quite a beating, being rated to IP65 for dust and water resistance and military-grade (MIL-STD 810F) durability. The unit itself feels like it is extremely well built, being almost entirely covered in hard rubber. All the connections and operation buttons are protected by more rubber covers.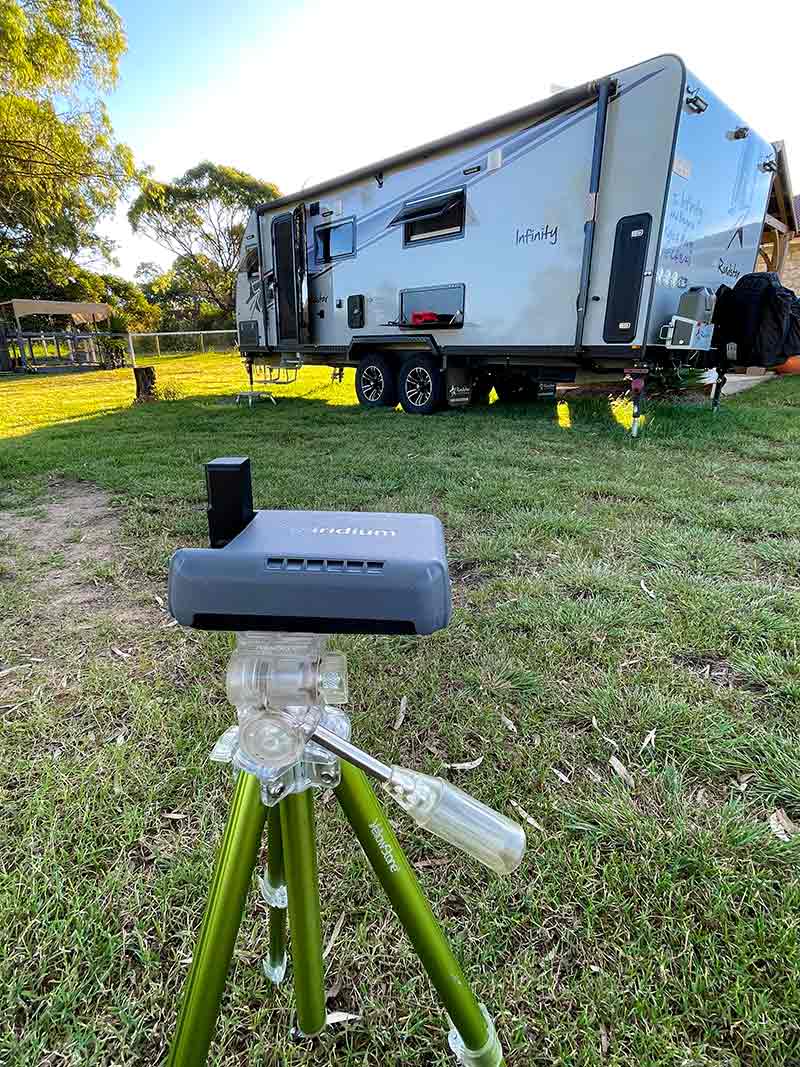 It features an in-built stubby antenna which, when raised, automatically turns the unit on. A small LCD screen shows the status of the unit and two buttons control the basic settings menu. On the top is the main power switch and down the right-hand side are a micro USB charging port and the SOS emergency button.
The back of the unit has the access to the battery compartment, allowing you to change the battery if needed. There is also a receptacle for mounting Iridium GO! on a standard camera tripod – handy if you want to set it up outside, off the ground.
Another interesting feature is the ability to connect an external antenna to Iridium GO! via a connection on the left side of the unit. This means you can have it permanently set-up and powered, ready to use anytime you need it. These are mainly intended for marine users but there's nothing to say you couldn't mount this permanently in your 4WD or caravan and have immediate access to Iridium GO! when you needed it.
PROTECTIVE COVER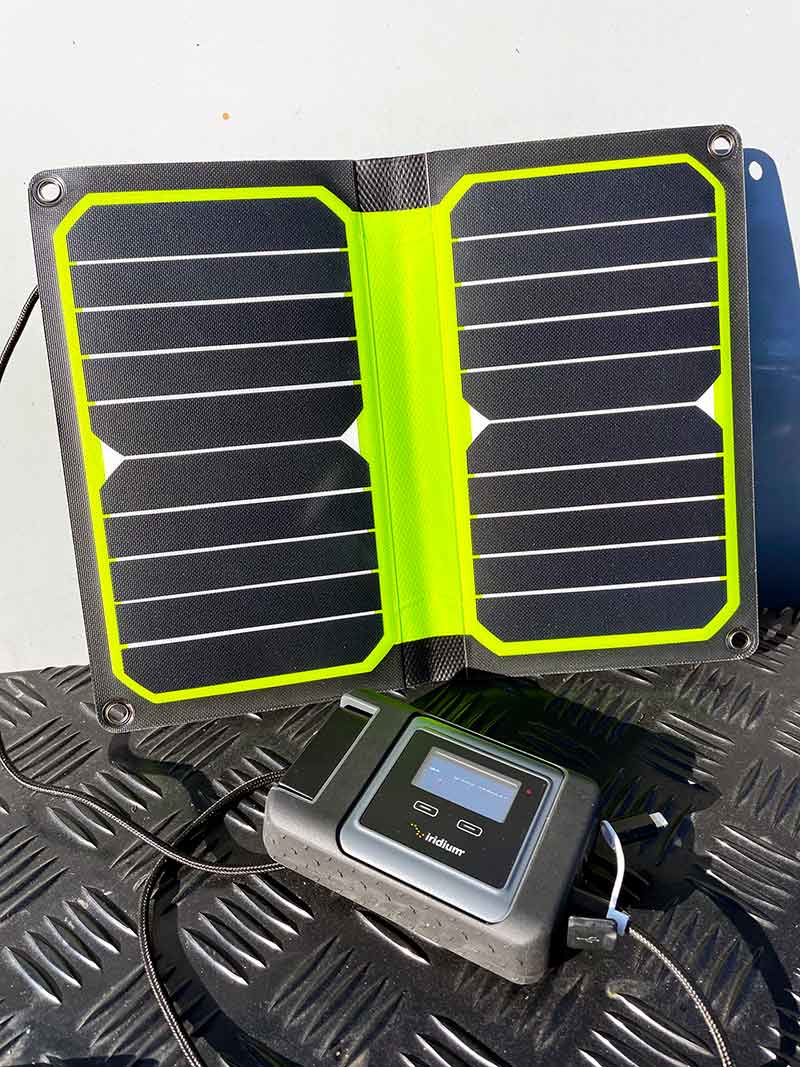 The protective cover must be fixed to the unit when it is being used in direct sunlight or if you have it permanently mounted outdoors. This is a very good idea as this is the environment you will most likely use this product.
PRICE
Iridium GO! on its own sells for $1595 from the SatPhone Shop. There are other purchasing options including a Vehicle Antenna Kit that comes with:
Iridium magnetic mount antenna with 5m cable and TNC-M connector;
RAM suction mounting kit with threaded adapter;
Iridium GO! wall bracket kit;
Iridium GO! cable adapter;
RAM round plate with ball (2.5in diameter);
1 x RAM-B-202U;
2 x M4X16 screws;
2 x M4 nut hex nylon;
Cable ties; and
User installation guide.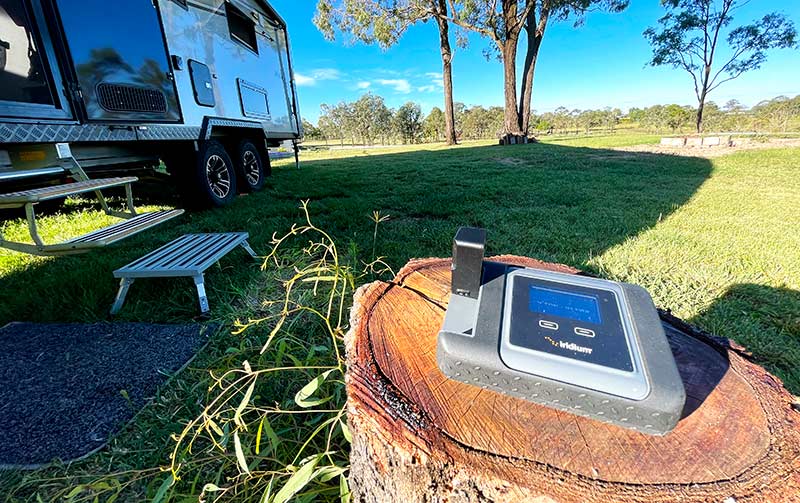 You can purchase this for $1995, which is quite reasonable when you consider the additional functionality and convenience this offers. You can also rent it from the SatPhone Shop. Rates will vary depending on the period you want to rent it for.
There are several airtime plans (prepaid and post-paid). Visit https://www.satphoneshop.com/airtime for more information.
SO WHAT'S NEXT?
Over the next few weeks, we will be trying out this unit to see how it functions and how useful it is to the average caravanner and we will let you know our opinion in a future issue of GoRV.
Until then, safe travels.
More information: www.satphoneshop.com
The post First Impressions: Iridium GO! appeared first on GoRV.
Source: https://www.gorv.com.au/first-impressions-iridium-go/