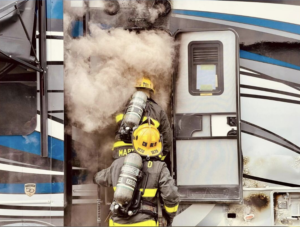 PORT ST. LUCIE, Fla. (CBS12) — An RV fire at a showroom in Port St. Lucie had firefighters working quickly to combat the inferno, according to a report by WPEC, the CBS television affiliate in West Palm Beach, Fla.
The St. Lucie Fire District was able to capture the moment firefighters battled the smoke and flames.
Fire officials said at around 1:49 p.m. on Wednesday, crews were dispatched to La Mesa RV Center on NW LTC Pkwy after reports of an RV fire inside the showroom.
Upon arrival, officials said the RV had been pulled outside and the facility was evacuated before crews arrived. Seven to eight people were checked for injuries but they didn't need to go to the hospital.
Source: https://rvbusiness.com/fire-erupts-in-showroom-at-la-mesa-rv-in-port-st-lucie-fla/