Encore RV, Timbren, CU Off Road Team on Overland ROG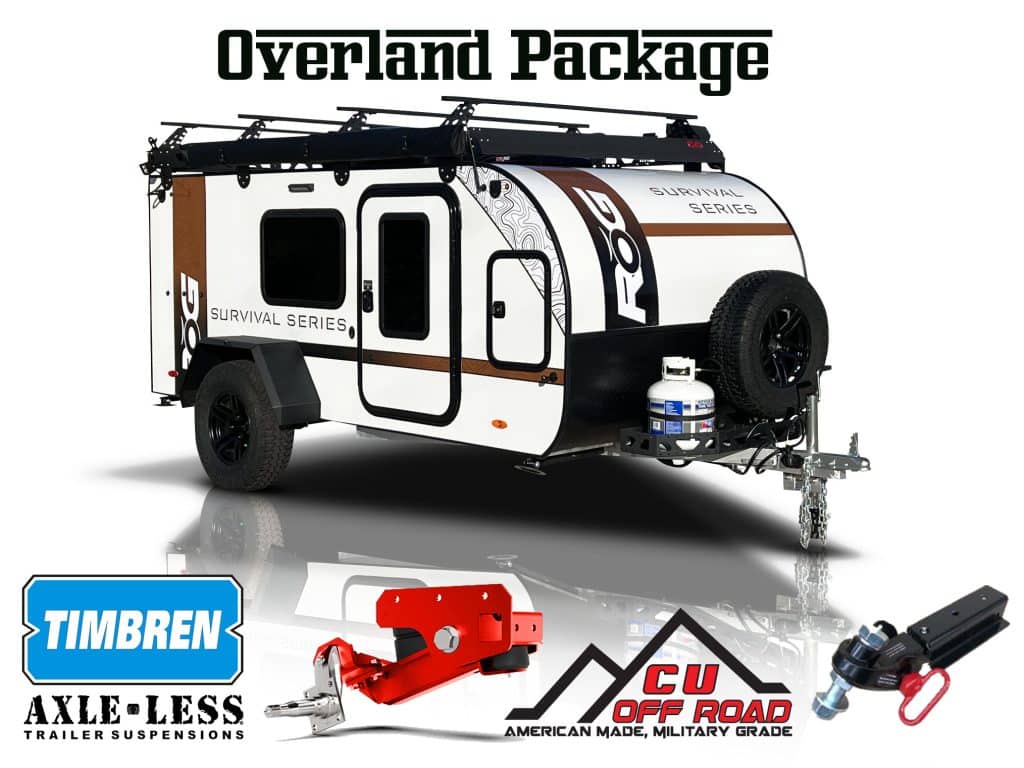 ELKHART, Ind. – Encore RV is excited to announce a partnership with Timbren and CU Off Road as they introduce a new Overland Package.
Over the past year, Encore has received countless requests for the Timbren Axle-Less suspension and CU Off Road's Max Coupler articulating hitch to become available on their popular RŎG Adventure Trailers, according to a release.
"We had several meetings with Shawn Cochran of Timbren and he arranged for us to test the suspension on our RŎG 12RK," stated Encore Founder Rich Schnippel. "In speaking with Shawn, he had set our expectations pretty high as to what this suspension would do for our trailers. I was surprised, as the results surpassed our expectations, and our entire team all agreed the difference in ride and towing was extremely improved."
For ease of installation, Encore chose Timbren's Level Four Axle-Less suspension which has a connecting bar between the two independent components and allows the suspension to be mounted like a traditional axle with no need to adjust the camber or toe. The connecting bar sits higher than the frame, so there's no loss in ground clearance. Encore chose the 3,500-pound axle with an additional 4 inches of lift increasing overall ground clearance from 13 inches to 17 inches. Encore chose to have the suspension components powdercoated bright red to set the suspension apart from the standard torsion axle, the connecting bar remains black.
Ride is drastically improved over the standard torsion axle thanks to the progressive spring rate and shock absorbing properties of the unique Aeon rubber spring technology, which creates a smooth, stable, and safe ride – loaded or unloaded. "We tested the suspension in various conditions, including off-road, hitting potholes and driving over train tracks at higher speeds," Schnippel stated, "the Timbren suspension absorbed everything we threw at it, you almost couldn't feel the trailer behind you!"
To round out the new Overland Package, Encore chose the Max Coupler articulating hitch by CU Off Road. The articulating hitch allows for virtually unrestricted movement in three axis simultaneously without any binding. The benefits of the Max Coupler go far beyond giving the trailer the ability to traverse uneven terrain without binding. Unlike a traditional hitch where you have slop between the ball and coupler, the Max Coupler has extremely tight tolerances and utilizes a high energy polyurethane bushing that isolates the shock load. It's often called the "silent hitch" because you won't feel the ball banging against the coupler when you start and stop. Additionally, there's built-in theft protection because would-be thieves are highly unlikely to have the mating end of the coupler preventing them from stealing your trailer.
The new Overland Package is being offered now and is available on the RŎG 10MC, 12BH, 12RK and their popular Survival Series models. For more information, please contact Encore RV at 574-327-6540, or learn more about Encore RV at www.encore-rv.com.
Source: https://rvbusiness.com/encore-rv-timbren-cu-off-road-team-on-overland-rog/