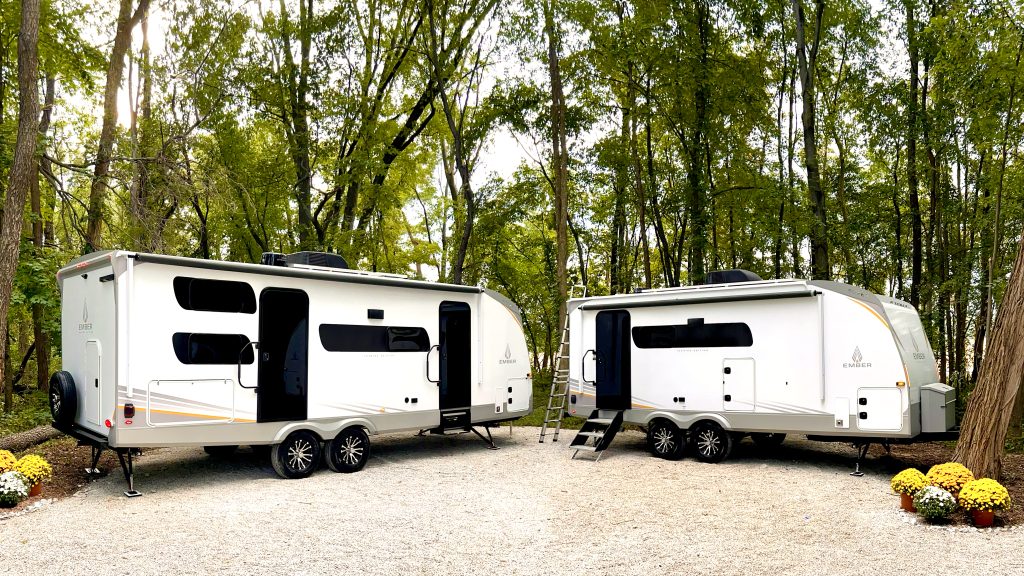 BRISTOL, Ind. – Ember Recreational Vehicles will be debuting two all-new floorplans, alongside its dealer partner Optimum RV, at the 2023 Florida RV SuperShow, Jan. 18-22 at the Florida State Fairgrounds in Tampa, according to a release. The 21MRK, part of Ember's new award-winning Touring Edition and the 221MSL, winner of a 2022 innovation and Best of Show award and a floorplan in Ember's Overland Series will be on display in booth number 750.
The Touring Edition 21MRK is a couple's coach featuring Ember's unique Murphy bed design in the front with extra-large countertop space throughout the kitchen. The Touring Edition is built on a specialty drop-frame chassis featuring over 40 cubic feet of front pass-through storage, Ember's exclusive VersaCoupler hitching system, and rides on Dexter® torsion axles with 16-inch Goodyear Endurance LRE tires featuring standard TPMS. To double down on the road-ready safety enhancements, Ember exclusively offers the CUB Lane Change Assist (LCA) System as an option on all Touring Edition models, featuring dual-radar and warning lights, providing visual assistance to the tow vehicle driver in making safer lane changes.
The Overland Series 221MSL is the upgraded and enhanced tandem independent suspension version of the popular 191MSL floor plan introduced summer 2022. The 221MSL features an adaptable "locker" space in the rear of the unit with an industry-first, fully-repositionable EmberTrack E-Track Bunk/Storage System, giving customers the flexibility to configure the space as they choose. It comes standard with two double bunk platforms, rated at 600-pounds each, which can be moved up and out of the way, configured as single or double bunks, turned into a desk for a mobile office space, used as storage shelves, or even completely removed, allowing customers to customize the space even further. The built-in E-track allows for creative use of aftermarket accessories available through third—party suppliers like tie-downs, hammocks, straps, or other equipment. The locker area also features a large cargo door, complete with a removable screen for ample airflow when in camp-mode, and a rear kayak/bike door for easy loading of gear.
"We're excited to showcase not only these two new floor plans, but also the Touring Edition in Tampa, as it will be the first major retail show for our new line of luxury light weight travel trailers. Customers will find that the Touring Edition is another example of how Ember has set out to do something different, always seeking to find ways to challenge the status quo," commented Chris Barth, Ember's founder/COO and head of product development. "Touring Edition as a new-imagined product line and the truly unique 221MSL floorplan exhibit how the Ember team, stacked with years of RV industry experience, is constantly listening to what customers are asking for, putting an emphasis on building a camping-correct travel trailer with higher quality materials and better componentry," Barth concluded.
The Florida RV SuperShow is the first major retail show with Touring Edition fully on display. The Touring Edition features eight floor plans ranging in length from 26-feet up to 34-feet, with a mix of both family-friendly bunkhouses and options perfect for couples. Ember is leading the way again in floor plan design by introducing industry-exclusive Flex-Suite floorplans (24MBH, 26MRB, and 28MBH). Featuring a well-disguised Murphy bed in the primary bedroom, Ember's Flex-Suite gives customers the ability to convert the private front bedroom space into an office, den, a separate lounging area, or just provide more space to move around in the bedroom. Complete with two removable tables and a jack-knife sofa, the space can truly be utilized differently depending on a customer's needs. Regardless of whether you choose a Murphy bed model or a fixed walk-around bed model, each features a residential Queen-sized mattress (60" x 80").
Similar to Ember's Overland Series, Touring Edition uses composite materials with no wood in the construction of the floor and exterior walls. Touring Edition starts with a solid foundation using Ember's Evermore proprietary composite seamless floor, eliminating the possibility of a damage due to rot, mold, or mildew. For its exterior walls, the Touring Edition features fully composite laminated aluminum-framed construction featuring double-sided Azdel Onboard paneling.
Touring Edition also features the very popular but rare European caravan windows that the Ember Overland Series uses. These best-in-class dual-pane acrylic windows with integrated shades and screens open wide, allowing for maximum ventilation and airflow. To further show off the style and function of the European windows, Ember also made sure to include one of the Overland Series' most popular features, the Stargazer Skylight, into every Touring Edition floor plan.
Understanding the way today's customers are choosing to use RVs by going off-grid, Ember equipped the Touring Edition line up with an XL freshwater tank holding up to 55-gallons, the highest in its class, with ample black and gray tanks as well. Each model also optionally includes a solar package featuring dual 200-Watt GoPower! solar panels (400-Watt total), a 30 Amp MPPT solar controller, and a 2000-Watt pure sine wave inverter and even a 270Ah Battle Born LiFePO4 "GameChanger" battery can be added, allowing customers to go off-grid. Additionally, each unit is easily controlled via Bluetooth using Emberlink, Ember's Smart RV control system.
The kitchen comes fully equipped with a 12-Volt refrigerator, microwave oven, three-burner cooktop, 21" oven with pots and pans drawer, seamless countertops, subway-tile backsplash, soft-close drawers, and a large double-basin stainless steel sink. The bedroom features a walk-around 60"x80" residential-sized queen bed with USB and 120-Volt power access and LED lighting on each side. Touring Edition also comes complete with dual-ducted 15,000 BTU roof-mounted air conditioner and a 30,000 BTU furnace.
In addition to displaying the Touring Edition, Ember, along with Optimum RV, will have several of its Overland Series floorplans on display. To see all of Ember's products at the 2023 Florida RV SuperShow throughout the week, visit booth 750. For more information on Ember, the Touring Edition or the Overland Series, visit www.EmberRV.com.
About Ember Recreational Vehicles
Ember Recreational Vehicles, founded in 2021 on the principle of building better RVs by building a better RV company, is a female-owned and led, privately held RV manufacturer of lightweight travel trailers designed to go off-road and off-grid. Ember is focused on becoming the most respected and sought-after independent RV brand in the marketplace through a commitment to quality, team member fulfillment, customer satisfaction, and a better ownership experience. Visit EmberRV.com to learn more.
Source: https://rvbusiness.com/ember-rv-debuting-new-floorplans-at-florida-rv-supershow/