Eco-Friendly RVing

With the increasing awareness of global warming, it's time RV enthusiasts did more to reduce greenhouse gas emissions, conserve energy, and care for the environment. Here's how you can make a difference – without cramping your style.
Special report by Norm Rosen
There's no doubt about it, RV enthusiasts are among the most environmentally conscious travellers in North America. We share a vested interest in maintaining the ecological balance of the great Canadian wilderness areas, and we delight in being able to enjoy a vacation lifestyle that is as environmentally friendly as practical, given today's technology.
At RV Lifestyle Magazine, our Road Test Teams always have an eye open for new ways to conserve energy and protect the environment. We've complied the following tips for making the most of your energy resources while on the road and in the campsite… follow these suggestions and you will not only keep your energy costs to a minimum, you'll do your part in the national campaign to protect the environment.
On The Road
Fuel efficiency is one of the key areas to consider when you assess your RV energy requirements. For those who travel by motorhome, or tow a trailer, the quest for better fuel efficiency begins with a properly maintained and tuned engine and exhaust system. The reduction of fuel and emissions not only contributes to cleaner air, it keeps your fuel costs under control.
Obviously, your RV requires a certain amount of fuel – but there are several ways you can enhance the efficiency of your rig. Every engine has an optimum operating rpm, and every rig has an ideal cruising speed. You can achieve the best possible fuel efficiency by running at a reasonable speed – generally in the 100 km/h range on the highway, and by observing the concept of smooth running – quick starts and abrupt stops waste fuel at an alarming rate… drive your rig as if it was a luxury limousine, anticipating the traffic patterns ahead to produce the smoothest ride for your passengers, and you'll save big dollars at the fuel pump.
A number of years ago, an engineer at Schrader, the manufacturer of tire valves, shared a very interesting piece of information. You can lose as much as 10% of your fuel efficiency for every 2 psi below the recommended tire pressure for your vehicle… even worse, you can lose up to 25% of the fuel efficiency of your rig, and dramatically reduce handling characteristics, by running with uneven tire inflation on any of your axles – and the effect is magnified as the variance in tire inflation increased. Keep those tires inflated, and make sure that your wheel alignment and balancing is correct to enhance the quality and efficiency of your ride.
The route you select can also affect your fuel efficiency. When you plan a trip, don't just plot your route using a standard highway map, take a good look at a topographic map of the area. On a recent trip through a very hilly area we had two options – follow the most direct route to our destination, climbing and descending several long and rather steep grades, or detouring around the hilly terrain on a much flatter, although longer route. Cruising an extra 20 miles on flat terrain saved five miles of climbing in low gear – we drove both routes with en eye on the fuel consumption readout – our test rig delivered an average of 15 mpg at 60 mph on flat roads. The 20 mile detour consumed 1.33 gallons of fuel more than a flat route to our destination – but the direct route was far from flat – on the five mile uphill grade our fuel efficiency dropped to 5 miles per gallon – that's three times more fuel than we consume on flat terrain. Going down the other side of the hill, we had to gear down and ride the brakes to keep the vehicle at a reasonable highway speed – this not only added extra wear to the brakes, it dramatically increased the stopping distance required to avoid obstacles – not a desirable situation in a falling rock zone, and certainly not the safest way to cruise in a large vehicle. The bottom line – take the longer, flatter route whenever practical – relax and enjoy the ride – RV travel is not a mad dash from one destination to another.
There are many creative ways to enhance your rig's fuel efficiency. Over the years, we have tried a number of aerodynamic solutions to streamline the RV and tow vehicle. In the days when fuel was a relatively inexpensive commodity, the payback time for a sophisticated air scoop was equal to the time it took to travel several thousand miles… today, you can almost break even on the cost of a good air deflector system during a single trip. Do the wings and scoops really work? Just take a look at the interstate trucking operations – almost every 18 wheeler on the highway is outfitted with some form of air control device… the bottom line – every RV travelling more than a few thousand miles per year should be equipped with an appropriate air deflector.
You can also reduce the fuel consumption of your rig by keeping cargo and supplies within reasonable limits. Every pound of cargo takes extra fuel in the long run – and when you add the fuel it takes to transport those supplies to your home location, your net contribution to the environment is nothing to be proud of. The current wave in eco-friendly shopping is to buy products that are manufactured or grown within 100 miles of your location. In other words, travel with enough supplies to get to your destination, and stock up at a local supermarket before checking in to the campground.
RV'ers can contribute to a cleaner environment by limiting the idling time when they pause to register at campsites, or empty their holding tanks. Most RV engines only require a short warm-up period before hitting the road – drive slowly and gently until your engine warms up to the normal operating temperature, rather than idling for more than a few minutes at the campsite.
Did your father ever tell you that the family car always seems to run better when it is clean? No, it wasn't just a ploy to get you to wash the car… it is a fact that a clean and waxed vehicle enjoys reduced drag at highway speeds, enhancing the fuel efficiency.
In The Campsite
There are many ways to reduce your energy consumption in a campsite situation, and that will ultimately reduce the emissions from the electrical plants in the area. Take a look at the RV appliances that consume large quantities of electricity – the refrigerator, air conditioner, and toaster are often the biggest culprits. Save electricity by avoiding the urge to overload the refrigerator – your goal is to have air circulating freely within the fridge – it only takes half an inch between refrigerated items to make a big difference in the cooling efficiency of the appliance. You can also conserve energy by buying frozen products, rather than by freezing items in your RV refrigerator.
On a hot day, control the effect of the sun's heat by using an awning to provide shade, and use an efficient fan to circulate the air within the RV. One free-standing portable 12 volt fan, used alone or in conjunction with your roof air unit, can dramatically enhance the cooling effect within your RV, while reducing the total amount of energy required to achieve a comfortable interior temperature. Open two windows, ideally one on the shaded side of the RV, and one under the awning, and place one fan blowing the air in to the vehicle, and the other fan blowing air out – the airflow created will produce a very comfortable breeze within the unit.
Using solar power to recharge your RV batteries is another excellent way to reduce your dependence on the campsite electrical system. Modern solar panels can easily keep your batteries topped up, completely eliminating the emissions from the coal fired power plants. We use compact solar chargers to recharge the AA batteries for flashlights, toys, and portable electronic devices.
Here are some of our Editor's Picks for ecological and environmentally friendly RV related products.
Let The Sunshine In!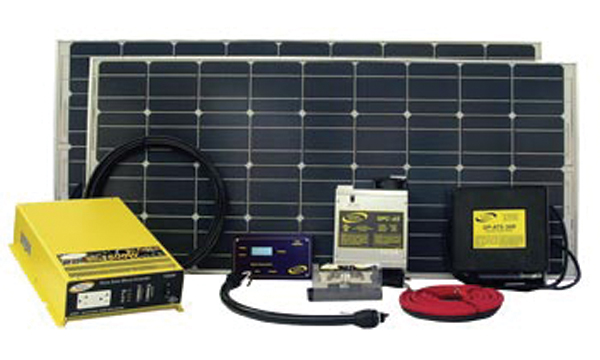 The latest developments in solar power technology have brought this concept into the 21st century, but where can you find the advice you need to select the solar panels appropriate for your needs?
RV Lifestyle Magazine checked out the solar sizing calculators at a variety of suppliers' websites, to discover that with today's technology, you only need as few as three 100 watt panels to effectively maintain the charge on your RV batteries. When you can run lights, furnace, fans TV and entertainment items and other DC powered appliances off solar charged batteries, you eliminate the need for 110 volt power, and all of the emissions produced by the generating plants. Best of all, you can mount the solar panels in a matter of minutes, and enjoy all the comforts of home without being dependant on campsite electrical hookups. The panels are maintenance free and designed to provide decades of uninterrupted power. Check out some of the popular options available through your local RV dealer – ca.renogy.com/renogy-100-watt-12-volt-flexible-monocrystalline-solar-panel/
www.samlexamerica.com/product-category/solar-panels-kits/#
www.xantrex.com/products/solar-panels/xantrex-solar-flex-panel/
Enjoy the Endless Breeze
Most RV'ers are familiar with the power roof fans by Fan-Tastic Vent, which are standard equipment on many of the better equipped RV models, but did you know that these are only one of the many items that Fan-Tastic Vent offers to enhance your RV comfort.
One of the products that our Road Test Team takes along on every trip is the Endless Breeze, a portable, high efficiency 12-volt fan that provides maximum airflow with minimum sound and power consumption.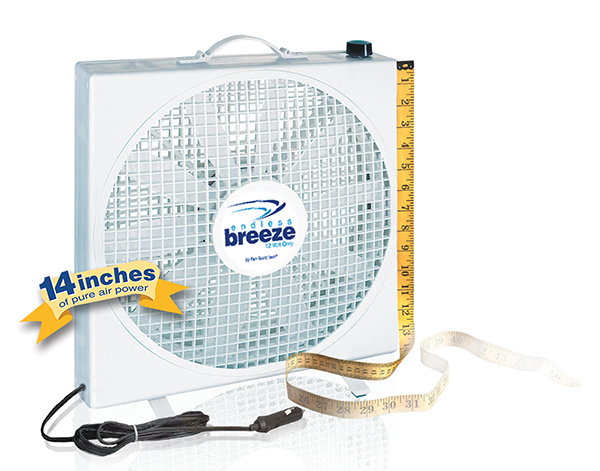 The key to the Endless Breeze is the same 12-volt fan blade that has made the Fan-Tastic roof mounted vent one of the most sought-after accessories in the RV business – with two Fan-Tastic roof vents you can have one drawing in clean fresh air, and the other exhausting stale, stuffy air – you can exchange the air in the average RV in a matter of seconds, eliminating cooking smoke and unpleasant odors, and reduce the need for air conditioning as well. You can even get a radio-controlled Fan-Tastic vent with 14 speeds – now that brings a whole new meaning to the concept of air control!
Fan-Tastic Vents are part of the Dometic group of RV products – Check out the full line at www.dometic.com/en-us/outdoor/rv-and-van/ventilation-solutions/rv-roof-vents
Streamline Your Rig!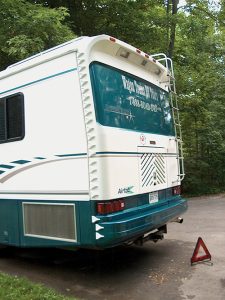 Turbulence is an invisible thief that steals your rig's performance and fuel efficiency, and adversely affects handling at highway speeds.
You can take control of the situation by installing one of the advanced technology Airtab® fuel savers, to reduce turbulence and aerodynamic drag. The Airtab® is a unique Vortex Generator that is designed to reduce drag at the back or in the crucial gap between the tow vehicle and the trailer. Reducing aerodynamic drag is vital in aeronautical industries where constant research has discovered ways of improving efficiency, including the development of devicesthat create controlled swirls of air or vortices.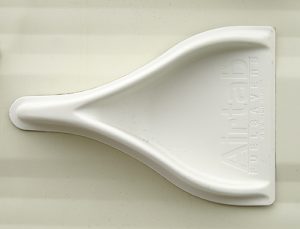 Visit the website at www.airtab.ca to discover how this Canadian company has applied this technology to tractors, trailers, RV's, busses, and almost any other vehicle that pushes wind and you'll learn why installing an Airtab® can reduce the power and fuel required for your rig to cruise at highway speeds. There's an added bonus – when you streamline your airflow, you enhance stability, and keep the rig clean by deflecting airflow and dirt away from the trailer.
Go LED!
The latest trend in residential lighting is to replace your energy hungry incandescent bulbs with LED lights – but RV'ers have had this option for years!
Thin-Lite, the best known name in the RV lighting industry, has a full range of energy efficient lights engineered for all of your RV requirements. From compact fixtures designed to be mounted behind valences and under cabinets for an efficient source of indirect light, to a full range of decorative lighting alternatives, you can save energy and light up your RV environment in style.
For a full description of the Thin-Lite line of RV fixtures, visit the website at www.thinlite.com.
Upgrade Your Awning!
There's nothing like adding an awning to shade your campsite and cool the RV, and nothing tops off the RV awning better than the Canadian made range of awning accessories from Unicanvas.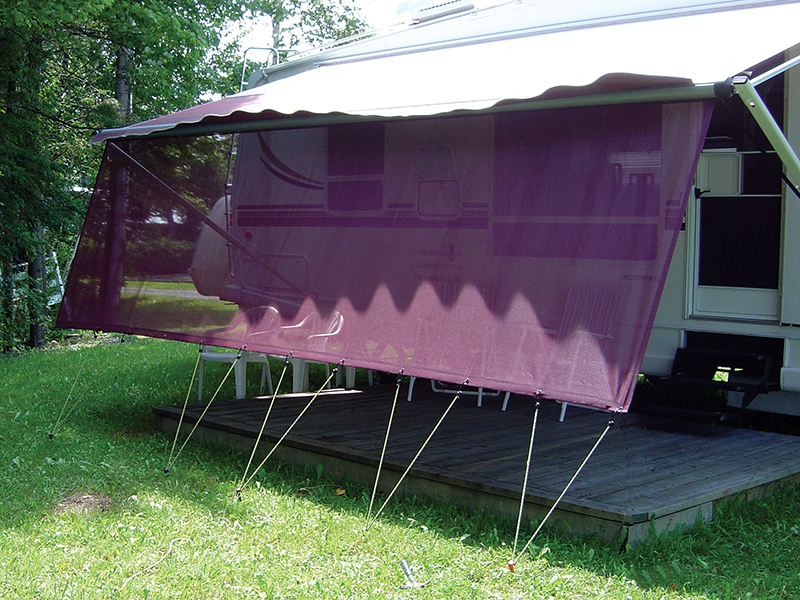 The Sun Kit TM panel slides into the accessory groove on most of the popular awning brands, increasing the shade produced by the awning itself.
You can upgrade your awning system and enhance your campsite even more by installing a Unicanvas Add-A-Room, which provides a comfortable fully enclosed exterior room that attaches easily to your roll-up awning. The kit comes with all of the necessary poles, skirting, zippered door, and all the materials required for an easy installation.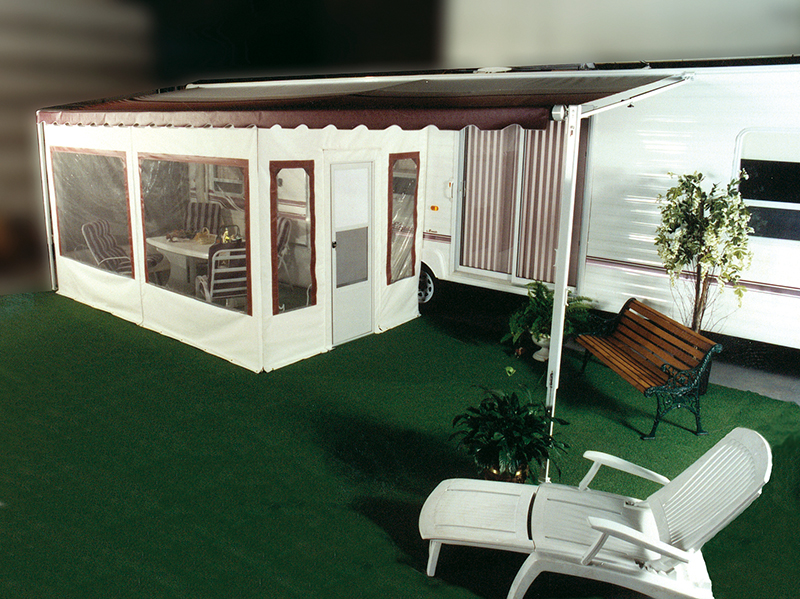 For the ultimate in shade and the energy efficiency that comes from reducing your need to use air conditioning, you'll want to look at the individual window awnings from Unicanvas, available in a wide range of sizes and colours to match your RV and existing awning products.
Check out these and other awning accessories at www.unicanvas.com.
Water Saver Showerhead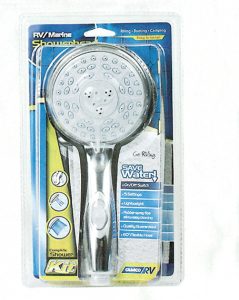 Here's a great way to save water (and energy) when you shower – the Camco RV/Marine Showerhead features an on/off switch to let you pause the flow of water while you shampoo – and your reward for upgrading to an energy saving unit is the luxury of having four spray settings at your fingertips – enjoy a range of flow intensities from a gentle massage to an invigorating drenching rain.
The Camco RV/Marine Showerhead comes in an easy to install kit, complete with flexible hose, wall mount and mounting hardware. Match your décor with a choice of chrome, white or off-white styles.
For more information, visit www.camco.net or see your local RV dealer.
Go Green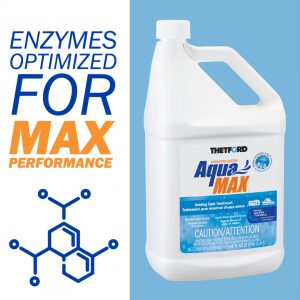 The most important aspect of RV ecology is the treatment of waste materials – and the chemicals that you leave behind in the campground septic system can affect the region for years to come. That's why ecologically aware RV enthusiasts turn to the leading names in RV sanitation supplies for all of their holding tank requirements.
Thetford's Aqua-Max is the preferred holding tank preparation, providing formaldehyde-free performance that is compatible with the campground septic field. Available in a range of container sizes, including the 3.8L (1 US gallon) bottle shown here, which is sufficient to treat from 32 to 64 holding tank cycles, depending on the capacity of your RV system. Available at RV dealerships and campgrounds everywhere.
For more information visit www.thetford.com
Source: https://www.rvlifemag.com/eco-friendly-rving/?utm_source=rss&utm_medium=rss&utm_campaign=eco-friendly-rving