Discover The Best RV Parks & Resorts In Every State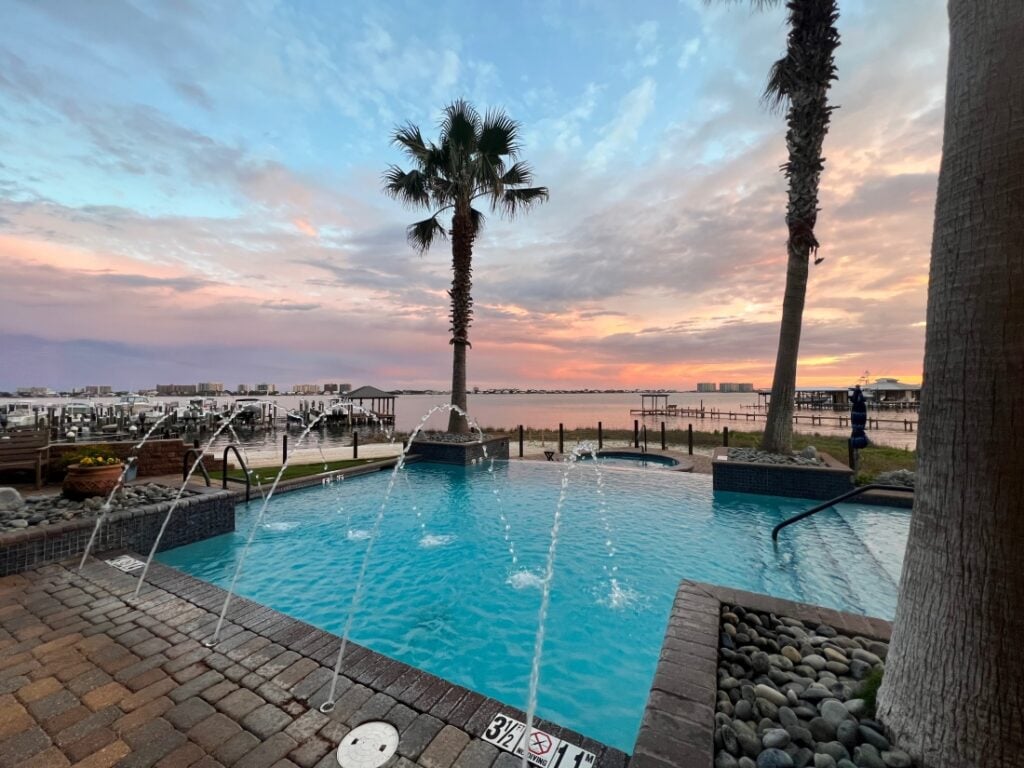 Your State-by-State Guide to the Best RV Camping in America
The 50 states that make up this great country each have their own unique landscapes and attractions. They also have hundreds (or even thousands) of RV parks and campgrounds, so it can be difficult to narrow down the choices.
We compiled some of the best RV resorts across the country, one from each state. Be sure to check out RV LIFE Campgrounds or RV LIFE Trip Wizard to see other camping options near you.
Alabama
When you think about Southern hospitality and college football, you think of Alabama. Alabama is also home to literary greats such as Harper Lee. It has some beautiful Gulf Coast beaches, and it's an integral part of the space program.
One of the highest-rated campgrounds in the state is the Heritage Motor Coach Resort and Marina. Located on Bayou St. John, the private marina will have you in the Gulf of Mexico in no time. The clubhouse has big-screen televisions and fireplaces, as well as a fully equipped kitchen.
Each of the 79 RV sites come with electric, water, sewer, cable and natural gas hookups; 100 mbps wired internet connections and Wi-Fi are complimentary as well. An infinity pool with a large hot tub, private sandy dog-friendly beach, and a business center complete with book exchange library are also available on-site at the gated resort.
Alaska
Alaska is known for its rugged landscapes, amazing wildlife, and pristine beauty. Many consider this untamed wilderness to be one of the last unspoiled regions on earth.
Located in Denali State Park, K'esugi Ken Campground is known for its spectacular views of majestic Mount Denali (the highest mountain peak on the continent). The park has 32 RV sites that can accommodate RVs that are 75 feet long (5 are pull-through sites and can handle 100-foot RVs), and they all include electric hookups, a fireplace, and a picnic table. Hikers will enjoy the 3.5-mile Curry Ridge Trail leading to Lake 1787. The trail is rated Class 3 and has an elevation gain of 1,100 feet.
Arizona
Perhaps best known for its seemingly perpetual sunshine and desert terrain, the Grand Canyon State is home to a wide range of geographic biomes and features. One of its most famous lakes, Lake Havasu, sits on the border between Arizona and California and is home to one of the best RV campgrounds in the state: Havasu Hills Resort at the Refuge.
Perhaps the biggest perk of staying at this RV park is having a corporate membership to The Refuge Golf and Country Club. That membership gives you access to a championship golf course, the club's restaurant and bar, and all club amenities. The park offers gated access, full hookups with 50-amp electric, free Wi-Fi, and stunning views of Lake Havasu.
Arkansas
Arkansas prides itself on its natural beauty, and residents and visitors alike enjoy the state's 600,000 acres of lakes, miles of rivers, and hot springs. To enjoy it for yourself, consider staying at DeGray Lake Resort (close to Hot Springs and Little Rock).
The resort has a full-service marina with everything you need for a day of fun on the lake, including bait and tackle, fuel, and boat rentals, including kayaks and pedal boats. There is also an 18-hole golf course (with a driving range, practice green, and pro shop), hiking trails, and guided horseback riding.
Other activities include an escape room, swimming, tennis, and disc golf. The resort is known for sunset cruises, snorkeling trips, and birding tours. RV sites are either lakefront or tree-shaded and have electric and water hookups. There are bathhouses throughout the campground.
California
California is well-known for its sun-kissed beaches, vibrant cities, and amazing landscapes. Perhaps one of the best places to enjoy a stunning California view is the Moro Campground at Crystal Cove State Park. Virtually each of the 27 large RV sites in the park comes with a spectacular ocean view. There are numerous hiking trails to let you soak up the sunshine and enjoy being outside, and beach access is within walking distance.
The state park has over three miles of Pacific Ocean coastline, bluffs, an underwater park, and wooded canyons. Activities such as surfing, scuba diving, mountain biking, horseback riding, swimming, sunbathing, and fishing can all be enjoyed inside the park.
Colorado
Colorado is known for its varied landscapes; from mountain peaks to canyons, Colorado offers a new view around every turn. Perhaps one of the most scenic locations is Ridgway State Park, which is located just outside Ouray (known as the "Switzerland of America"). Dakota Terraces Campground offers year-round RV camping sites inside this amazing park. The state park has a reservoir, which is perfect for windsurfing, boating, and wakeboarding.
There are also almost 15 miles of hiking trails, sandy beaches, and dozens of picnic areas. There is plenty of wildlife in the area; elk, deer, and mountain lions are common. The RV park offers electrical hookups at each site, a comfort station, laundry facilities, and a dump station.
Connecticut
Discover the beauty of Connecticut, one of New England's smaller states that's divided into three main regions: the Eastern Highlands, Connecticut River Valley, and Western Highlands. With miles of scenic shoreline along Long Island Sound, breathtaking waterfalls, and Bear Mountain—the highest peak in the state—there's no shortage of natural wonders to explore in Connecticut.
When looking for a place to make camp, consider Aces High RV Park. They have been named the ARVC "Small Park of the Year" on more than one occasion. Traditional amenities for all sites (pull-through and waterfront) include full hookups (20/30/50 amp electric), cable, Wi-Fi, and fire rings.
Guests are also treated to live music, bonfires, potluck dinners, and games. They are close to numerous attractions, such as Foxwoods and Mohegan Sun Resort and Casino, Mystic Aquarium, and Olde Mistick Village. For the kids, NasKart Indoor Kart Racing and Trampoline Park and The Children's Museum are favorite rainy-day activities.
Delaware
One of the biggest tourist destinations in Delaware is Rehoboth Beach. Stay close to all the activity at Leisure Point Resort, located on Rehoboth Bay. They have an on-site marina with just over 300 boat slips; you can arrive at the Atlantic Ocean in the blink of an eye.
You are just minutes away from the Rehoboth Beach boardwalk, Delaware Seashore State Park, and the Cape May-Lewes Ferry. Plenty of activities are available at the park, including fishing, swimming in their pool, pickleball, a fitness center, and shooting hoops on their basketball court. Full hookups, waterfront sites, a picnic table, and free Wi-Fi are also part of the amenities package.
Florida
Florida is best known for its beautiful beaches (both on the Gulf Coast and the Atlantic Ocean), but it has some amazing rivers as well. One of the best places to enjoy all that Florida has to offer is Myakka River Motorcoach Resort, located on the Gulf Coast between Tampa and Naples. The resort's clubhouse overlooks the river and provides stunning views from the second-story patio and boardwalks (with a kayak launch) leading to the water.
The clubhouse is equipped with an 80-inch television with satellite channels and surround sound, a kitchen area, washers and dryers, a fitness center, a dance floor, a pool table, and restrooms/showers. There is a pool with 75-foot swimming lanes and a whirlpool spa. All RV sites come with full hookups with 15/20/30/50 amp electric.
Georgia
Georgia has ever-changing terrain: In the span of a few hours, you can go from mountains to plains to shoreline. It is one of the largest states east of the Mississippi River, so there are lots of RV campgrounds to narrow down.
Perhaps the best one can be found at Vogel State Park, located in the Chattahoochee National Forest at the bottom of Blood Mountain. This 233-acre park is beautiful during every season, but it is at its peak in the fall when the leaves change color and blanket the area in rich hues of red, golden yellow, and orange.
Hikers will love the variety of trails available, from the easy four-mile Bear Hair Gap Loop that takes you to Trahlyta Falls to the more difficult 13-mile trek of the Coosa Backcountry Trail. Spend a relaxing day on the lake: swimming, fishing, paddleboarding, kayaking, and pedal boating are a fun way to spend a lazy afternoon.
Hawaii
Hawaii might not be the first state you think of when planning to go RVing, but this tropical paradise does have some campgrounds surrounded by natural beauty. You can rent smaller camper vans while on the islands and have a picture-perfect vacation. One of the best places to camp is at Kipahulu National State Park on the island of Maui. This remote location is twelve miles from Hana; be sure to take supplies with you.
While on this protected land, you can hike over 30 miles of trails, view spectacular waterfalls (such as the 400 foot Waimoku Falls), and have amazing views of the ocean. There is also a ranger station that can answer questions and allow you to participate in Hawaiian cultural experiences.
Idaho
If someone mentions Idaho, you probably think of potatoes. However, the state is also home to rugged mountain peaks, clear streams, and plenty of outdoor recreational opportunities. If you get the chance to go RVing in Idaho, check out The RV Landing at Carlson Ranch.
This unique park is located on a working ranch on the Salmon River. This big-rig friendly campground offers full hookups with 30/50 amp electric, private beach access, Wi-Fi, a bathhouse, and a beach volleyball court. All RV sites have a river view and are 65 feet long, so you have room for your RV, a vehicle, and a tent too. They are open all year long and also have off-site RV sites and cabin rentals.
Illinois
While many people think of Chicago when mentioning Illinois, there are many other amazing places in the state as well. Champaign is a great city to visit and is home to the D & W Lake Camping and RV Park. This quiet, big rig-friendly campground is close to the attractions of the city, so you get a great balance of relaxation and activity. This pet-friendly RV park offers pull-thru, back-in, and drive-in sites; all come with full hook-ups (20/30/50 amp electric) and Wi-Fi. Most of the sites have lake views, and the rest have woodland views.
There are on-site laundry and shower facilities, boat and kayak rentals, and a playground. Also, guests will find there are a number of swimming pools, tennis courts, golf courses and trails in close proximity to the campground. The area is home to many museums, art galleries, and restaurants as well.
Indiana
Indiana boasts stunning rivers and lakes that are ripe for exploration. At White River Campground, adventure-seekers can enjoy a plethora of outdoor activities without venturing far from their campsite. The grounds feature a canoe launch, hiking trails, and fishing, and visitors can even secure reservations with a nearby canoe company for a convenient 6.5-mile float trip.
The RV park is set on 26 acres and has plenty of trails and areas to explore. There are over 100 campsites available, and they offer full hookups and river views. There are laundry and restroom facilities, and a playground on-site, as well as a shelter and recreation room available for rent (perfect for large groups).
Iowa
Iowa may be best known for its vast amount of farmland, but it also has a large number of rivers and lakes perfect for water sports. It is the only state bordered on two sides by navigable rivers: the Missouri and the Mississippi.
The Prairie Flower Recreation Area can be found on the Saylorville Lake Project, a 26,000-acre lake perfect for swimming, fishing, water skiing, hunting, hiking, and boating. Spread out over almost 70 acres, the campground has over 150 family sites and room for 10 groups.
All sites have full hookups, and most of the family sites have a view of the lake. The group sites are placed in a "circle-the-wagons" design. The campground offers on-site restroom and shower facilities, a playground, picnic tables, fire pits, and a beach. Close by, you will find a visitor center, volleyball and disc golf courses, hiking trails, boat ramps, and a fishing dock.
Kansas
Kansas is more than just wheat fields; there are some amazing attractions found all over the state. Dodge City is full of attractions and activities for the whole family. The Old West cow town has a number of museums and trolley tours; you can even take a walking tour of the town with a retired Deputy Marshal of Dodge City.
While in the area, Gunsmoke RV Park is the perfect place to set up camp. The park has the basics covered: You get full hookups (20/30/50 amp electric), bathroom/shower/laundry facilities, Wi-Fi, picnic tables, and a dump station. In addition, the campground has a seasonal swimming pool, game room with vintage arcade games, a playground, horseshoe pit, general store and gift shop, fitness center, and on-site management.
Kentucky
Kentucky is synonymous with horse racing and bourbon, but it is also home to the world's largest known cave system: Mammoth Cave. Located just five minutes from Mammoth Cave National Park, Cave Country RV Campground is the perfect "home away from home" while you are in the area. You will be just moments away from the Kentucky Action Park, which is perfect for kids of all ages and has mini-golf, a rock-climbing wall, bumper carts and boats, go-karts, and zip lines.
You can visit the National Corvette Museum and find treasures on the Kentucky Antique Trail. The campground offers pull-thru sites, full hook-ups, Wi-Fi, cable, a bathhouse, and a laundry facility. Each RV site has a picnic table and a fire pit. There is also an on-site dog park and fitness center, so everyone can burn off excess energy.
Louisiana
With all its lakes, creeks, and rivers, Louisiana is like one large water park. If relaxing on the lakeshore is your idea of fun, be sure to spend some time at Lakeside RV Resort and their 17-acre lake. Located in Livingston, this campground is close to Baton Rouge and New Orleans. The RV park offers pull-thru sites with full hookups (15, 20, 30, and 50 amp electric), cable and satellite connections, Wi-Fi, and restroom/shower and laundry facilities.
This pet-friendly campground has an on-site dog park so your furry friends can run and play freely. You can relax by the pool in a comfortable lounge chair, fish in the lake, take the kids to the playground or take part in the fun in the family game room.
Maine
Maine is famous for lobster, beautiful foliage, and beautiful rocky shorelines. You will be close to all three when you stay at Narrows Too RV Resort. This all-inclusive RV resort has 200 full-service RV campsites, most with amazing ocean views.
Additional amenities include Wi-Fi, a clubhouse, a swimming pool, laundry facilities, a camp store, and a dog park. The resort is not far from Acadia National Park (known for its excellent hiking trails) and Bar Harbor, both of which would make excellent day trips. While in Bar Harbor, you can visit the Mount Desert Oceanarium and see a lobster hatchery, a whale exhibit, and a living salt marsh.
Maryland
Maryland is an amazing state known for fresh seafood, particularly blue crabs. The state also offers easy access to Cherry Hill Park, located just outside of D.C., is a great RV park with amazing amenities.
This park is open year-round and offers standard, premium, back-in, or pull-thru sites. All sites include full hookups, free Wi-Fi and cable, a picnic table, and free delivery from the camp store and café. There are two pools on site (one is a zero-entry walk-in) that has a lifeguard on duty, a hot tub, and sauna.
There is a dog run, three playgrounds, and a splash park, so your fur babies and kids will have plenty of room to run and play. To make it easy to visit the nation's capital, a tour bus will pick you up from the campground. Family-friendly activities include gem mining, a game room, mini-golf, gaga (similar to dodgeball), ping pong, and cornhole. During the summer months, there are movie nights.
Massachusetts
Massachusetts has some amazing destinations, and Normandy Farms Family Camping Resort offers a great home base while you're in the area. Located between Boston and Cape Cod, this RV resort has everything you need for a great vacation. There are tons of outdoor activities, including an 18-hole disc golf course, soccer and softball fields, tennis/pickleball, basketball, and volleyball courts, cornhole, bocce, shuffleboard, and horseshoes.
An onsite fishing pond and picnic area provide a perfect place to spend a leisurely afternoon. Kids will enjoy playing on one of the two playgrounds, and there is also a dog park (complete with a dog wash area) for your four-legged friends to burn off some energy. In addition, there are four pools on the property (one indoor), a fitness center, a spa, and concierge services.
Michigan
Michigan has over a dozen amusement parks to choose from, but the largest and most popular is Michigan's Adventure Amusement Park. One of the best RV resorts is located across the street.
Duck Creek RV Resort will allow you to stay close to the action; you can even return to the campground during the day to relax or check on your pet. The campground has a gated entry and an onsite camp store, clubhouse, shower and laundry facilities, arcade, and exercise room. Each RV site offers full hookups (20/30/50 amp electric), cable TV, a fire pit, and a picnic table. There is landscaping between the sites for additional privacy.
Outdoor activities at the park include basketball and shuffleboard courts, a lake with a beach and swimming area, a dog park, a large playground for the kids, and a seasonal heated pool, bike rental, and boat rental (Memorial Day to Labor Day).
Minnesota
When you find yourself in southern Minnesota, be sure to check out Crystal Springs RV Resort outside Ellendale. This family-owned campground prides itself on cleanliness; there is an owner on-site around the clock to ensure it stays in top condition. The park is beautifully landscaped and has both pull-thru and back-in sites. All sites (some are waterfront) are level and offer full hookups and free Wi-Fi.
There are onsite restrooms and laundry facilities that are kept sparkling clean. They also offer a lending library of books and movies. There is a large pond on the property that is perfect for fishing, kayaking, and other water sports, and there is a walking path that circles the pond. It's the perfect way to unwind and relax.
Mississippi
Mississippi is home to the Delta Blues and some of the best fried catfish you will find anywhere. They also have amazing river communities and great beaches. When on the state's Gulf Coast region, be sure to stay at Bay Hide Away RV Park and Campground. Big rigs are welcome at the campground, and sites range from 55 to 85 feet in length. They have pull-thru, back-in, and pull-in sites, all with full hookups (30/50 amp electric), free Wi-Fi, a fire ring, and a picnic table.
Other amenities at the park include a laundry facility and bathhouse (both have heating and air conditioning), a swimming pool, a nine-hole disc golf course, a playground for the kids, and a pet park for the dogs. They are also equipped for other outdoor games, such as badminton, volleyball, and horseshoes.
On-site, they have a store with RV supplies, an RV service station, and a self-service RV wash. Visit with friends (or make new ones) at the outdoor pavilion complete with a fireplace or in the temperature-controlled furnished clubhouse.
Missouri
Branson is a major tourist destination tucked away in the Ozark Mountains of southwest Missouri. The town offers tons of live music theaters, outdoor activities, water sports on their three lakes, and plenty of shopping. The Titanic Museum, Hollywood Wax Museum, and Ripley's Believe it or Not are great rainy-day activities and are just a short drive from Branson Jellystone Park. They are also close to all three of the area's lakes: Table Rock, Taneycomo, and Bull Shoals.
After a fun day exploring all Branson has to offer, retreat to the peace and quiet of the campground. The park has mostly full hookup sites, but some are electric and water only. There is an onsite swimming pool, jump pad, bike rentals, wagon rides, playground, and dog park.
Montana
Experience the allure of Montana beyond its wide-open spaces and fly fishing by exploring its charming towns. For a perfect combination of tranquility and accessibility, stay at the Southside RV Park in Dillon, situated just blocks from the historic downtown with its dining and shopping options, as well as a nearby casino.
The park offers shaded, full hookup sites with picnic tables and free Wi-Fi, all situated along the peaceful Blacktail Creek. The spacious sites easily accommodate slide-outs and include access to a DVD library, restrooms, showers, laundry facilities, and a reading/card game area.
Nebraska
Located just one block from charming downtown Ashland, the Ashland RV Campground is a great place to make your home base while you're in the area. Ashland has plentiful shopping (including outlet malls), art galleries, two wineries, and four golf courses. In addition, Salt Creek and Mahoney State Park are nearby.
Enjoy a day on the walking/biking trails or try your hand at disc golf. The RV park has large, paved sites with electric and water hookups (there's a dump station located at the exit), a picnic table, and fire pit, and free Wi-Fi. The park has restrooms, showers, and a laundry facility.
Nevada
See another side of Nevada at Wine Ridge RV Resort and Cottages. You will be surrounded by stunning mountain views and spectacular desert landscapes, and the sunsets are breathtaking.
The site offers 139 RV sites with full hookups that can handle large rigs and provide plenty of room for slideouts. There are two pools, a large spa, a pickleball court, and a fully equipped fitness center. In addition, there are onsite laundry facilities, a bathhouse, a computer lounge, a barbecue area with a fire table, and a clubhouse.
The Pahrump Valley Winery, featuring an exceptional wine tasting room, and Symphony's Restaurant are conveniently situated beside the campground.
New Hampshire
New Hampshire has crisp mountain air and numerous ways to enjoy being in the great outdoors. Enhance your experience with a stay at the Twin Mountain / Mount Washington KOA Holiday Campground. Fall is a particularly beautiful time to visit, as the leaves are changing colors.
You will be close to attractions such as the Cog Railway (which takes you to the summit of Mount Washington), the Northeast's highest peak, Santa's Village and Story Land. There are tons of hiking/biking trails nearby, and some great fishing. You may even spot a moose on a guided tour of the area.
The campground provides pull-thru sites that are up to 90 feet long and include full hookups, Wi-Fi, cable, a fire ring, and a picnic table. Children can enjoy the playground, while both kids and adults can partake in hay rides and gem mining. Additionally, there is a seasonal heated pool, fully stocked camping store, snack bar, and laundry facility.
New Jersey
Looking for a campground that offers both proximity to Atlantic City and the Jersey Shore for a day trip and a soothing camping experience? Sun Retreats Sea Isle is the perfect destination for you. The campground is situated in Cape May County, in close proximity to the Victorian downtown of Cape May, boardwalks, and beaches. The resort features capacious RV sites, some with full hookups and others with electric/water, that provide ample space for slide-outs. High-speed Wi-Fi, cable television (available at most sites), a fire pit, and a picnic table are also provided.
The gated entry provides controlled access to the campground, and for convenience, there is an onsite store, restrooms, showers, a laundry facility, and an ATM. Work up a sweat in the fitness center or by playing tennis, volleyball, or basketball, and then take a refreshing swim in the private lake. Enjoy the sandy beach, play some horseshoes, or try your hand at shuffleboard. There is also a playground and game room for the kids.
New Mexico
Angel Fire RV Resort is situated in a picturesque valley, enveloped by the southern Rocky Mountains. It's an ideal destination for nature enthusiasts who crave tranquility and enjoy exploring onsite hiking trails, all while enjoying the stunning mountain vistas. Guests can indulge in the country club pool, located conveniently nearby. The property boasts a clubhouse, a fully stocked camp store, a bathhouse, a hot tub, and laundry facilities.
Additional recreational amenities include pickleball courts, horseshoe pits, and a putting green. With over 100 sprawling, paved sites, each equipped with full hookups, Wi-Fi, and DirecTV, the resort truly has it all.
New York
The Adirondack Mountains of Upstate New York are known for their beautiful lakes and clear streams. You can be surrounded by all the natural beauty of the area at the Lake Placid/Whiteface Mountain KOA Holiday Campground. The park, located in Wilmington, is a great home base while exploring all the area has to offer.
The campground offers pull-thru sites up to 75 feet in length, full hookups, Wi-Fi, and cable. There is also a seasonal pool, mini-golf course, planned activities, a general store, and snack bar. For your convenience, there is also a ski shuttle.
North Carolina
Fayetteville boasts several museums, such as the Airborne and Special Operations Museum, as well as a children's museum, along with ample parks and hiking trails.
Fayetteville RV Resort is an ideal hub during your stay in the area, due to its proximity to all the town has to offer, while also offering tranquility for unwinding.
The campground provides 110 gravel RV sites, the majority of which are pull-throughs, complete with full hookups, including 30/50 amp electricity, complimentary cable, and Wi-Fi. Guests can take pleasure in the seasonal swimming pool and spa, along with basketball and volleyball courts, putt-putt golf, and horseshoe pits. Two dog parks and a walking trail are also offered to meet the needs of all patrons.
North Dakota
Experience a peaceful escape to Spirit Lake Casino and RV Resort, situated on the serene banks of the stunning Devils Lake. Choose from over 70 RV sites measuring 40×20, with the option of full hookups or electric/water only. Each site features a picnic table, ensuring a comfortable stay.
The resort offers a range of amenities for your convenience, including a bathhouse, laundry facility, and grocery store. Additionally, there is a marina, gas station, water fill station, and dump station available on-site. With 24/7 surveillance and security measures in place, your safety is guaranteed. Take advantage of all the hotel amenities, including the jacuzzi, exercise room, pool with a slide, and steam room. For those feeling lucky, try your hand at the casino and see if fortune is on your side.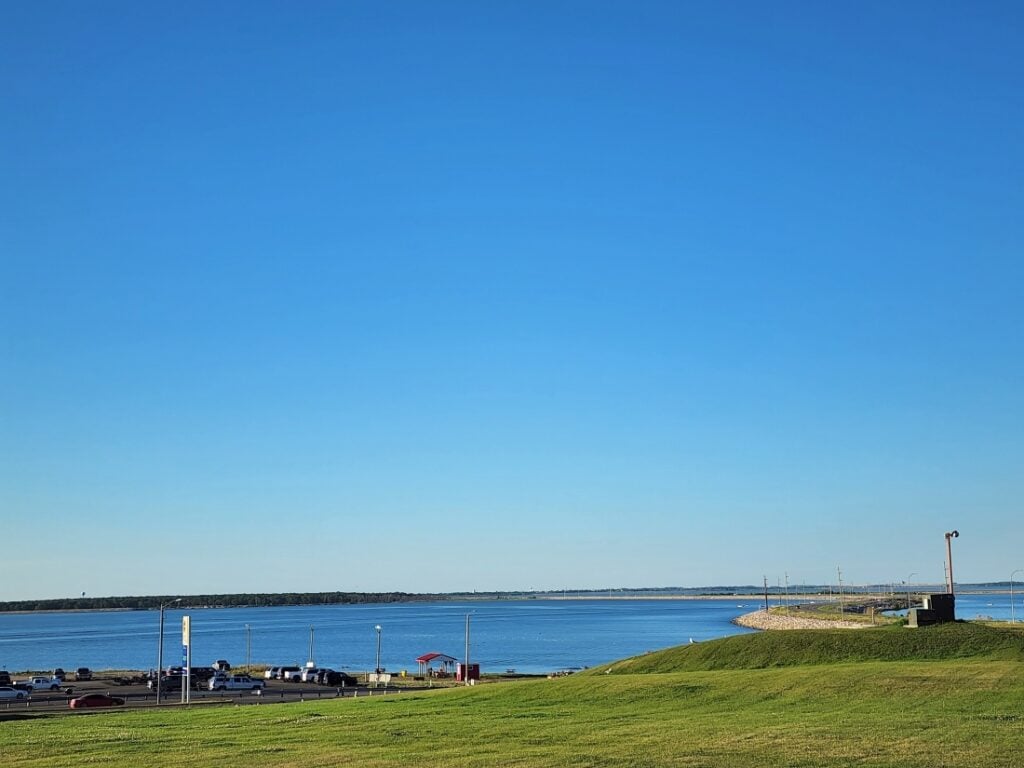 Ohio
Evergreen Park RV Resort is nestled within the largest Amish community in the state of Ohio, which happens to have the highest population of Amish people in the country. This sprawling campground spans almost 20 acres of picturesque rolling hills and boasts a total of 87 RV sites. The majority of these sites are pull-through and all come equipped with full hookups, including 20/30/50 amp electric service, cable television, and Wi-Fi.
Guests can also enjoy an array of amenities including a pool featuring a waterfall, a game room with arcade games and a pool table, and a shower house that offers rainfall showerheads, lockers, and heated tile floors. As if that wasn't enough, the resort also offers volleyball, shuffleboard, and basketball courts, as well as a sophisticated outdoor pavilion complete with state-of-the-art Jenn-Air grills.
Visitors are encouraged to explore the surrounding area, where they can shop for furniture at authentic Amish-owned stores and indulge in exquisite local cuisine at some of the most sought-after Amish restaurants.
Oklahoma
Fun Town RV Park is a pet-friendly accommodation located near the Texas border. Sprawled across 15 acres, the park offers over 160 spacious back-in (50 feet) or pull-through (80 feet) sites with complete hookups and round-the-clock security. Its on-site facilities include a pool exclusively for RV resort guests, basketball and sand volleyball courts, horseshoe pit, outdoor pavilion, clubhouse, playground, and walking trails.
Additionally, the park is in close proximity to the casino, providing easy access to slot machines and table games. A stroke of luck might even lead to a big win.
Oregon
For those seeking a secluded, nature-filled retreat, consider The Remote Outpost RV Park and Campground on the Coquille River in southwest Oregon. This picturesque site is situated in a valley on the Middle Fork of the river and provides river access, excellent steelhead and cutthroat trout fishing during winter, a sandy beach, a swimming area, and numerous walking paths.
Pets are welcome at the camp, which offers back-in river front sites with full hookups and a picnic table. There is a pavilion with free Wi-Fi, a big-screen television, fireplace, barbeque grill, picnic tables, and patio chairs. For convenience, there are on-site restrooms, showers, and a laundry facility.
Pennsylvania
Yogi Bear's Jellystone Park at Kozy Rest offers a plethora of activities suitable for the whole family, ensuring endless hours of entertainment without ever leaving the park. These activities include a seasonal swimming pool, playground, half-court basketball, shuffleboard, horseshoes, and cornhole. Moreover, there are other activities such as GaGa Ball, bingo, 18 holes of mini-golf, laser tag, gem mining, RC car tracks, and a bike track.
The campground's amenities consist of free Wi-Fi, a bathhouse, a camp store, a café, and a dog park that has a dog wash. All RV sites are shaded and have full hookups, a fire ring, and a picnic table. Lastly, make sure to allocate some time to explore the nearby Hershey's Chocolate World and Hersheypark.
Rhode Island
Rhode Island, also known as "Little Rhody," is the smallest state in the country. Nonetheless, it boasts breathtaking views and first-rate saltwater fishing. The Charlestown Breachway Campground is an ideal location to experience all of this. The campground is located mere steps from golden sand beaches that offer stunning views of Block Island Sound. Moreover, visitors can indulge in swimming, boating, kayaking, and saltwater fishing.
The beach is spacious, providing ample opportunities to unwind and listen to the waves crashing onto the shoreline. For those seeking a tranquil experience, campsites nestled in the woods are also available.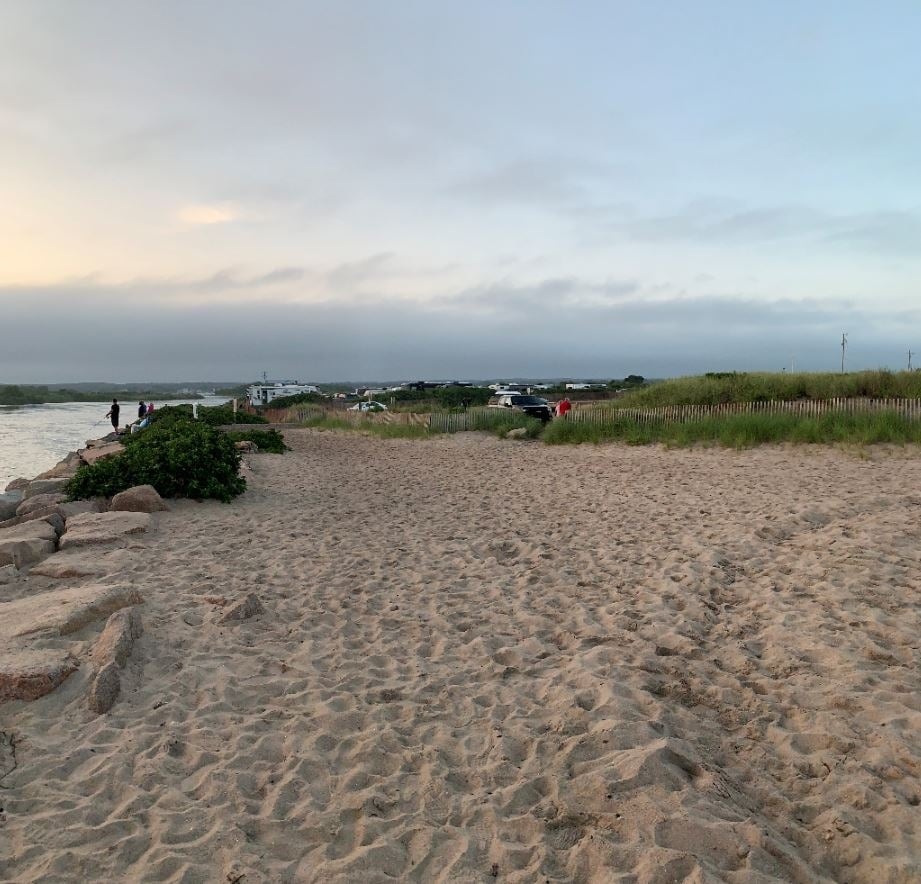 South Carolina
Stay near the heart of the action in South Carolina's bustling Myrtle Beach at Barefoot Landing, one of the town's most popular attractions. Barefoot RV Resort, situated just half a mile from the beach and one mile from Barefoot Landing, offers guests easy access to a wealth of shopping, dining, and entertainment options within walking distance.
For those who wish to zip to their destination quickly, golf cart rentals are available. The park features concrete pads with full hookups, picnic tables, and fire pits, as well as complimentary Wi-Fi and cable. Amenities include a large heated pool, a playground for children, outdoor games like cornhole, and restroom and shower facilities.
South Dakota
The Black Hills of South Dakota are stunningly beautiful. To fully appreciate their beauty, one should consider visiting Sturgis RV Park. This park boasts over 150 capacious campsites with complete hookups, including 30/50 amp electric. Moreover, 15 premium sites are situated on the second and third floors, boasting awe-inspiring views of both the town and the majestic Black Hills.
All sites come equipped with complimentary Wi-Fi access and a picnic table. The site also has an on-site bathhouse with laundry facilities, as well as a unique motorcycle wash station with a loading/unloading dock. If you are traveling with a larger group, there are 18 cabins and a five-bedroom bunkhouse available for rent. The park also features a clubhouse with two flatscreen televisions that offer cable, a pool table, and an updated kitchen.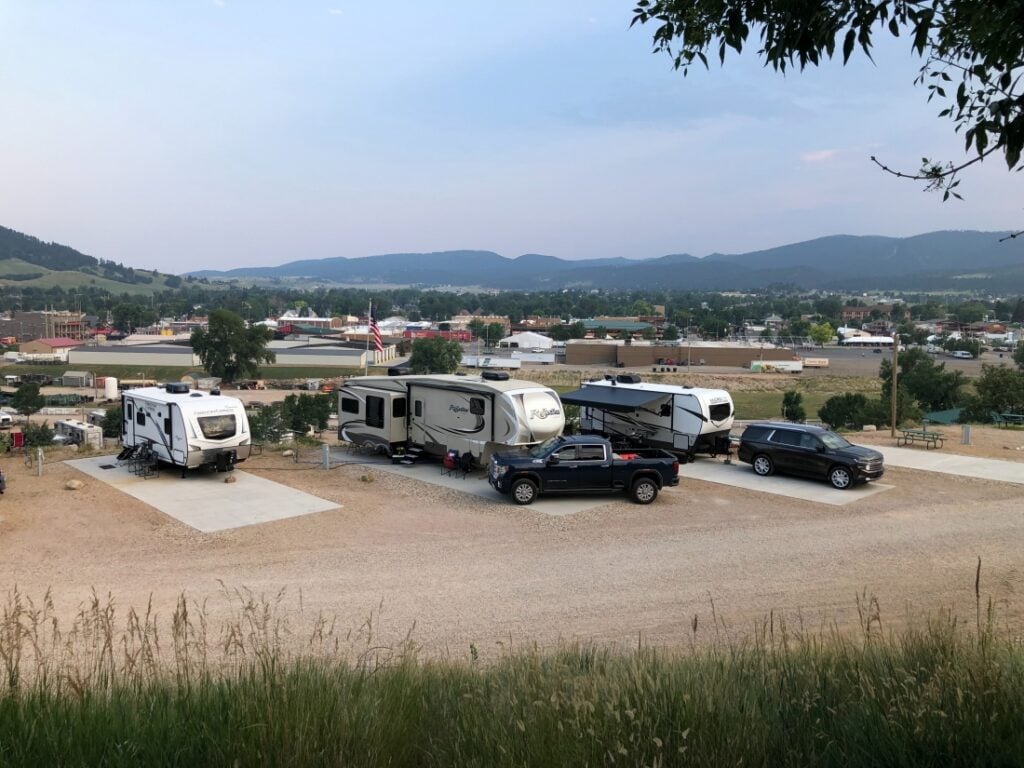 Tennessee
The Gatlinburg, Tennessee area is a popular tourist destination, primarily because of the Great Smoky Mountains National Park. For those who wish to explore the area, Two Rivers Landing RV Resort is an ideal spot to set up camp.
This resort is located in Sevierville, on the banks of the French Broad River, offering proximity to attractions but also a quiet retreat from the hustle and bustle. The campground boasts 55 riverfront sites, all with full hookups (30/50 amp), free cable, and Wi-Fi.
Additionally, the resort has a swimming pool, playground, bathhouse, laundry room, and clubhouse complete with an exercise room and a meeting room. The park's landscaping is impeccable and visitors are guaranteed a pleasant stay.
Texas
Located in Central Texas, the Brazos Valley spans seven counties and is named after the river flowing through its center. A great place to stay while in the area is the pet-friendly Brazos Valley RV Park, renowned for its extra-large sites complete with concrete pads, full hookups (20/30/50 amp electric), free cable, and Wi-Fi.
The park boasts a variety of on-site activities, including a game room featuring pool tables, air hockey, and foosball, a large pool area, a playground, a dog park, a clubhouse equipped with a full kitchen and television, and an exercise room furnished with free weights, a stationary bicycle, and a treadmill. For added convenience, the park is equipped with both a bathhouse and a laundry room.
Utah
Mountain Valley RV Resort in Heber City, situated just a short distance from Salt Lake City, Park City, and Orem, boasts exceptional facilities and a breathtaking Rocky Mountain backdrop. Complete with nearly 100 full hookup sites furnished with 30/50/100 amp electric, cable, and Wi-Fi, the resort also offers hot tubs, heated pools, basketball, pickleball, and volleyball courts, as well as a playground. Amenities further include an on-site bathhouse and laundry facilities.
The campground has a designated area that is exclusively for individuals over the age of 21. This section of the campground offers the same amenities as the family-friendly section. Additionally, visitors are encouraged to explore some of the highly recommended events in Heber Valley, such as Railroad Excursions, Cowboy Poetry Gathering, Mountain Valley Stampede Rodeo, and Swiss Days.
Vermont
Located in the Upper Valley of central Vermont, the Quechee/Pine Valley KOA Holiday serves as a gateway to New England. This area boasts attractions such as Quechee Gorge, known as "The Little Grand Canyon of New England," and the annual Quechee Balloon Festival on Father's Day weekend. The RV sites are spacious, accommodating vehicles up to 85 feet in length, and include full hookups, Wi-Fi, and cable television.
Amenities on the premises include a seasonal swimming pool, bike rentals, a trout pond for fishing, and a dedicated area for dogs known as Kamp K9. The state's only national historical park, The Marsh Billings Rockefeller National Historical Park, is located in the adjacent town of Woodstock. Hiking enthusiasts can explore an extensive network of trails, including the renowned Appalachian Trail and Vermont's Long Trail.
Virginia
This campground, situated in Chippokes Plantation State Park, boasts numerous recreational activities for its visitors. The park features a total of 12 miles of trails, 10 of which welcome hikers, bikers, and horseback riders.
The remaining two miles are paved and off-limits to horses, but include the revered College Run Trail, which leads to the river and the historic town. Furthermore, the site offers an Olympic-sized swimming pool and kiddie pool, abundant fishing opportunities, and kayak or canoe launches from both the creek and river.
The campground includes Loop A (better for RVs up to 30 feet in length) and Loop B (better for RVs up to 50 feet long). Both offer electric and water hookups and a fire ring. There is an onsite bathhouse and laundry facility as well as a dump station.
Washington
Nestled between Spokane, Washington and Coeur d' Alene, Idaho, Liberty Lake RV Campground offers convenience and great amenities. Onsite, you will find a seasonal pool, bathhouse, laundry facility, a dog park, a "tot-lot", and a clubhouse with a big screen television.
There is also a basketball court and horseshoe pit for outdoor family fun. The RV sites offer full hookups with 20/30/50/100 amp electric, cable television, and Wi-Fi. The park is within walking distance of numerous shopping and dining options in the town of Liberty Lake, and it's just a short drive to one of many area lakes.
West Virginia
Babcock State Park encompasses a vast area of more than 4,000 acres and boasts some of the most stunning vistas in West Virginia. The park's Glade Creek Grist Mill, a fully operational replica of Cooper's Mill, is its most iconic and recognizable landmark, having been an integral part of the park's history. A trout-filled stream courses through the park, offering visitors an opportunity to fish, while mountain biking, boating, and hiking are among the many outdoor activities available on site. Additionally, New River Gorge, just a short distance from the park, offers visitors a chance to go whitewater rafting.
This campground offers a wide array of amenities and recreational options. Visitors can enjoy a refreshing swim in the pool, and children can play to their heart's content in the playground. The campground also features a vast network of trails for hiking and exploring.
With 52 campsites in total, guests have a variety of options to choose from; 28 of these sites come equipped with electric hookups for added convenience. The campground also provides visitors with access to essential facilities such as a bathhouse, laundry room, water stations, and dump stations. For those who need to stay connected, Wi-Fi is available throughout the campground.
Wisconsin
Located by the 39-acre Torch Lake, Torch Lake Campground and RV Park in Conover is perfect for families and nature lovers. The park features a picnic area with tables and horseshoe pits and provides convenient access to Vilas County's ATV trails. Guests can relish the beach and the lake within walking distance, where they can fish for largemouth bass or soak up the sun.
The site offers 21 spacious RV sites, equipped with 30/50 amp electric and water hookups, as well as a grill and fire ring. Additionally, a bathhouse, laundry room, and dump station are available onsite for your convenience.
Wyoming
The Longhorn Ranch Lodge and RV Resort, situated in Dubois along the picturesque Togwotee Highway en route to Yellowstone, stands out as the most exceptional RV park on the roster. Nature lovers will revel in the multitude of onsite activities at their disposal, including mountain biking and hiking trails, guided horseback rides led by experienced wranglers, and Wind River fishing opportunities.
The area's natural splendor will captivate you with its breathtaking panoramic vistas of the Painted Hills badlands to the north and Whiskey Mountain and the Wind River Mountain Range to the south. The riverfront RV sites provide every convenience, including full hookups, cable, Wi-Fi, a fire ring, and a picnic table. Additionally, the onsite amenities include a playground, dog run, bathhouse, and laundry facility.
Get RV-safe directions
The United States is home to a multitude of landscapes, attractions and activities. While we can't help you narrow down your destination choices, we can help you find the perfect RV campground. You can find more RV parks and resorts with a quick search on RV LIFE Campgrounds or while planning your RV-safe route on RV LIFE Trip Wizard. 
Related articles:
The post Discover The Best RV Parks & Resorts In Every State appeared first on RV LIFE.