Create Your Dream RV Campsite: Tips For A Perfect Setup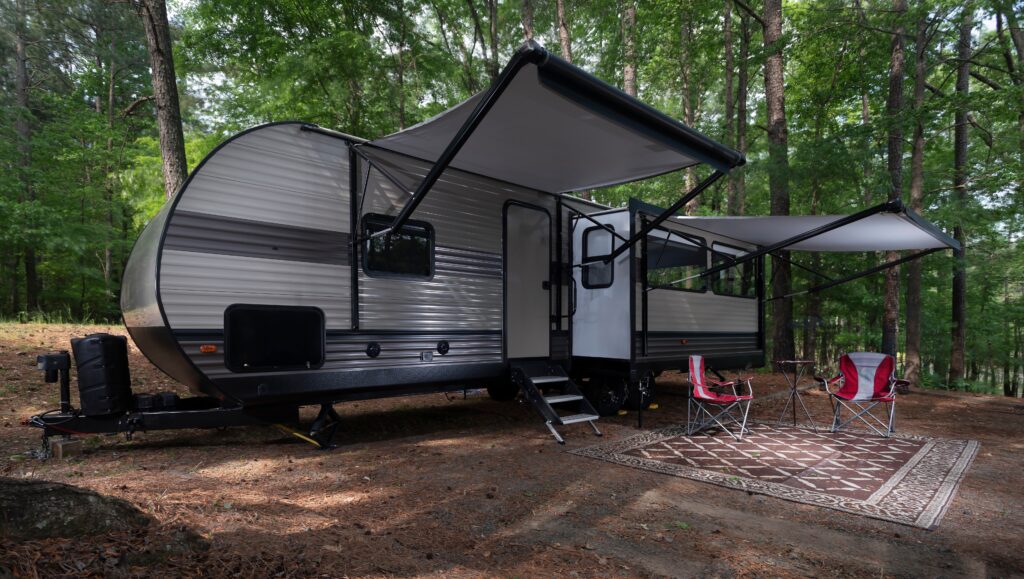 Creative Ways to Set Up Your RV Campsite
Looking for campsite inspiration? Setting up an RV campsite can enhance your camping experience. A comfortable campsite setup provides everything you need to enjoy the great outdoors. Here are some of our favorite campsite ideas.
Get a beautiful RV area rug
One of the difficulties of RV camping is maintaining a clean interior. A plastic area rug specifically designed for RV use resolves this issue. The weave of the rug permits sand to pass through while preserving the underlying grass. Nonetheless, it is a good idea to ask at the RV campground regarding their policy on using woven plastic rugs for your campsite setup.
Set up a washing station outside the door for dirty feet (or paws)
Dirt and sand can be stopped in their tracks before they come into the RV. You can do this by setting up a chair with a plastic washbasin beneath it. Set up the water basin just outside the door, with a jug for refills and a foot brush for muddy feet. A microfiber bath towel can be hung nearby to dry feet before they come into the RV.
Set up a portable fire pit
One of the best parts about camping is enjoying the warmth and glow of a campfire underneath a starry sky. For this reason, a campfire is a must-have in any campsite. But what do you do if there is no fire ring in your campsite?
In recent years, widespread forest fires have really emphasized the need to be extra careful with our location and care of our campfires. It is important to always check the current fire restrictions in the areas you're visiting.
Some campgrounds allow wood fires, and some will allow only propane campfire rings due to the hazards that sparks and heat underneath the fire can cause. There are two solutions that can allow you to enjoy a campfire wherever you are.
Solo portable fire pits are a great solution wherever wood fires are permitted. The smoke-free design of a Solo fire pit makes evading wood smoke a thing of the past. The clever design of these stoves also makes campfires easy to light too. And when the fire is out and it cools, the 20 lb smoke ring packs into a special carrier for mess-free transport in the RV or tow vehicle.
If wood fires are not allowed in the area where you camp, you may still be able to have a fire in a portable propane fire ring. Propane is the next best thing to a crackling wood fire. Propane fires have all of the warmth and ambience of a wood fire but don't throw sparks into the atmosphere, and they can't cause the ground underneath them to heat up to hazardous levels.
Set up a Yeti Roadie 24 Hard Sided Cooler
Having a cooler to keep cold beverages handy at the campsite will keep you from running in and out of the camper whenever a cold drink is needed.
The small but vital Yeti Roadie is especially handy with its huge capacity for storing multiple wine bottles and cans (perhaps purchased from local wineries or breweries along your route). The Roadie is so well-insulated that it will keep beverages cool for up to three or four days. It's just the right height to be great extra seating or a handy place to relax and put your feet up at the campsite too.
Relax in comfortable chairs
It's important to be able to relax and savor the moments of RV camp life. You'll do this best in a comfortable folding camp chair. Strongback Elite camp chairs are highly rated by nearly everyone who sits in one. What's more, they are made in the USA, so you can relax knowing you supported an American business. You owe it to yourself to try these ultra-comfortable camp chairs out.
Have a picnic table wherever you are
Most campsites have a picnic table. Rarely, the campground doesn't have a campsite picnic table or else the table is just in such poor shape we don't want to use it. It's always good to be prepared. Luckily, there are a number of lightweight, portable picnic tables that fold up. They take up almost no storage space so they can easily be set up in under a minute to provide a food preparation space or a portable picnic table.
Get tips from other RVers
Forums such as iRV2.com and blog sites like RV LIFE, Do It Yourself RV, and Camper Report provide all the information you need to enjoy your RV. You'll also find brand-specific information on additional forums like Air Forums, Forest River Forums, and Jayco Owners Forum.
Related articles:
The post Create Your Dream RV Campsite: Tips For A Perfect Setup appeared first on RV LIFE.