Cheap RV Parks In California: How To Score The Best Deals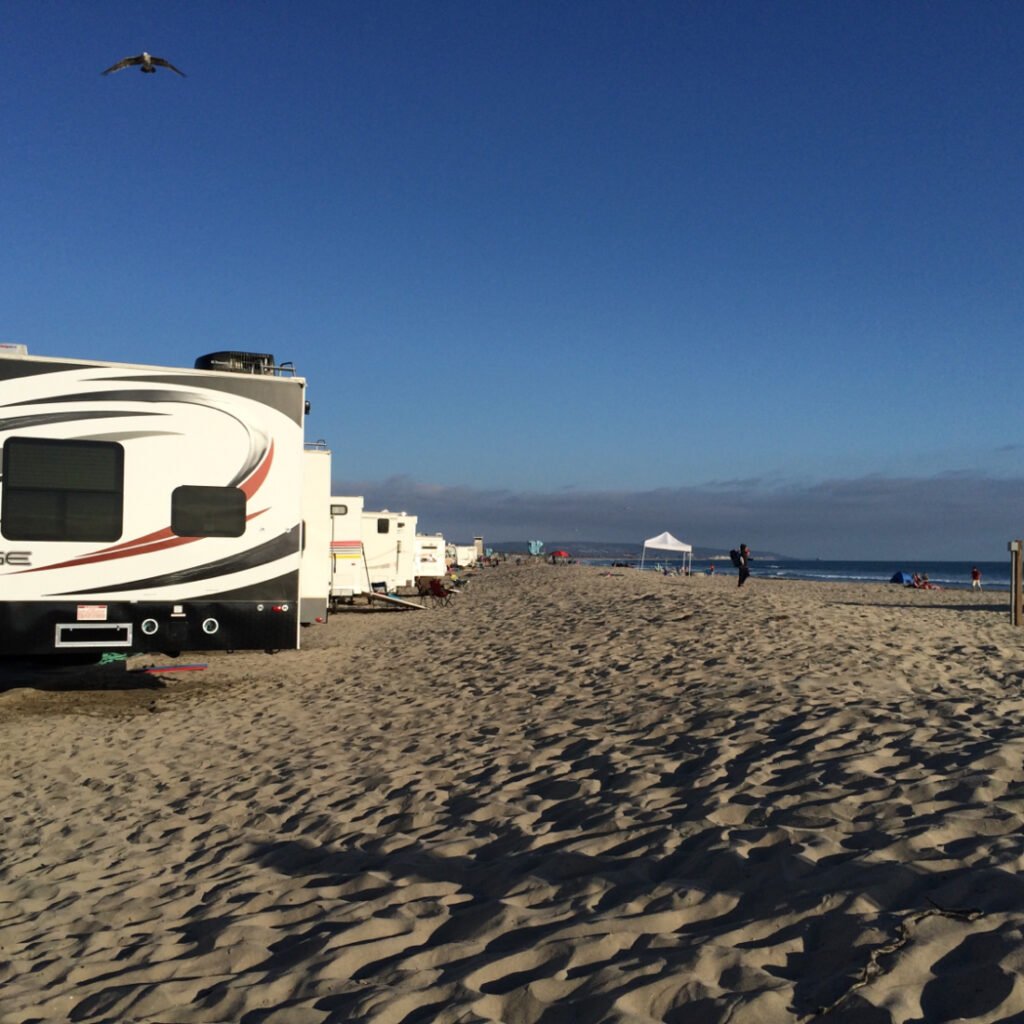 Cheap RV Parks In California: Save Money On Your Next Road Trip
Finding affordable RV parks in California has become increasingly difficult as prices continue to rise. However, there are several parks that can still be considered inexpensive. Here are some great options we discovered, but you can find even more cheap RV parks with a quick search on RV LIFE Campgrounds.
1. Silver Strand State Beach
Located in Coronado, Silver Strand State Beach offers easy access to miles of beaches. Campers with RVs can stay for just $35 per night, with beachfront sites available for around $65 per night with advance reservations. Sites come equipped with water and electric hookups but no sewer connection. A dump station is available for $10, or campers can opt for daily honey wagon service for $20.
The location is great, and you can bike for miles in either direction. You can rent beach gear and spend your time in the sun or head out for nearby shopping and dining. Head over the Coronado Bridge to go downtown and to the mountains, walk the pier at Imperial Beach, and then get some lunch.
2. Corning RV Park
This highly rated park in Corning has a nightly rate around $50 a night. Long-term stays run about $550 per month for one of the longer pull-through sites.
The park is basic with full hookups, free WiFi, a dog park, a playground, and a laundry room. Located in Northern California, Corning RV Park has great views of Mt. Shasta and Lassen Peak and is near Lassen Volcanic National Park, Lake Shasta, and the Oroville area. The park is set in an old olive grove with plenty of shade and level gravel sites. Sites are from 56 to 96 feet in length.
Check out the nearby Olive Pit Café, where three generations of the Craig family have been feeding hungry travelers since 1967. You can eat burgers, sandwiches, and their signature shakes in the café or shop for a huge variety of olives, olive oil, craft beer, wine, nuts, flavored balsamic vinegar, mustards, and gift items.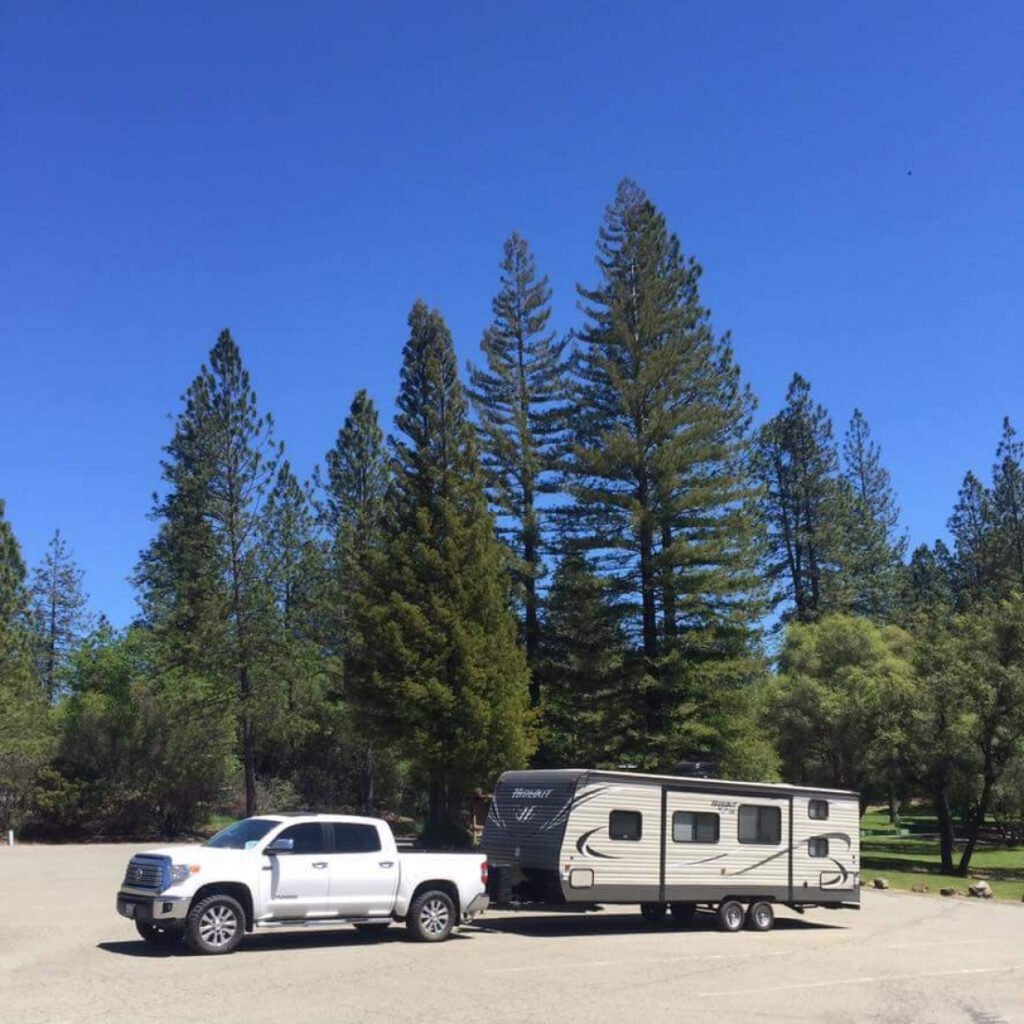 3. Williams Hill Campground
Located near San Ardo in southern Monterey County, Williams Hill Campground offers great views of the surrounding Salinas Valley. Pine trees, chamise, scrub oak, and impressive shale formations characterize the hilly terrain.
The BLM campground is at an elevation of 2,700 feet and can accommodate a 40-foot rig. You enter the park via a dirt road, about seven miles long, which can get rough closer to the campground. Sites have covered shelters with metal picnic tables and fire rings. There are no hookups and no fees, but the RV pads are level. No reservations are needed, but there is a 14-day camping limit within any 28 days.
Near San Ardo, you can check out Lake San Antonio, which has around 5,500 acres and 60 miles of shoreline, for excellent bass fishing. Additionally, you can visit Mission San Antonio de Padua, the third Spanish mission in California, which was known for its wheat and for having one of the earliest stone mills to grind flour.
4. Mountain Gate RV Park
Mountain Gate RV Park is located in the foothills of the Shasta Cascades near Lake Shasta and the city of Redding. Rates at this friendly, full-service park are around $55 depending on your site.
The park amenities include fast WiFi, easy access to the park, wide, paved roads in the park, a hot tub, a swimming pool, a dog park, propane service, a convenience store, and more. Sites are pull-through and well-shaded. The park is surrounded by woods and grasslands.
Outdoor lovers can enjoy the area's plentiful hiking. This park will take you away from the hustle and bustle of the city, but you are close enough to still have the option of taking in the area attractions.
In Redding, check out the Turtle Bay Exploration Park with an arboretum, botanical gardens, and a museum with natural history exhibits. Spanning the Sacramento River is the Sundial Bridge, a suspension bridge that also acts as a huge, working sundial. Visit the Shasta State Historic Park, which holds the ruins of an 1800s gold rush mining town. Whiskeytown National Recreation Area has waterfalls and a lake.
5. Rio Bend RV and Golf Resort
This RV park is located in El Centro and has all the amenities you could want, including a golf course, a pool, and more, for a rate of $40 per night. This is club life at its finest, which also includes plenty of sports, activities, and spa features so you won't be bored for a moment.
Check out the snack bar, pro shop, library room, computer room, and more. Sunbeam Lake is less than a mile away for all your on-the-water activities.
The Imperial Valley is an oasis that provides the United States with much of its winter produce. Its proximity to the Mexican border makes it a place that is rich in culture. The area provides year-round entertainment and events, beautiful landscapes, recreational opportunities, and much more with its warm and sunny winter weather.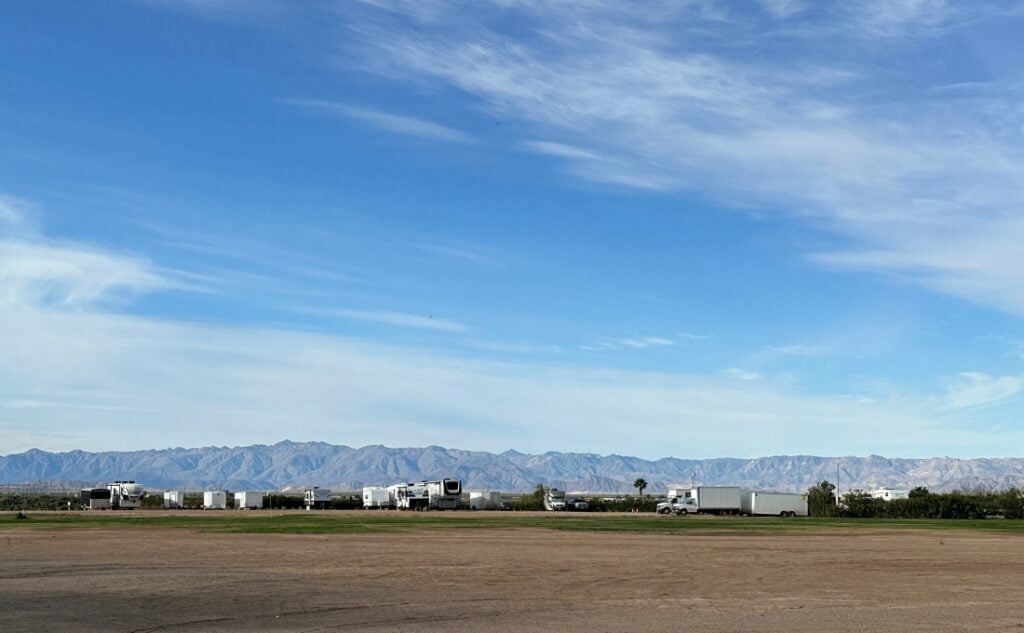 6. Calizona RV Park
Located near the border of Arizona, Calizona RV Park in Needles, CA is cheap with a $40 nightly rate with full hookups. The 55-and-over park offers many amenities including laundry rooms, pickleball, and shuffleboard courts, a dog run, and mountain views.
The park overlooks the Colorado River and Topock wetlands. It was developed in the 1950s and is often cited as the oldest continuously operating RV park on Historic Route 66. This is truly a desert park where you can enjoy a beautiful, starry night away from the crowds. If you need some excitement, head over to Laughlin, Nevada, which is known for its gaming and water recreation.
Arizona is a great place for hikers, exploring with your four-wheel-drive vehicle, collecting rocks, or just relaxing in the mid-to-low 70s winter temperatures.
The park is south and east of the Mojave National Preserve, and there is a lot of history to explore in the nearby town of Needles. Check out the Needles Railroad Borax Wagon, which was used in the 1940s movie "20-Mule Team." If you enjoy Old West history, the town of Needles won't disappoint.
7. Bear Mountain RV Park
Located in Bakersfield, California, Bear Mountain RV Park campsites are $40 per night with full hookups. The 130 sites are all pull-throughs and are more than 90 feet long. The park has Wi-Fi, and a laundry and shower facility, as well as two dog parks.
While the park is basic, reviewers say it is clean with friendly staff. There is plenty to do in nearby Bakersfield including a casino, the Bakersfield Museum of Art, golf, and several museums. Nearby Lake Ming is primarily a motorboat and water-ski lake but also allows for sailboats on specified days and times during the year.
Hart Park is a great fishing spot with bluegill, crappie, and bass.
8. Tecopa Hot Springs Resort
Tecopa Hot Springs Resort offers nightly rates from $35-$45, with weekly rates at $200 and monthly rates at $450. Concrete sites are available for 35-foot RVs with full hookups, and some spots can accommodate up to 40-foot RVs.
The bathhouse includes two private hot spring tub rooms that are available to guests. These offer a respite from the rest of the world, if only for a short time. Experience sunrises and sunsets over the desert landscape, check out the night skies for stargazing, or get lost and found again in a trip through the park's labyrinth.
There is no cell service or Wi-Fi, so come prepared to relax and disconnect. Leashed pets are welcome.
9. Etna RV Park
Etna RV Park was built in 1999 with the plan for RVers to experience the beautiful Scott Valley in Siskiyou County.
The park is located in Etna. If you leave Yreka and head towards Etna, you will enjoy a beautiful scenic drive. You will climb over Forest Mountain and descend into Scott Valley.
With a nightly rate of $50, the park has full hookups, is big-rig friendly, has free WiFi, a large laundromat, propane, playground, horseshoes, gas and diesel, groceries, fishing supplies, dump station, and much more. An on-site self-storage is also available.
You can enjoy events such as the Etna Rodeo or the Siskiyou County Fair. Dine at a nearby local restaurant, take in a round of golf, or see the Klamath National Forest, Kangaroo Lake, or Greenhorn Park.
10. Uvas Pines RV Park
While this is not the cheapest park on our list, this top-rated RV park in Morgan Hill comes in at $70 per night. If you are looking to visit wine country, this is a great place to stay. The park is nestled in the western foothills of Morgan Hill in an oak tree valley with a picturesque creek and nearby vineyards. It is also close to a reservoir for plenty of fishing and hunting.
Uvas Pines is just a short distance from the heart of Silicon Valley with easy access to San Jose, San Francisco, Palo Alto, Monterey, Carmel, Pebble Beach, and Santa Cruz.
In addition to a swimming pool and yard games, there are also tennis courts available for campers. The park has extra-wide paved and level spaces with drive-through and back-in sites that can handle any size RV. The park offers free Wi-Fi, laundry, propane, hiking trails, creekside picnic areas, and more.
Nearby, you will find all you need for stocking your pantry, as well as fine dining, wine tasting, a championship golf course, Gilroy Gardens Family Theme Park, theaters, Uvas Reservoir, and many popular hiking and biking routes.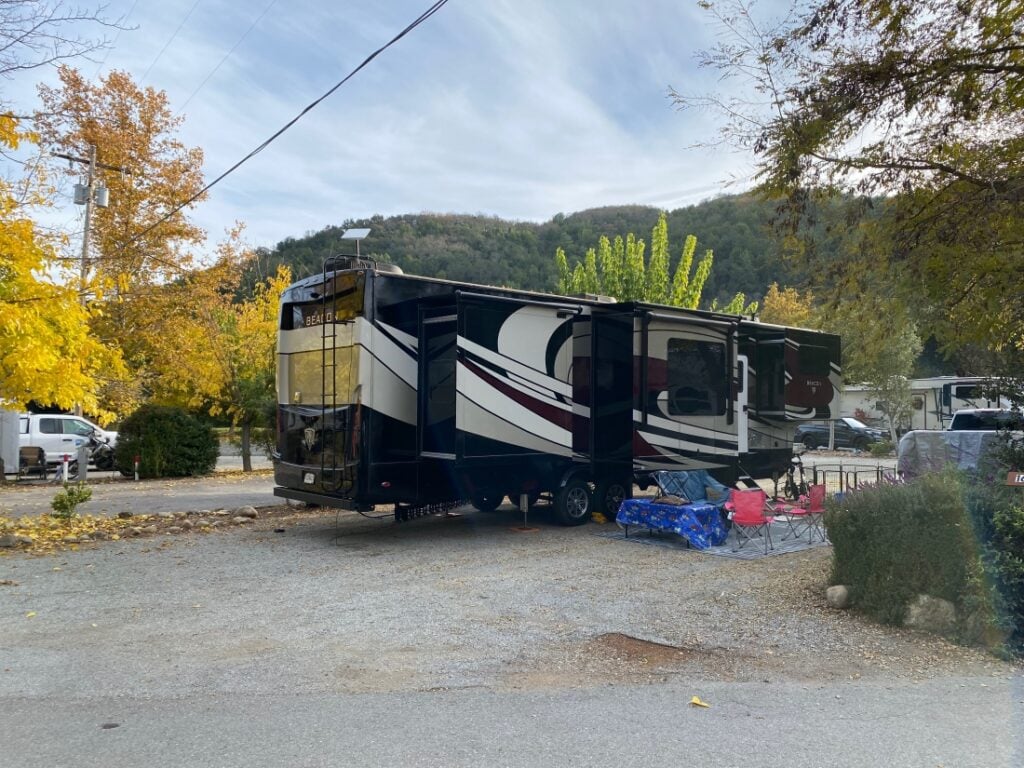 Get RV-safe directions
If you are looking to travel to California, you won't be disappointed with the cheap parks we've chosen. There are plenty more to see on our RV LIFE Campgrounds. Just input your parameters, price, location, and more, and you can see pictures, reviews, and more from people who have been to the park. You can even add your own pictures and reviews to the thousands of campgrounds already posted.
For RV-safe directions, plan your trip with RV LIFE Trip Wizard and the RV LIFE App. This trip planning tool shows you a safe route based on your rig's exact measurements so you can avoid low-clearance bridges or roads that are unsafe for an RV, such as those with steep grades.
Use the planner to search for points of interest including rest areas, fuel stations, overnight parking, and dump stations. You can also search for casinos with campgrounds, Walmarts, as well as amusement parks, museums, liquor stores, and more.
Related articles:
The post Cheap RV Parks In California: How To Score The Best Deals appeared first on RV LIFE.