Campground Demand Surges in Advance of 2024 Solar Eclipse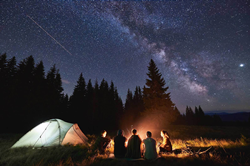 As the 2024 solar eclipse approaches, astronomy enthusiasts and casual observers alike are gearing up for the event of a lifetime. Predicted by some travel insiders to be the biggest mass travel event ever in the United States, the eclipse on April 8, 2024 will see visitors travel to various locations across the country for the best and longest eclipse views.
Campgrounds in the path of totality offer front-row seats to this special event, and Campspot – the leading booking site and app for private campgrounds – has noted a corresponding surge in searches and demand. The company reports that searches are up nearly 120% across all US states for stay dates including April 8th, 2024. For those states in the full path of totality, searches on Campspot for stay dates including April 8th, 2024 are up more than 700% year over year.
"Camping offers the perfect opportunity to fully immerse oneself in nature while enjoying the eclipse," said Erin Stender, Campspot CMO. "Campers can set up their telescopes, chairs, and blankets to witness the eclipse in a comfortable and peaceful setting. Additionally, more campgrounds are offering educational programs and activities related to astronomy, allowing visitors to learn more about the eclipse and the stars above."
Campground inventory is generally available starting 365 days in advance. With the solar eclipse now less than a year away and expected to draw millions of people, travelers are already busily making plans. Reservations made via the Campspot platform for the weekend of the 2024 eclipse have already increased 40% year over year, with more inventory coming online daily.
To help travelers experience the eclipse first-hand, Campspot has created an eclipse booking page with tips, FAQs, and recommended locations. Travelers are encouraged to plan ahead and make reservations early to enjoy this once-in-a-lifetime experience that will be remembered for years to come.
About Campspot
Campspot is the leading software provider and online marketplace for RV resorts, family campgrounds, cabins, glamping options, and more, providing access to more than 200,000 campsites across the United States and Canada. Campspot provides an intuitive, easy-to-navigate guest booking experience that makes planning a vacation seamless. For campground customers, Campspot offers a real-time, cloud-based management solution that powers a best-in-class reservation system.
Source: https://rvbusiness.com/campground-demand-surges-in-advance-of-2024-solar-eclipse/