Campfire Meatloaf
You may not think of meatloaf as a dish to make over a campfire, but with some prep ahead and using a plank to cook it directly on the fire, meatloaf can be nearly as convenient as plain ol' hamburgers.
You can get as exotic as you'd like in mixing meats, but remember you need fat to make this recipe work, and for the meatloaf to hold together. We used a combination of ground venison and ground pork sausage, but use any ground meat that provides a 15-20 percent fat content across the mix. Use your remote thermometer to make certain you achieve proper internal temperature for the meat(s) you select.
Campfire Meatloaf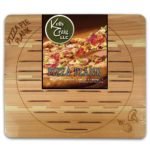 Ingredients
Glaze:
½ cup ketchup
3 Tbsp. packed dark brown sugar
2 Tbsp. cider vinegar
1 Tbsp. Worcestershire Sauce
1 tsp. yellow mustard
Meatloaf:
4 oz. cornbread stuffing mix
1 tsp. chili powder
½ tsp. freshly ground black pepper
½ tsp. ground cumin
1 tsp. olive oil
1 small onion, finely chopped
½ bell pepper, finely chopped
3 cloves garlic, minced
1 tsp. fresh thyme
1 lb. ground beef
1 lb. fresh bulk pork sausage, spiciness to taste
½ cup milk
2 eggs, lightly beaten
¼ cup fresh parsley, minced
1 tsp. salt
Soak Family Griller Plank in water for one hour. Make sure it's fully submerged the whole time.
At home, mix glaze ingredients. Store in jar in cooler.
At home, use food processor to combine stuffing, chili powder, black pepper, and cumin. Process until finely chopped. Store in 1-gallon zipper-top bag.
Build a campfire to create a good bed of coals that will deliver at least 450° F, or set up zone fire in grill for both direct and indirect heat zones.
Heat olive oil in skillet over medium high heat. Add onion and bell pepper, and cook until onion is soft – about 6-8 minutes – stirring frequently. Add garlic and thyme and cook for 30 seconds.
Allow to cool slightly, then add to zipper top bag with stuffing mixture.
Also to that bag, add meat, milk, eggs, parsley, and salt.
Close the bag and knead carefully until all ingredients are well-mixed.
After plank has soaked at least an hour, remove from water and spray one side lightly with cooking spray.
Pour meat mixture onto oiled plank and mold into a loaf diagonally on plank.
Cover meatloaf and plank with foil so it just laps the edges of plank, but leaves underside exposed to the heat.
When campfire or grill is ready, place the plank over direct heat for 2-3 minutes until bottom begins to smolder.
Move the plank to indirect heat and cook for 15 minutes.
Carefully remove foil and brush meatloaf with glaze. Replace foil and return to indirect heat.
Cook for another 45-50 minutes until internal temp reaches 155° F.
Remove from grill. Keep foil in place and let rest for 10-12 minutes.
Pour or brush on remaining glaze. Garnish with parsley. Slice and serve.
3.5.3239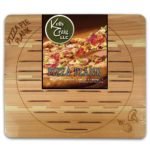 PRO TIP:
The perfect tool for making this Campfire Meatloaf recipe is the
Kelly Craig Family Griller
, also known as the Pizza Plank. For even more flavor combinations, soak the plank in your favorite, nonflammable liquid – wine and beer work great and you can cut them with as much water as you want. Used on the grill or the grate above the campfire, you can get several uses from each plank if you rinse and freeze it between uses.
BUY NOW!