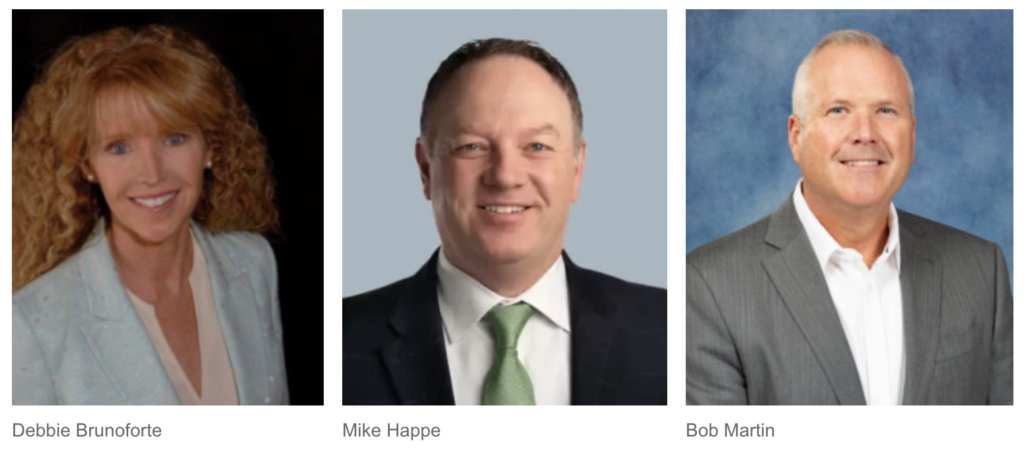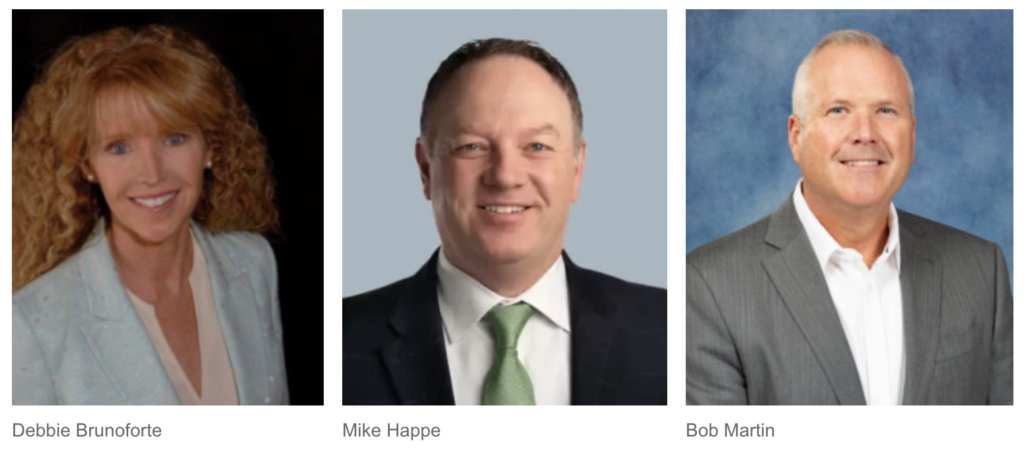 EDITOR'S NOTE: The RV Industry Association (RVIA) is hosting the 2023 RV Industry Association Leadership Conference, March 15-18 at the JW Marriott Phoenix Desert Ridge Resort & Spa in Phoenix, Ariz. The conference features a CEO Roundtable Panel Discussion along with several speakers who be presenting on various aspects of leadership. Click here to register for the conference.
The RV Industry Association (RVIA) announced that three key will be part of a CEO Roundtable panel discussion during the upcoming 2023 RV Industry Leadership Conference, which is March 15-18 at the JW Marriott Phoenix Desert Ridge Resort & Spa in Phoenix, Ariz. Debbie Brunoforte of Little Dealers, Little Prices, a Campers Inn Company, Mike Happe of Winnebago Industries and Bob Martin of THOR Industries are set to discuss their personal leadership style and what has influenced them.
The panel will kick off the first of many leadership sessions aimed at enriching the career of attendees, who do not have to be RVIA members. Keynote speakers, interactive workshops, and networking opportunities will provide the tools needed to take leadership abilities to the next level.
Conference Schedule-at-a-Glance
Tuesday, March 14
All Day: RV Industry Association Board of Director Arrivals
Wednesday, March 15
All Day: Leadership Conference Arrivals
7:30am – 12:00pm: RV Industry Association Board of Directors Meeting
5:30pm – 7:00pm: Leadership Conference Welcome Reception
Thursday, March 16
Morning: RV Industry Gives Back Volunteer Activity
11:00am – 11:45am: CEO Roundtable: Perspectives on Leadership

Moderated by President & CEO of the RV Industry Association, Craig Kirby, this session will seek leadership advice from some of the top CEOs and leaders in the RV industry.

12:00pm – 1:30pm: Lunch / Keynote – Sterling Hawkins: No Matter What Personal Growth Mindset

From a multi-billion-dollar startup to collapse and coming back to launch, invest in and grow over 50 companies, Sterling Hawkins' experience has led to work with C-level teams from some of the largest organizations on the planet and stages around the world. Through thousands of hours of research backed with the latest psychology, brain science and applicable tools, as well as his own personal journey, Hawkins will help Leadership Conference attendees not only understand how to grow themselves, but how to be compelled to grow #NoMatterWhat they're facing.

2:00pm – 5:00pm: Combat Leadership Workshop: Build High Performance, Winning Teams

Presented by former U.S. Navy SEAL, JP Dinnell, Echelon Front Chief Training Officer. Although combat is different from any other environment in the world, the traits and qualities needed to succeed are the same. This workshop will focus on leading in dynamic situations. Simple and direct, yet simultaneously strategic and diplomatic, these leadership concepts are designed to get your team executing at the highest level possible. Take advantage and implement the lessons learned from the harshest teacher: war. Echelon Front, built by Jocko Willink and Leif Babin, offers unmatched solutions in leadership, strategy, innovation, management, team building, contingency planning, and crisis management developed and proven in the U.S. Navy SEAL Teams. Spending nearly a decade in the SEAL Teams with three combat deployments, Dinnell was awarded the Silver Star, 2 Bronze Stars with Valor and the Army Commendation Medal with Valor for his leadership and courage under fire.

Evening: Group Dinner at the Resort
Friday, March 17
7:00am – 10:00am: Group Hike (all activity levels welcome!)

Join us for a group hike through the Sonoran Preserve. The Sonoran Preserve is an open desert park, offering 36 miles of f hiking & biking trails through lush, green plains of cactus.

11:00am – 11:45am: A Conversation on Sustainability

Join us to hear how RV companies are addressing sustainability in different ways. Attendees will come away with insights on how they can carry out small or large changes. Panel includes Katy Friesz, Winnebago's Vice President of Corporate Responsibility, Kartik Mekala, Lippert's Director of Sustainability and Sandy Rynalski, THOR Industries' Vice President of ESG.

12:00pm – 1:30pm: Lunch / Keynote – Kyle Scheele: Believe in Crazy Ideas

If there's one belief that is holding you back from getting the most out of your team, it's this one: some people are creative, and some people aren't. In the same way that we teach employees how to track expenses, process invoices, and jiggle the lock just right to get into the supply closet, we can teach them how to be more creative, how to have better ideas, and how to build a culture where innovation is a natural byproduct. Kyle Scheele's finely-tuned blend of humor and heart will inspire your willingness to tap into your team's innate creativity and chase your own crazy ideas.

1:45pm – 2:45pm: Path to Purchase – RV Buyer and Owner Journey

How a Better Understanding of Your Customer and their Pain Points Will Help Grow the RV Industry

3:00pm – 3:45pm: Emerging Leaders Panel

We'll wrap up the Leadership Conference with a conversation with some of the members of the Emerging Leaders Coalition. The Coalition's purpose is to strengthen industry collaboration, engagement, inclusivity, and innovation by identifying and developing emerging industry leaders and elevating their diverse perspectives. We'll dig in to what's important to the next-gen leaders in the RV industry and how we can continue to invest in their future as an industry.

5:30pm – 8:00pm: Closing Reception and Dinner
Saturday, March 18
To view the full schedule and to learn more about the 2023 Leadership Conference, please visit our website. We can't wait to see you in Phoenix!
Click here to register for the conference.
Attendees will stay at the JW Marriott Phoenix Desert Ridge Resort & Spa for two days of impactful networking, leadership development and motivational speakers. Immersed in the vibrant serenity of the Sonoran Desert, the JW Marriott Phoenix Desert Ridge Resort & Spa is a destination resort offering awe-inspiring vistas, bespoke service, state-of-the-art facilities and extraordinary amenities. Conference content will be designed to help nurture talent from across the industry, provide a space to develop a deeper understanding of critical industry issues, and connect the next generation of leaders in the RV industry.
Registration is $1,495 and includes three nights' resort, resort fees, all keynote and leadership sessions, group outdoor activity, meals and networking.
Questions about the event can be directed to Jeremy Greene, RVIA Senior Director of Events & Marketing by email or phone at 571-665-5871.
Source: https://rvbusiness.com/brunoforte-happe-martin-on-deck-for-rvia-leadership-conf/