BLUETTI's AC60: The Best Way To Power Your Adventures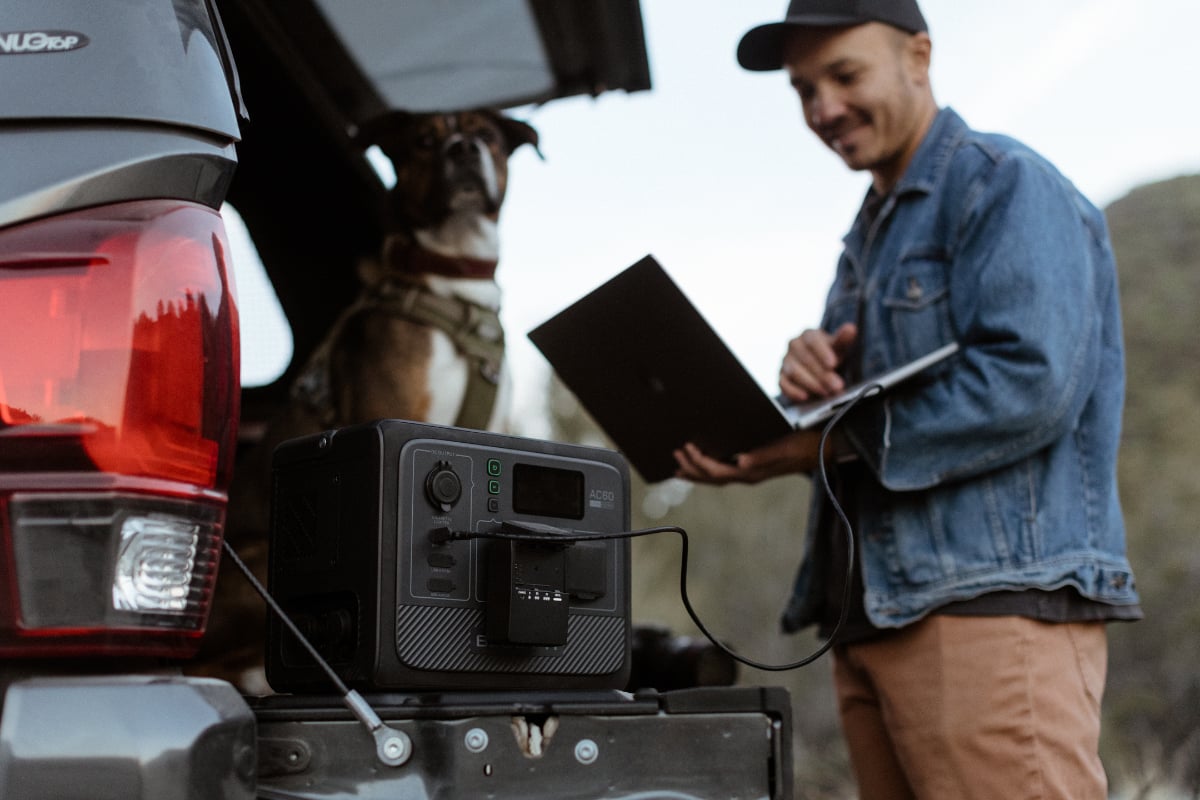 Sponsored by BLUETTI
Discover the Ultimate Power Solution for On-the-Go Adventures and Off-Grid Living
The RV life is all about freedom and enjoying the great outdoors. But having a reliable power source is essential to truly revel in the experience. BLUETTI, a trusted leader in clean energy storage solutions, is set to launch the AC60 portable power station on May 15th, just in time for your next RV adventure. With a multitude of impressive features and early bird pricing available, the AC60 is poised to revolutionize your RV experience.
About BLUETTI
For over a decade, BLUETTI has been committed to providing sustainable green energy storage solutions for both indoor and outdoor use. With a presence in over 70 countries and millions of satisfied customers worldwide, BLUETTI has become a trusted name in the portable power industry.
AC60 features and benefits to RVers
The AC60 is not just any portable power station; it's a game changer. This compact, water-resistant, and dust-proof powerhouse is designed to cater to the diverse needs of RVers and outdoor enthusiasts. Here are some of the standout features of the AC60:
Powerful and efficient performance
BLUETTI's latest portable power station, the AC60, is equipped with a pure sine wave 600W inverter and a 403Wh LiFePO4 (Lithium Iron Phosphate) battery. It offers faster charging, longer battery life, and enhanced safety compared to traditional power stations. The AC60 provides reliable power for your devices and appliances on the road or at a campsite. Power lights, charge your mobile devices, and run a small refrigerator with the AC60 without worry.
Robust and durable BLUETTI design
With an IP65 rating and a NEMA 4X enclosure, this all-weather solar generator is water-resistant and dust-proof. This feature ensures it can withstand the rigors of RV life and various outdoor conditions, from the dusty deserts of Death Valley to the Appalachian rainforests. RVers can rely on the AC60 to provide power during unexpected weather without worrying about damaging the unit.
Compact and lightweight
Weighing just 18.9 pounds and with dimensions of 11.3" x 8.5" x 9.7", the AC60 is an ideal power solution for RVers. Its compact and lightweight design makes it easy for RVers to store and transport it in tight spaces within their vehicle. Tuck it away in a storage compartment or underneath a seat and keep your living space clutter-free.
Versatile charging options
The cutting-edge power solution features three charging modes – silent (160W), standard (255W), and turbo (600W). The included adapter allows you to fully charge it in just 1.2 hours. Plus, the AC60 supports solar charging up to 200W, car charging, and lead-acid battery charging. RVers can utilize solar panels during sunny days to keep the AC60 charged and ready for use.
Power a wide range of appliances
The AC60's innovative Power Lifting Mode enables it to dish out 1,200W power from its 600W inverter. This feature supports high-wattage resistive devices like electric kettles, griddles, and small heaters. With nine versatile outlets, the unit powers a variety of appliances. So you can enjoy a hot cup of coffee or cook a delicious meal using an electric grill.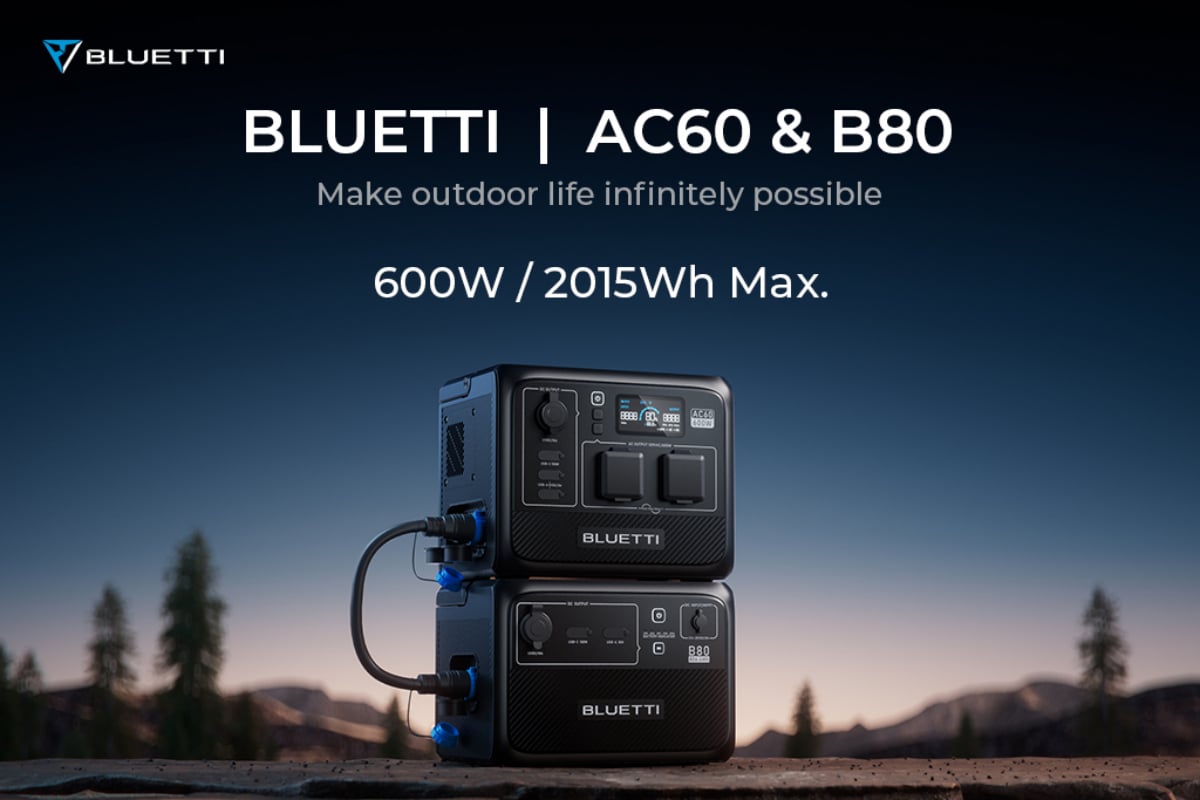 Expandable capacity with BLUETTI's brand-new B80 expansion battery
Need more power? As another one of BLUETTI's latest additions to their product lineup, the B80 expansion battery offers an easy and convenient solution for extending the power capacity of your AC60 power station. By adding two B80 packs to the AC60, users can increase its capacity to a maximum of 2,015Wh. 
The B80 power bank also serves as a standalone power source, featuring three DC ports (USB-A, USB-C, and cigarette lighter) and an 806Wh capacity. It can charge a smartphone up to 43 times, a laptop up to 10 times, and power light for over 60 hours. You can recharge the B80 power station independently or with the AC60. It also supports AC adapters and 200W solar charging through a standard PV charge cable that comes included.
This plug-and-play design seamlessly integrates with the AC60, providing greater flexibility to stay off-grid longer, power high-wattage devices, and support multiple devices simultaneously without depleting the AC60's battery too quickly.
Ultra-low standby loss
BLUETTI's latest addition to their power station lineup has the capability to shut down automatically when there are no loads connected, which conserves power. Users can also adjust the power output to accommodate small loads like CPAP machines, reducing energy consumption and prolonging the battery's life.
Quiet operation
The AC60 operates quietly at 45dB or below 40dB in silent charging mode. This makes it ideal for RVers who want to maintain a peaceful environment while camping or spending time in nature. With the AC60, you can enjoy the sounds of the outdoors while still having access to reliable power.
Remote control via BLUETTI App
Using the BLUETTI app on your smartphone, you can control the AC60 from the comfort of your camping chair. Monitor charging/recharging status, unit status, and other important information, such as remaining battery life, without having to constantly check on the unit manually. This feature enables RVers to efficiently manage their power consumption and ensure they always have access to reliable power.
Eco-friendly
The AC60 relies on renewable solar energy, making it an eco-friendly power source that doesn't produce harmful pollutants. By relying on renewable solar energy, the AC60 supports an eco-friendly lifestyle, reducing your carbon footprint during your RV adventures. With more people becoming environmentally conscious, using the AC60 is a great way to contribute to a greener future.
Industry-leading warranty
BLUETTI backs the AC60 with an exceptional six-year warranty, giving you peace of mind and assurance in the quality and durability of the product.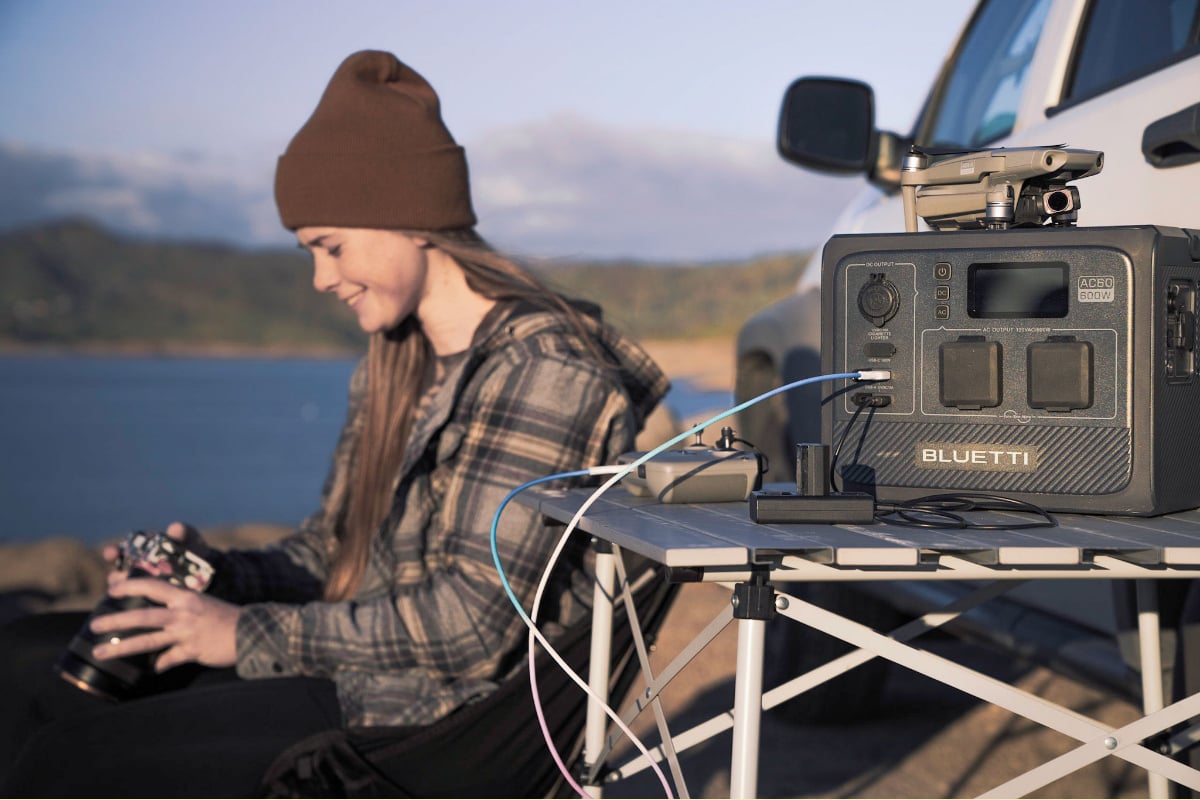 Power your RV adventures with the BLUETTI AC60
The BLUETTI AC60 portable power station is an essential addition to your RV arsenal, offering unparalleled power, versatility, and durability. With its impressive features and eco-friendly design, the AC60 will ensure you have the power you need when and where you need it. Don't miss the opportunity to transform your RV experience—mark your calendars for May 15th and be among the first to benefit from the AC60's game-changing capabilities. Plus, with the option to expand its capacity by adding the B80 expansion battery, the AC60 offers even more power for longer off-grid adventures.
Special Early Bird Pricing
Both the AC60 and B80, which normally retail at $699 each, will have an early bird price of just $599 each at launch time. BLUEETTI is also offering early bird pricing on the AC60 & B80 combo, selling at $1198 versus the regular price of $1398.
We Want to Hear From You
Are you a current owner of a BLUETTI power station? We would love to hear about your personal experience in the comments below. Share with fellow RVers how the power station has made your RV adventures more convenient and enjoyable. And help others make an informed decision about investing in a BLUETTI product.
The post BLUETTI's AC60: The Best Way To Power Your Adventures appeared first on RV LIFE.
Source: https://rvlife.com/bluetti-ac60-portable-power-station/